Solo walking as it's called in the UK (hiking in North America) is a travel love that I found only when starting this blog. It began with my 2009 trip to the Lake District in England, continued with the 2011 trip to Patagonia, Chile and will continue with my trip to Peru this spring.
My most recent solo walking trip was to Cornwall, UK and the South West Coast Path.
I settled myself into a single room at YHA Penzance which is located about a 20-minute walk from the central bus station.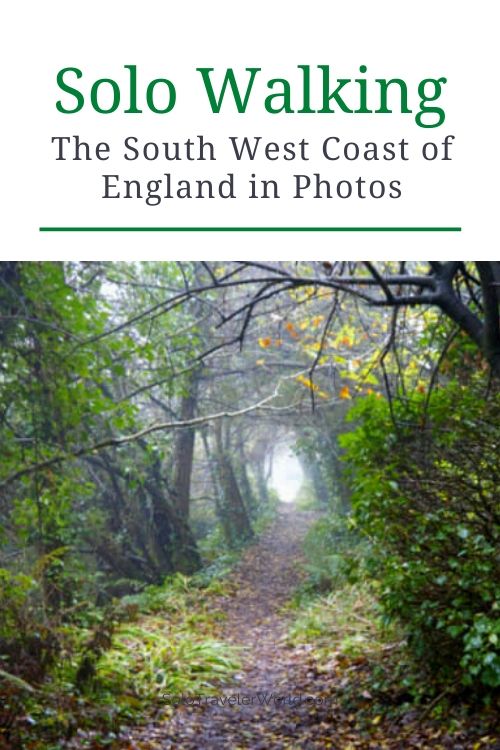 Solo walking from Penzance is safe and easy. One can go along the coast from the town or take a regional bus to a destination and walk a portion of the path and take the bus back again. Here's how I spent my five days:
Tuesday: I walked to Marazion and Mount St. Michael (and back) – an easy afternoon walk on flat terrain of 5km one way or 10km return (3.1 miles or 6.2 miles return).
Wednesday: the weather was really not looking good so I took a bus from Penzance station and wandered St. Ives. (Read Solo in St Ives: a Day in Photos)
Thursday: it didn't seem that the weather would ever let up so off I went despite the mizzle (a local weather term describing a mix of mist and drizzle). I walked west from the hostel past Mousehole (pronounced mosel) to Lamorna and took a bus back – a distance of just over 6 miles or 10km though a much more difficult 10km than the walk to Marazion
Friday: I had heard that the walk between Lamorna and Porthcurno is very challenging and I wasn't sure my left knee could take it so I took the bus to Porthcurno and walked the next leg to Land's End – 6.4km or 4 miles.
Saturday: I took the bus to St. Just and made the short walk in a powerful wind to Cape Cornwall.
Solo Walking in Photos