I'm pleased to share with you another article by Elizabeth, a friend and member of the Solo Travel Society. Elizabeth recently returned from her first big solo adventure: nine weeks in multiple destinations in Europe and North America. Here she shares the story of discovering a network of women welcoming women–to their cities and sometimes to their homes–around the world. ~Tracey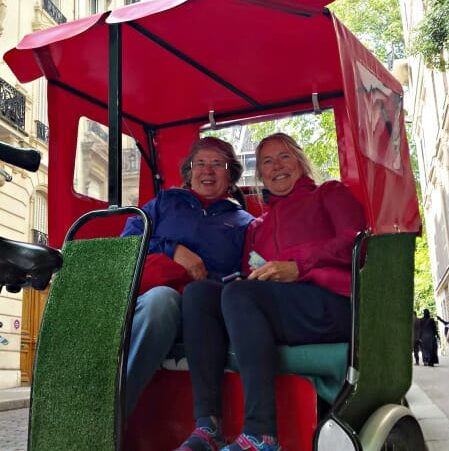 Tea in London.
A conference in Los Angeles.
Dinner in Seattle.
Women Welcome Women World Wide (5W) added tremendously to my Grand Solo Adventure, a 9-week trip around Europe and North America. I first read about 5W in a post on Solo Traveler, then joined the organization when I decided to go on my first big solo journey. It is an invaluable network that has introduced me to an interesting group of women around the globe.
At this time, they are a community of 2,400 people in over 80 countries. They are mostly women over 60 who want to travel more often and meet locals, so they host one another as they travel. Some act as your day hostess, while others will host you in their home for a couple of nights. Two women offered to drive me to see the sights. One treated me to tea in London! Each woman I met was physically active and very interesting. They were also quite interested in hearing my stories.
The women reach out through this organization and host gatherings around the world. Solo travelers join each other to explore and discover places they might not travel on their own. For example, someone might do all the research involved for a walking trip in the UK and invite others to join her a year from now. We get newsletters that include notices like this one: "I will be traveling in the east coast of Canada in the summer of 2018. If you are interested in meeting me or joining me for a part of this journey, please send me an e-mail." Or, my favorite notice: "Anywhere, anytime. Looking for a travel companion this year." There's someone who's up for anything!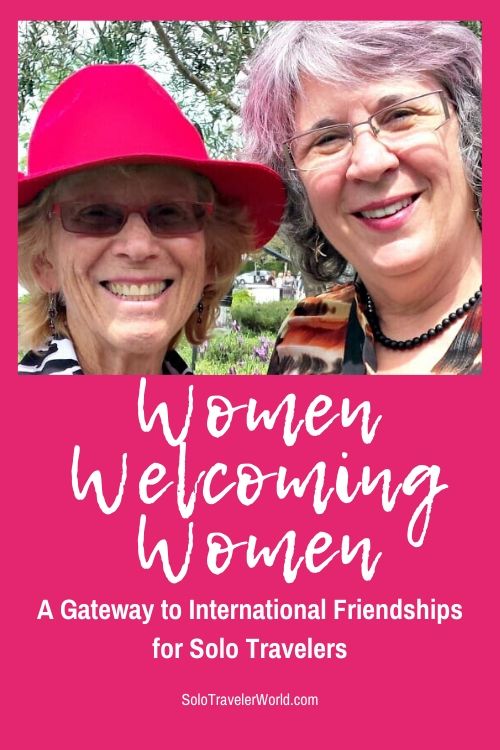 The women welcomed me into their homes, took me on hikes and walking tours, and made sure I was well fed. I met women who love to travel and had fascinating stories to share from their own adventures! The women I met on this trip have traveled to up to 42 countries. A few have done it on a budget and others travel using tour packages or doing volunteer work. They each shared their valuable tips and tricks.
The first woman I stayed with lives in Westlake Village, a suburb of Los Angeles, California. We spoke on the phone a couple of times and agreed that we would need to have 3 nights together to fit in all we wanted to do. We had a blast! We started by attending a conference on Equal Pay for Equal Work, where she was facilitating a table discussion. The event was quite interesting to me and I learned that Canada is kilometers ahead of the United States in their regulations on this important issue.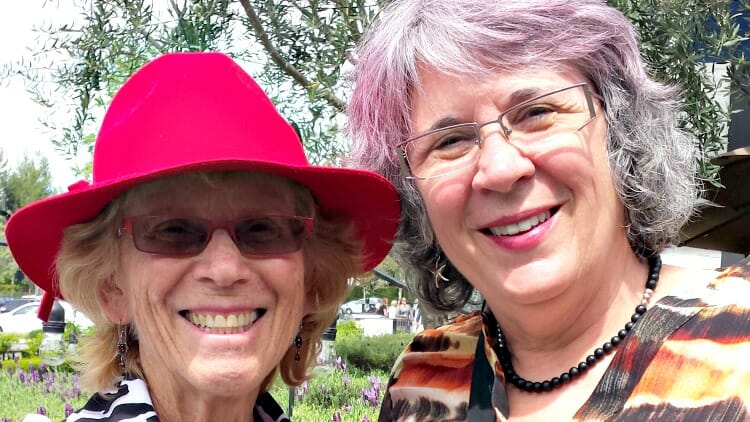 We took a couple of great hikes together and took a walk in her neighborhood to meet a couple of her friends for lunch. One of them wants to come to Toronto and proposed that we house swap in the future!
It was exciting to hear of another 5W member's plans when we had dinner together in Seattle. She is a creative type who is compiling a list of twenty workshops to pitch to the cruise lines that operate around the world cruises. That could be a fantastic trip!
Near Paris, I met a new member who had recently separated from her husband and was looking to cultivate new friendships. She has a large home and is happy for the company.
My favorite new connection is a woman I met in France (born in the US) who has been traveling for twelve years! She has a small pension and through house-sitting and volunteer work, she has been able to stay on the road and use her US dollars, which stretch further in many other countries. She puts all expenses on her credit card and uses the points to arrange her flights. This year, she raised money to build a playground and provide bed rolls for an orphanage day center in Africa. When she went to help refugees on Lesbos Island, she asked friends to donate their air miles to make that trip. They were delighted to support her work in this way.
I met many women with similar stories to mine: single by choice or by chance later in life. We had tales to share and were eager to help one another. The nicest part is that we have all touched base by e-mail since I've returned home from my trip. I hope that a few of them will visit me in Toronto in the future.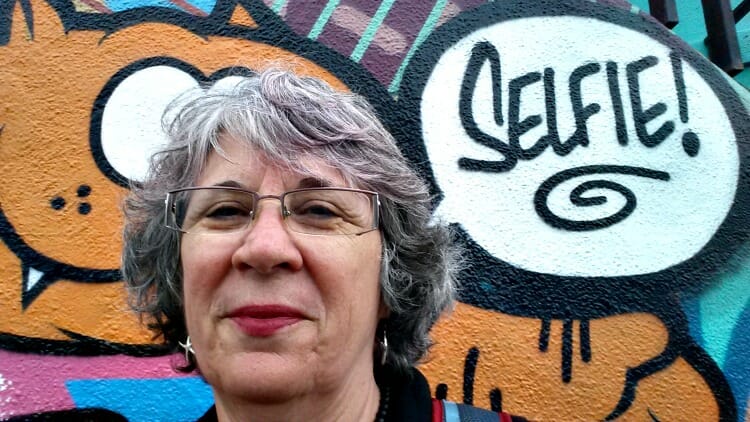 Frances Alexander is the founder of Women Welcome Women World Wide. She told me, "In over 30 years, I have visited women in their homes – from a tiny flat in Donetsk to the mansion of a millionaire in Los Angeles! Women have visited me, too, from so many countries – Romania, Argentina, Japan, Kenya, Australia, and Iceland jump to mind!"
Elinor Warkentin from Vancouver, Canada is the new Chair of the Board of Trustees for Women Welcome Women World Wide. Elinor says,
It is an honor to accept this important role, and I look forward to cooperating with members in steering 5W in new and exciting directions. In my time with 5W, I've been able to bring international guests to Vancouver, and connect with members worldwide.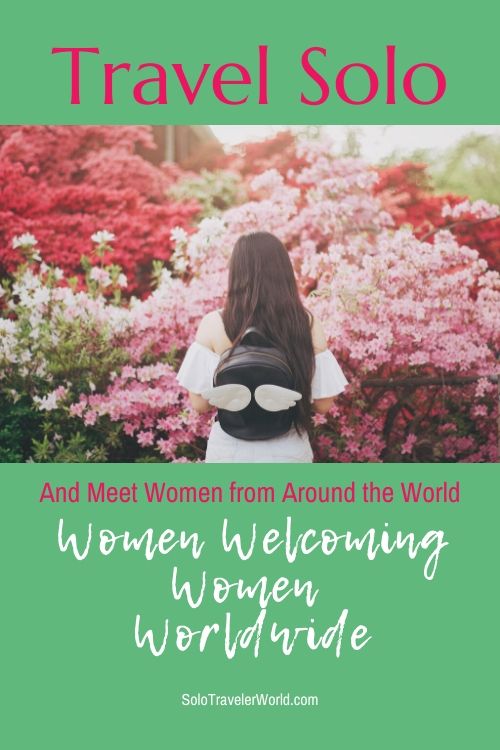 I've taken them to march in our local salmon festival parade, shared a tailgate picnic in a farmer's field overlooking Stonehenge, prepared clams for my host's community clam-bake in Connecticut, and enjoyed a Swiss fondue on a Swiss mountaintop. I never know what new experience 5W will bring, but I always leave wishing I could stay longer. Now I can put my skills and experience to use growing an organisation that benefits women by encouraging fellowship and independence through travel.
The concept of women welcoming women in countries around the world is a great one. It surely was a gateway to international friendships for me that will continue to grow as the years unfold. I'm considering Cambodia as a next destination and am looking forward to finding out who I will connect with in that country. With a longer planning period, I can connect with these women in advance and practice my French, too!
Have you had experiences with 5W–either as a host or a traveler–that you would like to share? Please add them in the comments section below.
Elizabeth Verwey owns and operates Spoken Lives: Stories Women Share. Elizabeth is a business mentor who supports women to establish this speaker series in their own city.