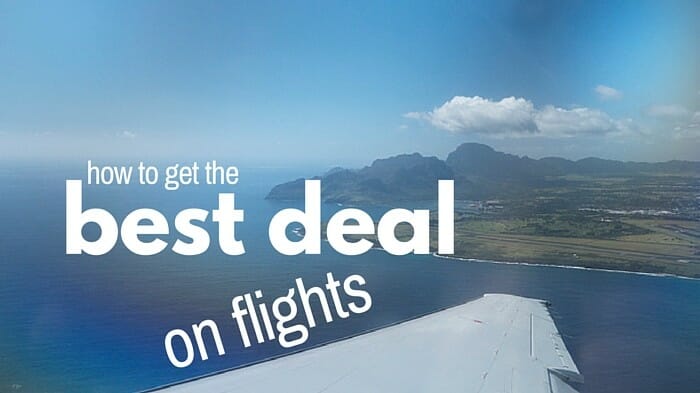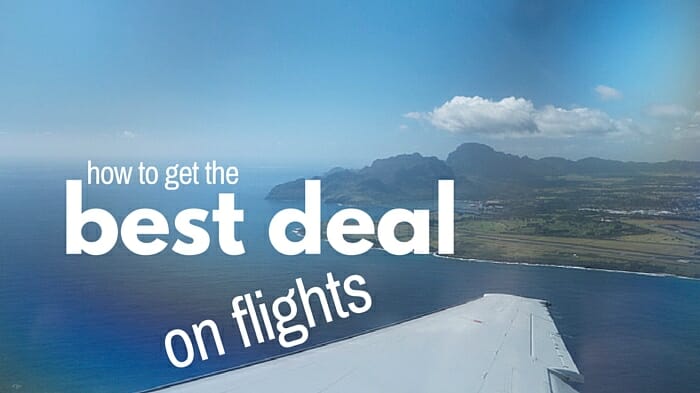 Everyone wants the best possible deal they can get on a flight.
It's natural.
Save on a flight and you have more to spend at your destination.
Fortunately for solo travelers, we have an advantage in this  arena. Searching as one person will usually deliver a better fare than if you search for two or more. How often does that happen? – Solo travelers enjoying a better price for being just one!
Still, flights are expensive. It would be nice if all your flights could be paid for with points – especially points earned by flying for work. But not everyone is in such a position. What if you're just the average traveler with an average job? Here are things you can do to get the best deal on flights. You can do some or all of them.
Simple Steps to Getting the Best Deals on Flights
Sign up for a travel rewards credit card. I earn hundreds of dollars every year that I put towards travel. I do so by using my travel rewards credit card for every purchase possible, from a coffee to the computer I'm writing this on. (Read Decide on the Right Travel Rewards Card.)
Start looking about 3 months out. If you're a travel planner as opposed to a spontaneous traveler, start your search at least three months out. The sweet spot for getting the best deal on a flight is supposed to be 8 to 12 weeks before flying. However that doesn't mean you will definitely get the best deal at that point. Start then to get the lay of the land.
Be flexible on your dates. Shift your dates a bit if possible. Flying a different day of the week can save in the low hundreds. Flying a different week could save more. So rather than booking specific dates for your vacation, try to pencil in a range of dates and confirm the actual days later. This will give you the option of running your holidays in the typical Monday to Monday pattern or shifting to Tuesday to Tuesday or Wednesday to Wednesday – the data suggests that you might get a better price flying on Tuesdays or Wednesdays.
Be flexible on your destination.  Booking sites like Skyscanner give you the option of entering "everywhere" into the destination search field. They then deliver a list of flights from your departure airport starting from cheapest to the more expensive. Kayak Explore lets you do something similar but offers the search results on a map. Read: When Travel Is the Goal, Not Destination.
Be creative with your route. One direct flight is always ideal but what if you could save a few hundred dollars by flying into another city and taking a commuter train or plane to your final destination. I did this going to Inverness this year. The city is a bit out of the way. I could have flown to many cities and taken a connecting flight for Inverness. Instead I flew direct to Glasgow and took a train to Inverness. It was far more relaxing and less expensive.
Search incognito. Cookies are like a trail of breadcrumbs you leave behind you as you search the Internet – but they're not for you to retrace your steps. They are for the websites to know what you've been doing on their site, like searching for fares to a specific destination. Once they know what you're looking for and you return to check the fares again they can manipulate the results. This doesn't mean that they definitely change fares knowing that you visited before but they can. Search without cookies so that the fares can't be manipulated.   This is how Google tells you to do it. You can use Duck Duck Go as your search engine, it doesn't allow cookies. Or simply turn on private browsing in your favorite browser. Here's how to turn on private browsing in Firefox.
Use an aggregator to comparison shop. Start with an aggregator search engine such as FlightNetwork, Skyscanner, Momondo or Airfarewatchdog. (If you are searching European destinations check out GoEuro which will give you train and bus options as well.) There are a quite a few aggregators. These sites search many airlines and booking engines  giving you a list of your options. This is valuable because not every booking engine will retrieve results on all the possible flights from one airport to another. Multiple aggregators broaden your search. THE ONE I USE: I've used a variety of sites over the years but the one I like best right now is FlightNetwork. WhenI booked a flight to New York City this past fall I saved almost C$200 on a C$500 flight compared to the airline's site. I just checked it again and the saving was C$66, not quite as much but I'd take it. I was equally lucky when I booked my flight home from Glasgow in September for C$400. FlightNetwork also offers Price Drop Protection which I've not yet tested.
Set up price alerts.  With your favorite aggregator, or aggregators, set up a price alert through their app so that you get an immediate alert on your phone when there's a price drop. I set up a price alert for a flight to Miami with the Skyscanner app and the Hopper app. I received daily notices on whether the price was up or down but when there was a flash sale from Westjet, I received a special alert that the price had dropped $246.
Always check the airline's site. I always do this and sometimes I save a bit. But when booking my flight to Sydney, Australia in late December for March, 2016, I saved $256 return by booking with Air Canada directly rather than through Expedia. That's a big saving! In fact, the story is a bit larger than that. I wanted to book through the booking engine because of the points I could earn. And because they had a price-match guarantee I did so. But the guarantee didn't work. It's complicated as to why but the upshot was that I canceled and booked directly with Air Canada.
Know the short-term cancellation policy. Because of situations like I experienced in #9, it's important to know the cancellation policy in your jurisdiction. In Ontario, consumers have a 24-hour window during which they can cancel a flight without a penalty. Knowing this I could risk the price guarantee with Expedia working, which it didn't, and got all my money back.
Find fare mistakes. This happens more often than you would think. It might be due to human error a computer glitch but, regardless, mistakes are made and sometimes incredible deals are on offer. Check out sites like Secret Flying or follow them on Facebook or Twitter to keep up with the latest deals.
Use budget airlines. Budget airlines offer great fares but a lower level of service. Be aware of what you're really buying so that your great deal isn't compromised by extra fees. Here's how to get the best from a budget airline.

Don't be hit by surprise baggage fees. Know what your baggage allowance is and pack accordingly. Here's a link to our packing list. And here's another with 24 tips on how to get through airport security with ease. Many of these can only be applied before you leave for the airport.
Will you need meals on the flight? Many flights don't serve meals. My recent flight from Glasgow to Halifax to Toronto only had juices and soft drinks and small bags of pretzels free. Otherwise, for this 7 and a half-hour flight I had to buy my food. It was a first for me on a transatlantic flight. Know what will be served and pack a meal to save money.
Pack headphones, bring a scarf. Some airlines still charge for headphones to watch the entertainment system. Others will charge you for the use of a blanket. I bring my headphones with me and I always go with a scarf large enough to warm me up if the plane is cool.
Set up your own entertainment system. Whether it's music, an audio book or a movie, you can download these onto your phone or tablet and save money when flying a budget airline that will charge you for their onboard entertainment. Netflix is now an option as they has just started allowing us to download programs and movies onto our devices.
Save the web pages you want to read before you fly. WiFi in the sky is expensive. You need it if you want to check email but if there's an article you want to read on the flight you can save it in your browser for reading before you board.
This post has been revised and updated from last February. We'll keep doing so to keep it up-to-date and accurate.
Please add your tips and advice in the comments below.