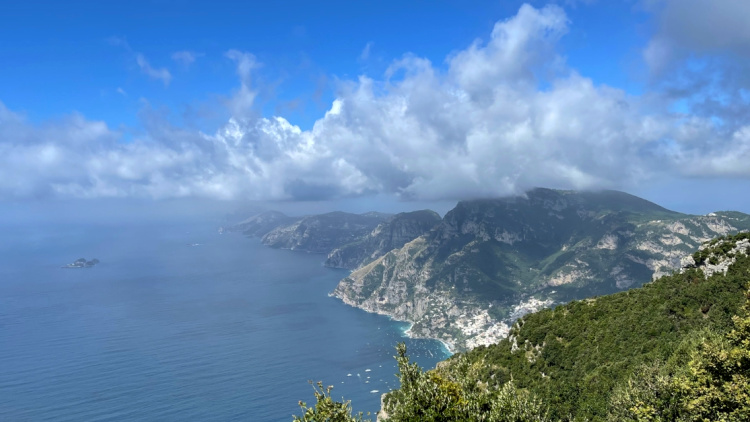 Everything they say about Italy isn't true, so don't believe them. In reality, it's even more spectacular than anything you could imagine! I recently spent just over a week on the Amalfi Coast with Exodus Travels on their Walking the Amalfi Coast tour, which I've been told is their most popular. Now that I've experienced it, I can definitely see why.
I arrived in the village of Bomero, located in the upper hills above Conca dei Marini, and was instantly transported into every film I've ever seen about dreamy holidays in Italy. I've been to Rome and Venice prior to this, but the clay roofs, the sea, and the mountainous landscape are a complete 180° from those popular and equally beautiful spots.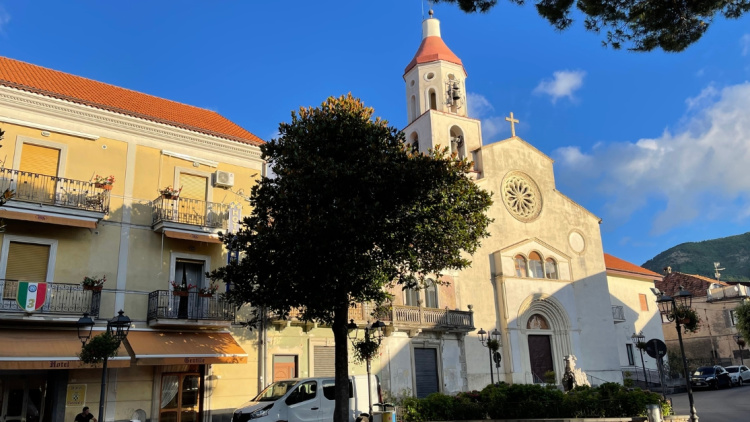 Looking Down on the Coast from the Clouds
Our first hike was to the top of Monte Tre Calli, which presented views of the Amalfi coastline. I had considered myself to be in relatively good shape, but this first morning hike really humbled me. I was reconsidering all my life choices during this hike, as my legs and lungs were screaming at me. When we finally emerged at one of many lookout points where the beautiful valleys and coastline presented themselves, it made it all worthwhile. Here's a quick video of my climb on Instagram.
For anyone who is hesitant to travel solo, I would recommend doing it on a small tour. Exodus tours have a maximum of 16 people, which I've found is a good number to have in a group. I've found that the 10-16 range is the magic number where group bonding seems to flourish, if you're one of those solo travelers who enjoys the social side of solo travel. The group is also just large enough that you can limit your interactions with others without being obvious if you are a solo traveler who prefers more alone time.
One of the things that impressed me was how supportive our group was of everyone. We all had different fitness levels and mobility capabilities, but not once did I hear anyone be anything but absolutely supportive. This is a great way to explore the Amalfi Coast solo but with backup. I'm not sure if this is the case for all tours, but while this is only my third trip with Exodus Travels, I've noticed that those who are drawn to their tours are just generally nice and generous people.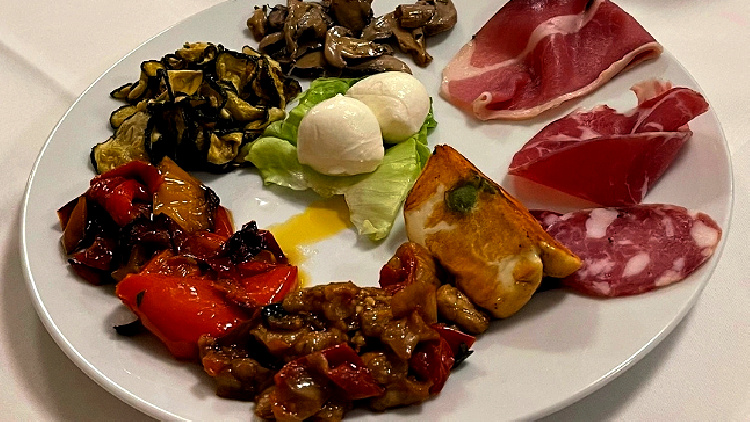 Definitely Not Like a Night at the Olive Garden
I love food, so I was exploding with excitement when Hotel Due Torri's chef and co-owner invited us to join him in the kitchen for a cooking demonstration as he prepared our dinners. Someone give this man his own cooking show, because he definitely knows how to charm and entertain, as you can see from my video on Solo Traveler's Instagram. I highly recommend this behind-the-scenes kitchen experience should you get the opportunity during your stay.
The food in Italy is generally delicious, and this was true of all my meals here. I'm not sure what wizardry they use to turn even the simplest dish into an explosion of flavors in your mouth. One of the first dishes I had in the dining room at Hotel Due Torri was a starter consisting of only spaghetti with tomato sauce. It was like angels were dancing on my tongue! Every establishment in the village of Bomero seems to have a farm nearby where they either source or grow their ingredients, and this is no different for the hotel. This is probably why everything tastes so good. Don't worry about eating all the delicious foods, because you'll work off those calories on the magical daily hikes.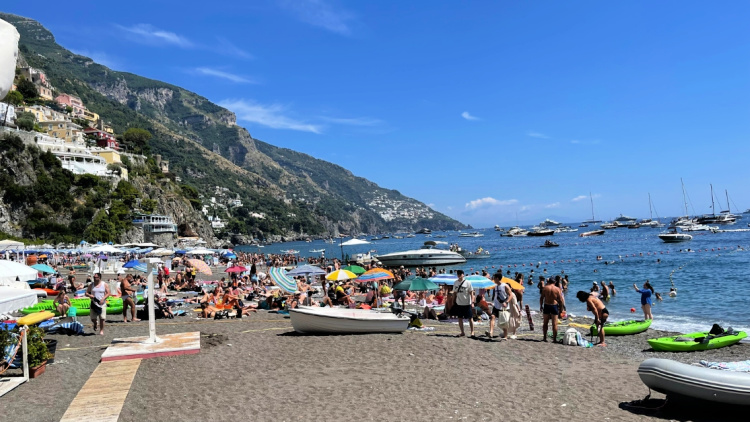 Hiking through the Mountains to the Town of Amalfi
On our second day, we followed mule tracks through the mountains and down to the city of Amalfi from Bomerano. The trek brought us to hidden waterfalls and presented breathtaking views of the coast as well as soaring mountains and cliffs.
We contrasted all the natural wonder of the morning hike with an exploration of the picturesque city of Amalfi, from which the area gets its name. Amalfi was historically a maritime power and important trading port, but now it's a Neapolitan treasure and playground for tourists from around the world. Those visiting the island of Capri may find themselves heading there via a boat ride from Amalfi. Beach addicts and shopaholics will thrive here, but don't forget to check out St. Andrew's Cathedral in the city square, and the Museo della Carta paper museum. It has been making paper since the 13th century and I've been told that it still supplies paper to the Vatican today. Here are some highlights of my Amalfi Coast solo explorations from Instagram.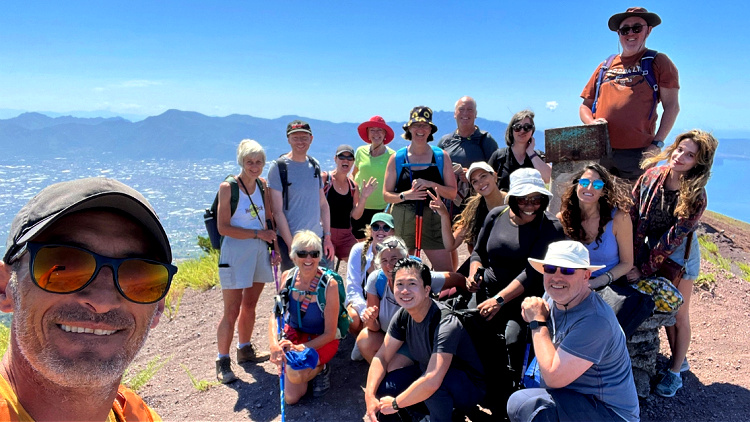 Pompeii and Walking Along the Edge of an Active Volcano
Most likely you've heard of Pompeii and how it was preserved after a catastrophic eruption of Mount Vesuvius in 79 A.D. I've grown up hearing the story, I've even been to an exhibition of its artifacts, but nothing compares to actually being there.
We began our visit to these two historical sites by hiking up Mount Vesuvius. Our guide had taken hundreds of groups up onto this active volcano (yes, Mount Vesuvius is still quite active), but only on the Exodus tours has our guide been allowed to bring the group onto the edge of the volcano's crater. While you will still get very good views of the inside of Mount Vesuvius from the regular observation areas, I must say that you will get weak-kneed walking along the volcanic rim. There are no protective fences on this route to separate you from experiencing the full Vesuvius during your exploration, so be sure to mind where you step. It is truly a once-in-a-lifetime experience. It's highly recommended that you firmly plant both feet on the ground before taking any photos or videos, as there have been incidents where tourists had mishaps when they were too focused on their cameras and not on the ground. I reminded myself of this as I filmed these clips for Instagram.
Our guide also corrected the myth that this current volcano was the one that destroyed Pompeii, when in fact it was a different cone next to this volcano that was the culprit. This volcanic cone is relatively young and last erupted in 1944. While the volcanic cones are all connected to the same magma chambers underground, they discovered via old frescoes in Pompeii that this volcano has been falsely accused for many centuries as it didn't even exist in 79 A.D.
Pompeii is much larger than I expected, so keep that in mind if you are planning your own visit. A good portion of Pompeii is still unexcavated as they have decided to leave that for a future generation of archeologists to discover.
Any roofs that you see in Pompeii are re-creations as the originals would have been destroyed when the layers and layers of ash covered them. You may also notice that there were many brothels in Pompeii, but that probably isn't as surprising when you consider that it was a major trading city and port. Here is a short clip from my visit to Pompeii that I posted to Instagram.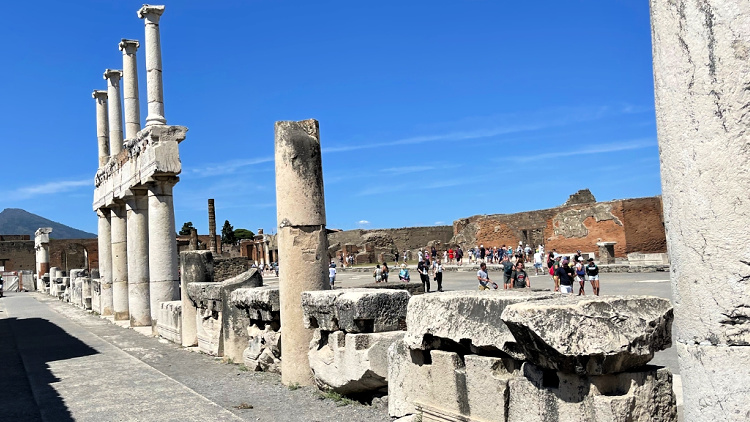 Something I never thought about, but realized that it should have been obvious, was that while the iconic plaster casts that we've all seen of the deceased residents of Pompeii are just echoes of the forms that their organic bodies left behind, their skeletons remained and are inside of each one of those plasters.
Standing on the streets of Pompeii, it's strange to think how everything came to a halt suddenly in 79 A.D. With all the tourists rushing about today, the city still feels alive and not like one that has been asleep for over a thousand years.
Amalfi Coast Solo Time at Sustainable Accommodation
A quick shout out to the family-owned and operated Hotel Due Torri that was my home during this trip. The special family touch is noticeable as they do make you feel like a member of the family during your stay. The staff were amazing and always went above and beyond to ensure we were having a good time. I also like that the hotel prioritized sustainability where possible, only changing towels and linens when requested, heating hot water via solar power, and using locally-sourced ingredients.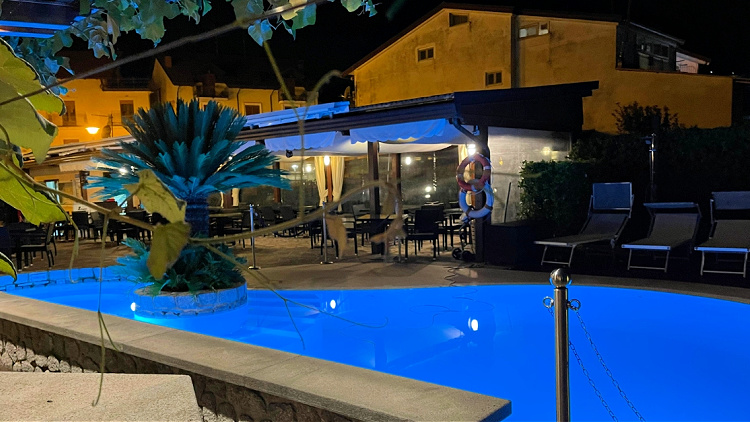 I'll share more delicious and breathtaking adventures from the beautiful Amalfi Coast soon, so stay hungry and stay tuned!
Thank you to Exodus Travels for sponsoring my trip to the Amalfi Coast, solo on a group walking tour. All experiences and impressions are my own, and Solo Traveler maintains complete editorial control over all content.
Planning a solo trip? Check out A Complete Guide to Travel Insurance for Solo Travelers to make sure you get the right coverage for you.