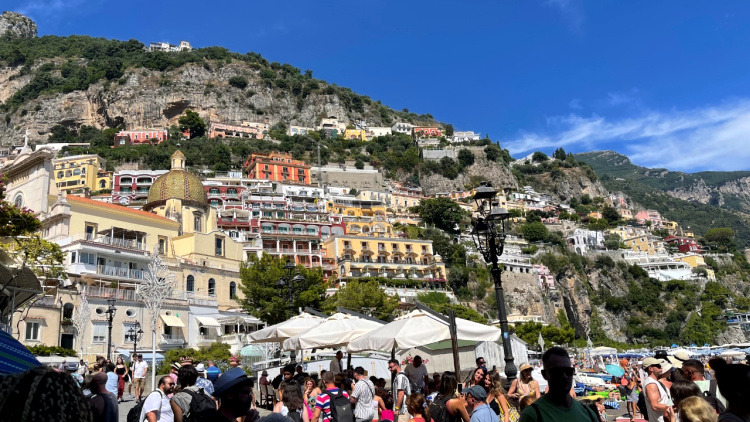 Just when I thought I knew everything about the eruption of Mount Vesuvius in 79 A.D., I learned something new during my Walking the Amalfi Coast tour with Exodus Travels. 
When Mount Vesuvius erupted in 79 A.D., I had no idea that any cities were affected other than Pompeii. I now realize this was silly as it wasn't the only town in the area. So, you can imagine how uneducated and uncultured I felt when I discovered that there was another city that was frozen in time after the eruption.
Herculaneum was actually discovered in 1709, before Pompeii (1748), but due to the mainly carbonized pyroclastic material that covered Herculaneum, it was much harder to excavate. Pompeii was mostly covered in volcanic ash, which is much easier to extract. The advantage of the pyroclastic material over Herculaneum was that some organic material was preserved such as wooden roofs, beds, and doors, as well as food and papyrus. You'll see some examples of this during your visit.
I see now why some who have visited both prefer Herculaneum. It's a more manageable size, as Pompeii is enormous, and the city is better preserved. I think you should see both, if possible, but you can't go wrong with either if you only have time for one.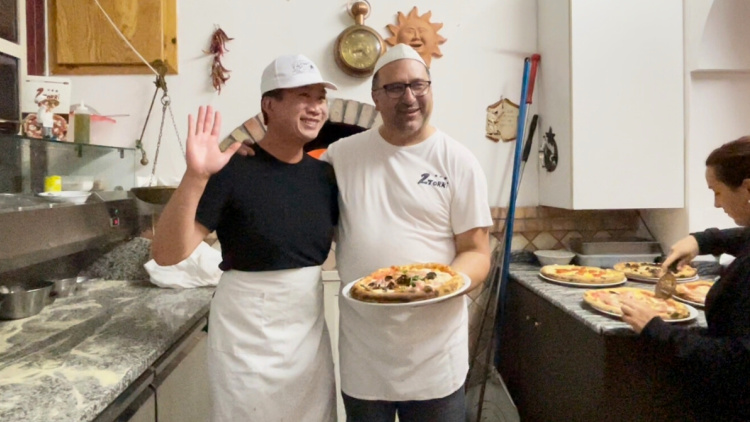 Let's Make Pizza!
Readers of my last article, Italy's Spectacular Amalfi Coast Solo on a Group Walking Tour, already know that I love food, and one of my favorites is pizza! Hotel Due Torri has a master pizza maker on staff, who also happens to be the co-owner. Not unlike the previous cooking demonstration, I knew we were in for a good time.
In spite of my best efforts to remain an observer, I was volunteered to become the pizza apprentice in this demonstration. You can rate my pizza making skills in this Instagram video.
Many may see the pizza making process as simply throwing some dough in the air, covering it with ingredients, and then baking. But, when you're a master using a traditional wood-fired oven, you have to be up at dawn to prepare the fire, the dough, and the toppings, then care for the fire throughout the day to ensure it is always at the optimal temperature, all while standing next to the intense heat of the oven, even when the weather is sweltering. This dedication is what allows his customers to enjoy some of the most delicious pizza they will ever eat. Pizza was invented in this region of Italy and it shows in every savory slice.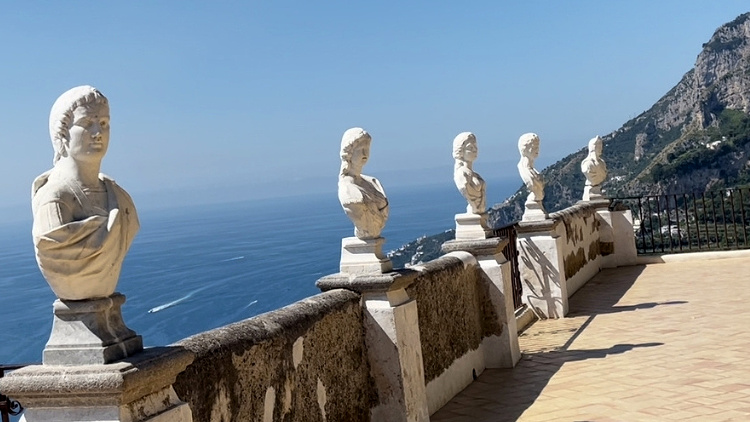 Glimpsing Infinity While Walking the Amalfi Coast
Ravello is one of the many towns along the Amalfi Coast that you're likely to visit and if you do, I highly recommend swinging by the Villa Cimbrone. A private five-star hotel also sits on the property should you be so moved by its beauty that you don't want to leave. The gardens are open to the public, for a small admission fee (which was €10 during my visit), and the star of the spectacular gardens is the Terrace of Infinity or the Terrazza dell'Infinito. From there you get limitless views of the cliffs and seaside.  
Say Cheese!
Cheese is a big part of Italian cuisine, and one of the most important cheeses in the Amalfi Coast is Fior di Latte. It is essentially a cow's milk mozzarella, as they are also made with buffalo milk in this area, and is what you will commonly find on pizzas. 
A local cheesemaker was gracious enough to invite us to view how Fior di Latte is traditionally made, and to let us sample some of the artisanal cheeses that he produces for many of the surrounding businesses and beyond. 
Watch my video on Instagram to find out more about my delicious visit to Caseificio Artigianale Agerolino!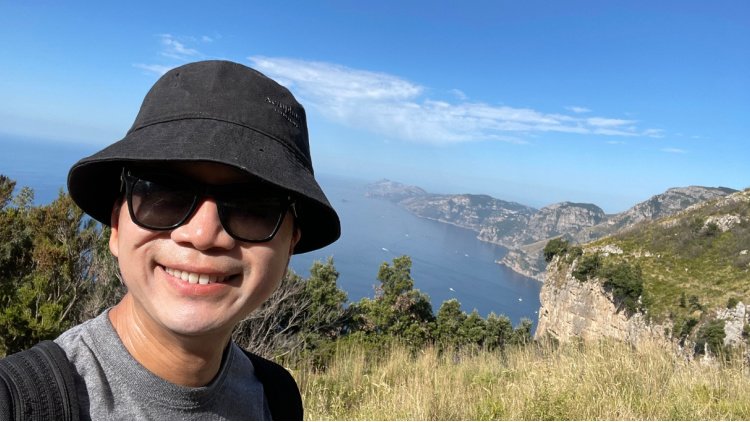 The Path of the Gods
When you return from a trip to the Amalfi Coast you will inevitably be asked if you walked the Path of the Gods (Sentiero degli Dei), so naturally, I was happy to see that our tour included that walk. Located high above the coastal towns of Positano and Praiano, this path is approximately 5 miles (8 km) long, and is possibly one of the most beautiful walks in the world. 
Anyone looking to make this hike should make sure to pack water and other important hiking supplies, as well as sensible shoes to tackle mountainous terrain. I saw way too many people walking the path with no water and even some with flip flops. I prayed for each of them as they passed. If you're lucky, you may even encounter some mules walking along the trail as they are still used to transport things through the mountains. As some parts of the trail are really narrow, I recommend letting any mules or people you encounter pass you on the outside, if they must walk by you, to limit the chance that they might accidentally nudge you off the cliff.
During the walk, you will see jaw-dropping views over the Positano and Sorrento peninsula, and you will surely understand what prompted 19th century politician and mountaineer Giustino Fortunato to describe this hike as the Path of the Gods.
After trekking to the end of the Path of the Gods, we continued our way down to Positano via the tiny villages speckled along the cliffs. I had no idea that the town of Positano is an almost vertical town that's clinging to the rock face. Visitors should be prepared for lots of undulating and narrow roads and alleyways. Fans of luxury women's fashion will rejoice at the endless shops to cater to your addiction. The cost of everything in Positano also seemed to be double the price of everywhere else on the Amalfi Coast, with the exception of perhaps Capri, so keep that in mind if you're on a budget.
By the time we'd gotten to Positano we had walked almost 11 miles (17.7 km) according to my step counter, so I was very happy to find out that we would be taking a cruise back to the town of Amalfi to catch a bus that would take us home. It was also a perfect opportunity to see the beautiful Amalfi Coast from the water and take in the sheer majesty of its soaring cliffs and mountains.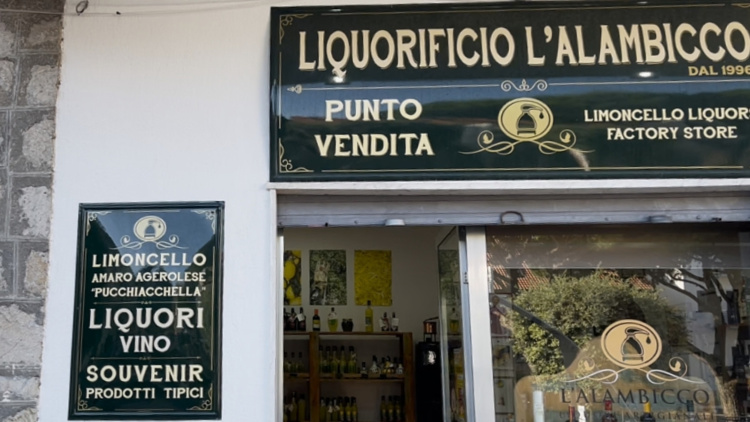 Would You Like Some Limoncello? 
Walking the Amalfi Coast can cause one to work up quite a thirst. I think we found the most trusting Limoncello retailer on the planet in the village of Bomerano, as after being seated at some tables outside of the L'Alambicco Limoncello boutique for a tasting, we were given four large bottles of Limoncello, glasses for everyone, and told to just go nuts, as our host excused himself to tend to some customers in the boutique.
It was then that our knowledgeable Exodus guide stepped in to take the reins to guide the suddenly leaderless Limoncello party.
I haven't had much of this delightful liquid over the years, but anyone who likes lemons should definitely not miss out. I also had no idea that there were so many different variations of it. I was introduced to a Crema Limoncello that could have gotten addictive. It's Limoncello with dairy in it, which I found did a great job of balancing its natural acidity. I did purchase a bottle of this, foolishly thinking that I'd be enjoying it when I got home to Canada. That bottle of Crema Limoncello never even saw the sun rise the next morning.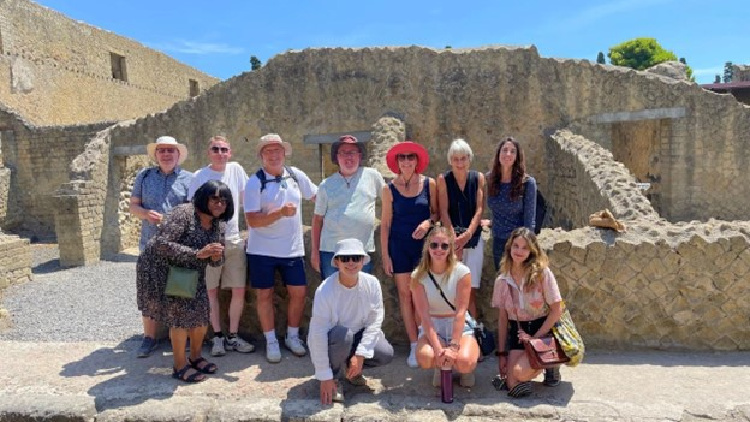 Even Walking the Amalfi Coast Must Come to an End
Every solo traveler will have to say goodbye to people at some point during their adventures. Sometimes you don't really care, but sometimes it just tears you up inside. With tours it's particularly difficult because your tourmates have become your friends, almost an extended family during your trip, but the upside is that you now have some new friends who are just as adventurous as you, and with technology it's never been easier to stay in touch.
A huge thank you as well to our incredible local guide Teresa Romagnuolo for taking such good care of us, and for teaching and showing us all the wonders in this beautifully magical part of Italy.
Visit Solo Traveler on Instagram for more stunning videos and photos from my trip!
Thank you to Exodus Travels for sponsoring my trip to the Amalfi Coast. All experiences and impressions are my own, and Solo Traveler maintains complete editorial control over all content.