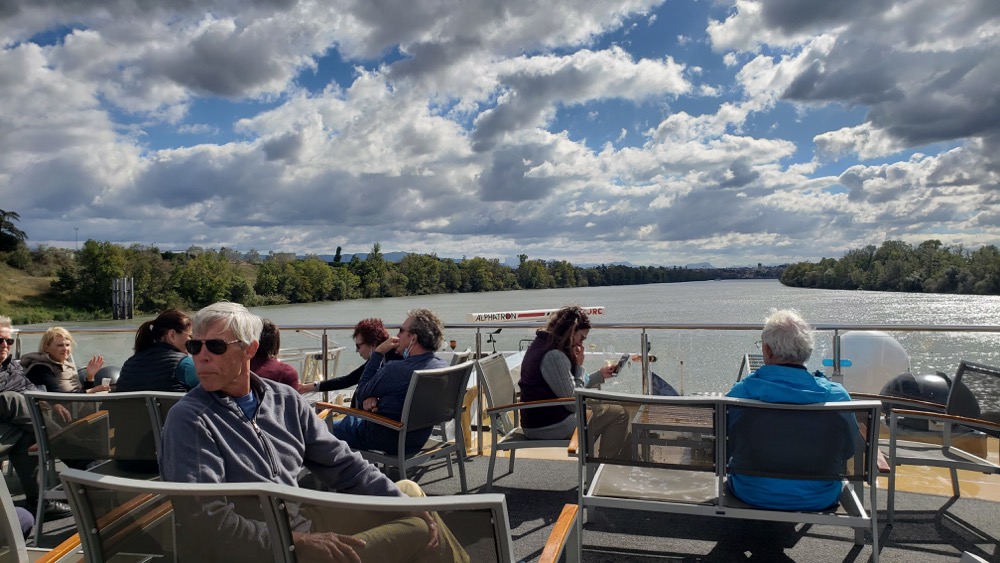 My recent trip with Avalon Waterways was my third river cruise and the best yet for a number of reasons.
I took their southbound Active & Discovery on the Rhone. I've already written two posts about this trip. One on why a river cruise makes for a good trip at this time and a second on the variety of excursions.
This time I'll share a more traditional review. Before doing so I think it important to let you know that I was their guest.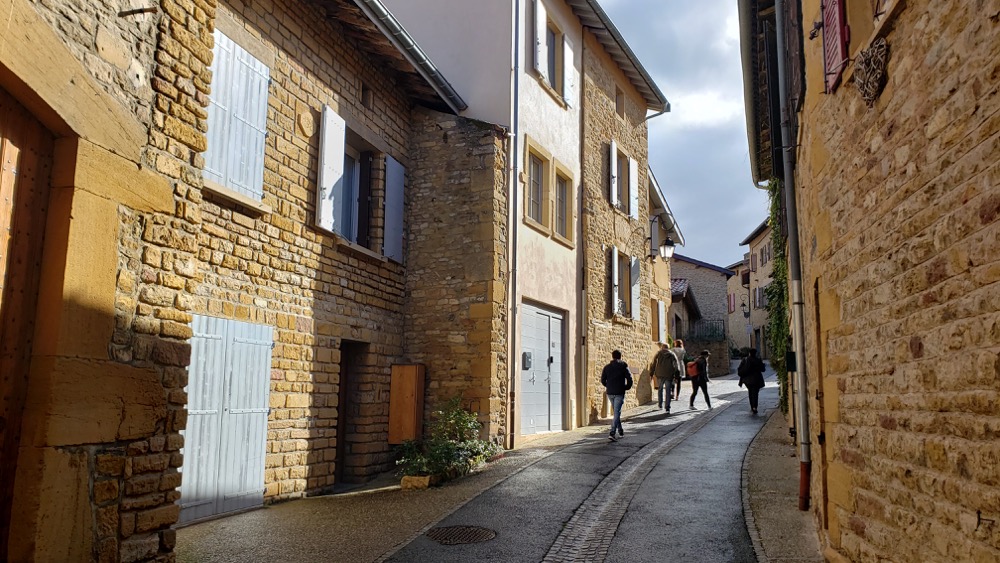 Avalon Waterways Review: Rhone River Cruise
Let's start the review with the itinerary.
We traveled from Lyon to Port-Saint-Louis, which is essentially Marseilles, with stops in L'Hermitage/Tournon, Viviers, Avignon, and Arles.
The trip was well paced with excursions that were included in the price of the cruise every morning. On two afternoons of our week we sailed during the afternoons to satisfy those who enjoy sitting back and watching the world go by, and on four afternoons there were optional activities available at an additional charge. Given that our ship's port was essentially in town, we always had the option of spending those afternoons exploring independently.
Days 1 and 2, Lyon – We boarded the ship on April 5th, had dinner and then a tour of Lyon at night. We stayed the full next day in Lyon as well giving everyone the opportunity to explore the city known as the food capital of France more fully. In the morning I went on a food tour and in the afternoon I took a tour of Domaine Paire Beaujolais Vineyard and then Val d'Oingt, outside the city.
Day 3, L'Hermitage/Tournon – There were two active experience options to choose from in these twin towns, a rail bike ride along a gorge or a hike through vineyards. Given that I had sprained my ankle earlier in the week, I chose the more passive chocolate experience which took me to Valrhona Chocolate Factory and Museum. This was one of the two afternoons when we would be sailing. There was a cooking demonstration on the ship for those who were interested.
Day 4, Viviers-Lock Bollène – The active options this day included kayaking, hiking, and caving. The weather was against the kayakers this day. The Avalon team decided to cancel the kayaking because the water was too high and rough. Though people were disappointed, watching kayaks flip over from the banks of the river made them glad of the decision. The morning also offered the option of visiting the Bollene Lock. Again, in the afternoon, we sailed, this time to Avignon. The captain managed to have us arrive just before sunset which cast a beautiful glow on the city and its famous bridge.
Day 5, Avignon – In the Gard region outside of Avignon I got to try an e-bike for the first time. We rode to the Pont de Gard and then to a medieval hilltop village. Others went to a Provençal farmhouse to learn about the making of essential oils. Still others took a city tour that included the Palace of the Popes and Les Halles market. There was an afternoon option to visit Chateauneuf-du-Pape for a wine tasting as well as kayaking on the Gard. Those who missed the kayaking on the previous day were given this optional excursion for free.
Day 6, Arles – I am very fond of Arles and was excited to get there. In the morning I went to the Carrières de Lumières which, this year, highlighted works by Cézanne and Kandinsky. In the afternoon I hung out with three other travelers. It was wonderful and, yes, I remembered Arles but realized I had merged the city in my mind with Saint-Rémy-de-Provence, a town on the afternoon itinerary. Ah well, we still had a fabulous time. Other options this day were a guided hike, a painting workshop to learn the techniques of Vincent van Gogh, or a sightseeing tour of the city.
Day 7, Port-Saint-Louis and Marseille – On this, the last day of the cruise, everyone had to be tested for COVID-19. Unfortunately, the Canadians on board had to be tested at a proper lab, so off we went in the morning to Marseilles. That, too, was an experience. We registered for the tests at the lab office but had to walk around the block to the back of the building to be tested at the back door. Très amusant. While we were being tested, others went to either an oyster tasting in the Camargue Natural Park or on a guided bike ride through the park, which is famous for 400 species of birds. In the afternoon I took a guided tour of Marseille.
The only thing I would add to the excursions would be the option of riding a bike between ports when possible. For example, the distance between Avignon and Arles is just over two hours by bike. I think that would be fun.
The only part of the itinerary I wasn't keen on was Port-Saint-Louis as it is at least an hour from Marseille. But then, Avalon Waterways does not have control over where the Rhone ends and where the founders decided to situate Marseille.
You can read more about all the choices that Avalon offered on this trip here: Tours and Cruises Offer "Choose Your Own Adventure" Option.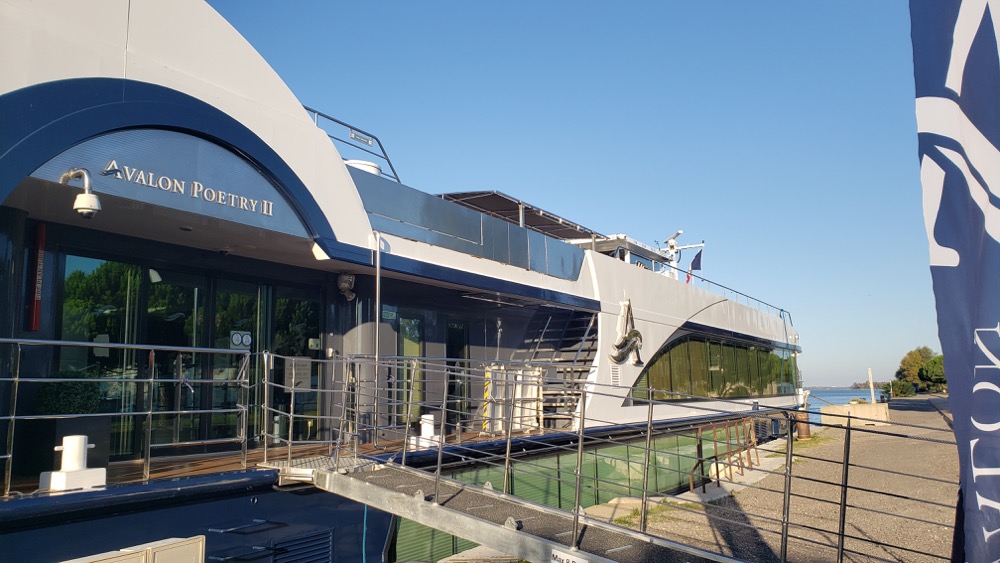 Avalon Waterways Suites for Solos and Ship Amenities
Our ship was the Avalon Poetry II. Suites and staterooms occupy about the latter two-thirds of the ship on three levels.
On the upper deck is the Sky Lounge at the front, the Sky Grill in the middle, and the Whirlpool and Lounge decks in the latter half. This deck is open when docked and when sailing as long as there are no low bridges to pass under.
On the main level towards the front of the ship are the Panorama Lounge and Bistro. The Club Lounge is positioned towards the rear on the same level with a small deck to enjoy outside. Coffee, tea, hot chocolate, sweets, and more are available there throughout the day.
On the lower level are the dining room and a fitness center with multiple machines and free weights.
Avalon Waterways sets aside five or six cabins with no single supplement for solo travelers on every sailing. These are full size suites, not small, single cabins. The key to getting one is to book early. Should you miss this window but have flexibility in your dates, monitor the capacity of sailings nearer their departure times. Should the numbers be in your favor, you just might score a cabin to yourself with no supplement.
The suites include:
Wall-to-wall windows
Your choice of mattress firmness
Egyptian cotton linens
Bathrobes and slippers
L'Occitane® bath products & hairdryer
A good sized bathroom with a comfortable shower stall
TV with multiple channels and movies (though I was never in my room long enough to watch)
In-room safe
All the staff are fluent in English. Wi-Fi is offered throughout the ship, though the quality was pretty spotty when I was there. That should be fixed.
At the Avalon Adventure Center you can request the use of a bike, Fitbit, walking sticks, binoculars, day packs, maps of the area, and advice on where to explore. The activities coordinator desk is almost always open. Yoga was offered in the early mornings with mats and fitness bands.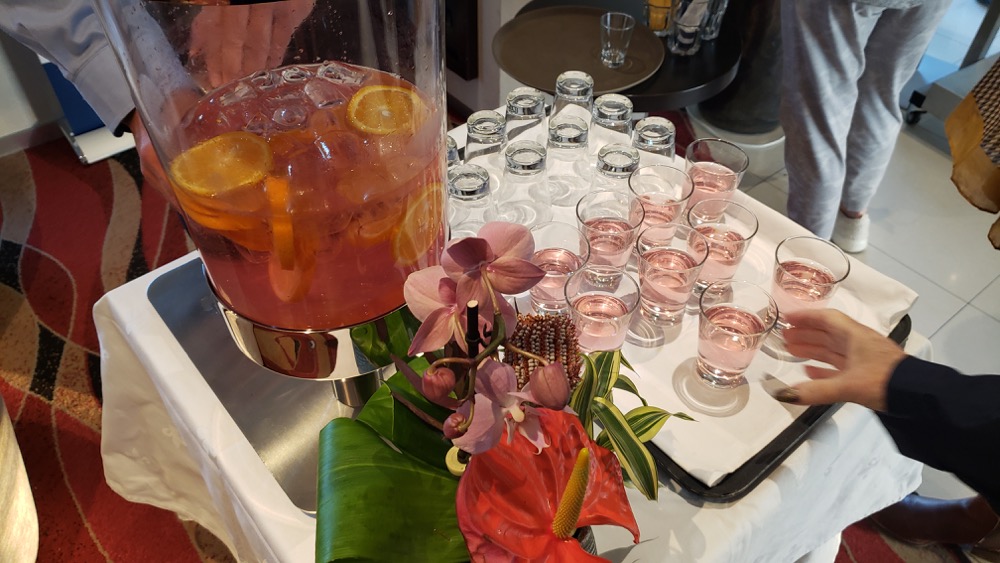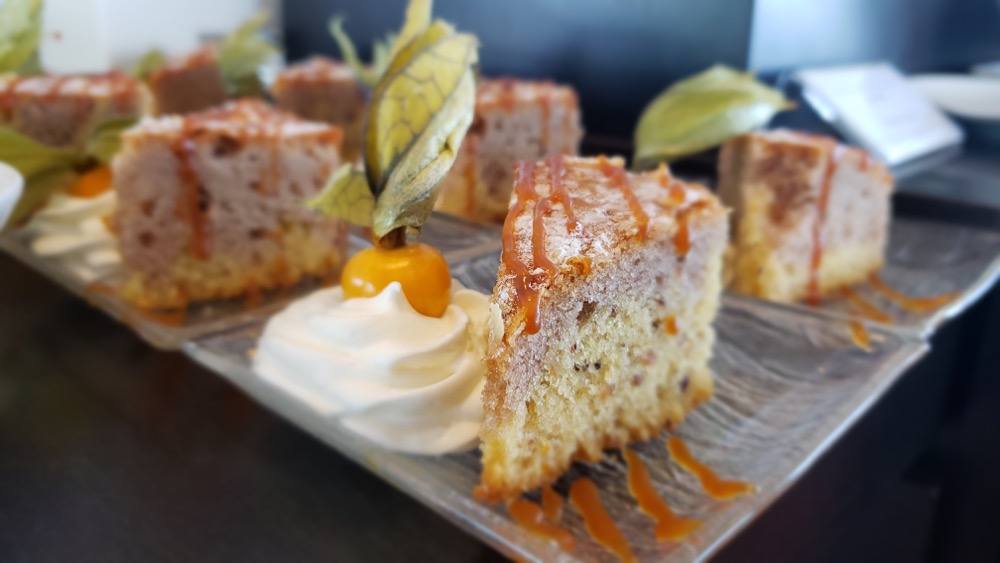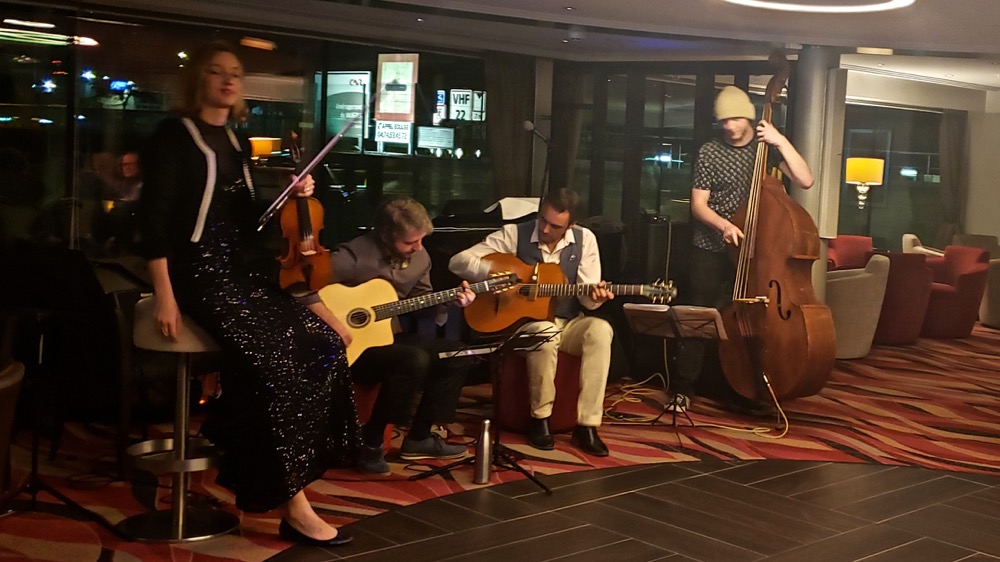 Dining to Accommodate Every Dietary Need
No cruise review is complete without a discussion of the food.
Food and wine can vary greatly on a river cruise. Avalon stands well in this category with many options for each 4-course meal and accommodation for dietary restrictions. The food was fresh and properly cooked, never overdone or underdone. I don't know how they do it. The chef was Portuguese and, as he said, did fish really well. If the set menu is not to your liking there is always an a la carte menu to order from.
I let a few of my usual food limitations lapse while on board which confused the staff who were totally prepared to serve a gluten-free vegan. I ate fish almost every day. I have to say that the staff were great. They were not only attentive but they seemed to tune in to what level of fun they could have at each table.
I'm not a wine aficionado but people who know and care more than I do were impressed with the complimentary wine and beer available for every lunch and dinner.
Breakfast buffets had a variety of options every day and a chef ready to prepare eggs to your liking. A complimentary continental breakfast by room service was available every morning should you prefer.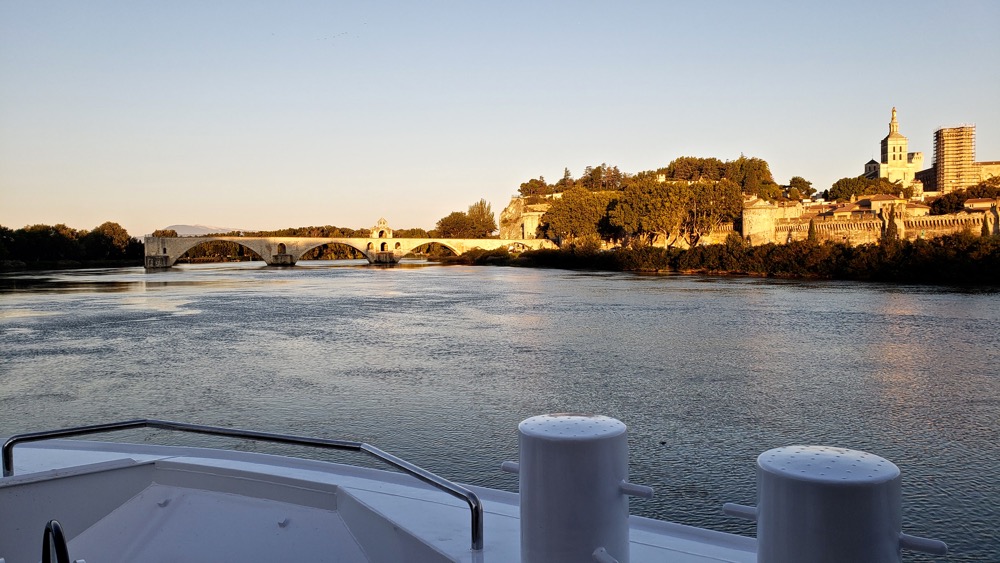 Avalon Waterways Sustainability Review
I know that sustainability is not the first criteria most people consider when deciding on a river cruise but a review of Avalon Waterways isn't complete without discussing their sustainability program.
I will start with a small story.
As I mentioned in this post on Avalon activities and excursions, I sprained my ankle two days before boarding the ship. I arrived on ship with a splint and a limp. That evening I needed an ice pack. The bar had the ice but there was a problem finding a plastic bag. Avalon has been so good at eliminating plastics on the ship that a standard plastic bag could not be found. They eventually cut the bottom off a massive garbage bag and gave me the best ice pack I've ever used. It covered my leg from my foot to my knee. The result was amazing.
The difficulty they had finding a plastic bag was my first introduction to Avalon Waterways's commitment to reducing their carbon footprint.
For full details on all they have done read Avalon's sustainability program towards the bottom of this page. Some of the highlights include:
Eliminated single-use plastics onboard and at operations offices, worldwide
Reduced paper waste by 80% onboard
Working with local farmers to support local communities and reduce transportation of food
Committed to using shore power while docked when possible so that engines can be turned off
Pledged to use biofuel, reduce paper waste further, and partner with destinations to generate sustainable electricity
I was impressed with the values demonstrated by Avalon Waterways and staff.
I hope this Avalon Waterways review answers some of your questions about the experience. If you have others, please ask them in the comments and I will try to respond.
This post was brought to you as a result of the Avalon Waterways trip, a project between Avalon Waterways and iambassador. Naturally, my description of the experience is my own. Solo Traveler maintains full editorial control of the content published on this site.