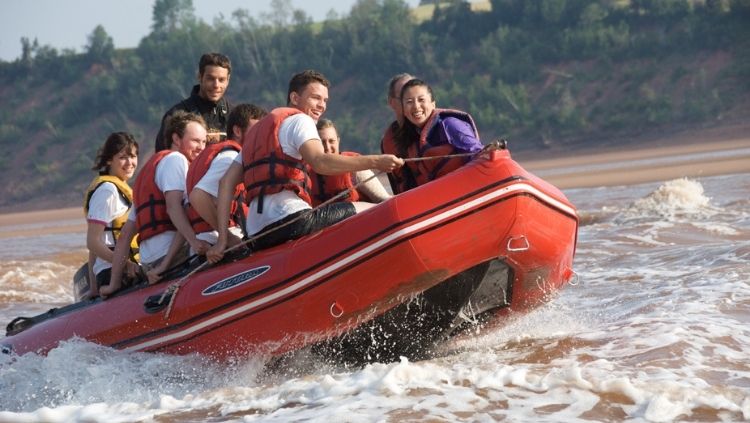 When I think about Nova Scotia I think of nature on a grand scale. I have images from my trips that include the Cabot Trail, the Bay of Fundy, and colorful seaside villages. Nova Scotia is a beautiful province that offers plenty of opportunities for soft adventure.
My relationship with Nova Scotia goes back to my high school graduation year. As a gift, my parents gave me a cycling trip that included the Cabot Trail on Cape Breton Island. (Yes, I cycled the trail.) I have since visited the province perhaps ten times.
At this point, I need to say that a sense of adventure was not baked into my life as a child. My three siblings were dare-devils. I was, shall we say, less so. Oh, I skied and skated and played games in the street but I was not really good at any of it. I wasn't last picked for the teams, but close. My physical activities were never beyond my capacity for risk and always at my own pace. That cycling tour of the Cabot Trail was the second trip I had taken with the lead guide. When one of the support people couldn't make it, the leader knew that I would happily be the sweep, taking up the rear to ensure that no one was left behind.
All this to say that when it comes to adventure travel, I stay on the soft side. There are plenty of adventurous things to do that don't require special skills or risk-taking.
A few weeks back Tracey and I co-wrote a post about Halifax giving you tips for things to do that are inexpensive as well as some that are more luxurious. Today I want to take you out of the province's capital city to some experiences that, should you be into nature and a bit of excitement, are sure to entice. I want to introduce you to some of the soft adventures to be enjoyed in Nova Scotia.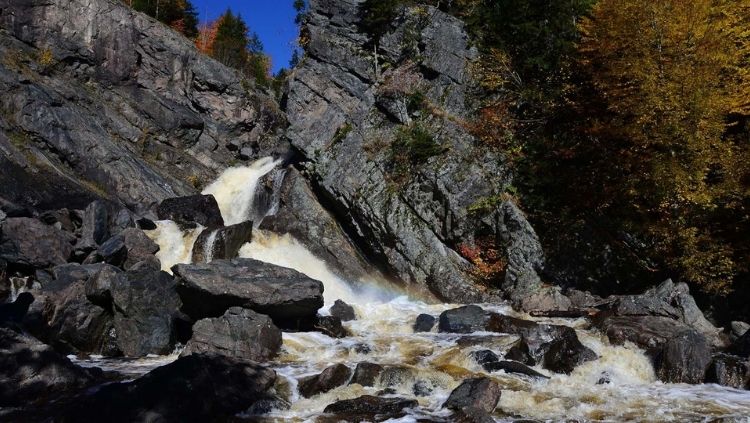 There Are Soft Adventures for All in Nova Scotia
While Halifax is an urban playground with great food, a vibrant art scene and entertainment, you can find the same scattered throughout the province in towns, villages, resorts, and vineyards. It's like Halifax is the fun blockbuster and the rest of the province is the well written, small budget film that sticks with you. You really must explore the quieter side of the province. As you do, take in day tours and hikes that fall into the soft adventure category.
Sea Kayaking and More Adventure on The Bay of Fundy
The Bay of Fundy is famous for having the highest tides in the world. It is these tides that make so many wondrous soft adventure opportunities in this part of the province.
Cliffs of Fundy UNESCO Global Geopark The Fundy Geopark tells the story of the coming together of the supercontinent Pangea 300 million years ago and its ripping apart 100 million years later, like nowhere else on Earth.

Sea Kayaking Check out NovaShores Sea Kayaking for short or multi-day tours. Sea kayaking is easy to learn and, with a guide, is safe to do. The image below is of their most popular experience, exploring the majestic Fundy cliffs and the famous Three Sisters sea stacks. They typically operate mid-May to mid-October.
Hiking Trails

Easy – Mi'kmawey Debert Interpretive Trail. This 4.4 km trail is available to the public year-round and takes about 75 minutes to cover. It's a bit rugged so it doesn't accommodate wheeled vehicles. It's located 15 minutes from Truro. There are interpretive panels located along the trail created by the Mi'kmawey Debert Elders' Advisory Council.
Intermediate – Economy Falls Trail. This trail is only 2 km return but it takes 2 hours to do. On this trail you're following the Economy River gorge to the falls. In 1997, one side of the rock face collapsed, which is practically unheard of in lowlands such as this. 2,000 ton of rock fell into the huge pool in front of the falls and piled up. Climb these rocks at your own risk.

Riding the Tidal Bore. As mentioned, the Bay of Fundy has the highest tides in the world. The tidal bore is created by the incoming tide from the Bay that is so strong that it actually reverses the flow of water on a river, creating waves that you can actually surf on. I experienced the fun in a river raft with the Tidal Bore Rafting Park.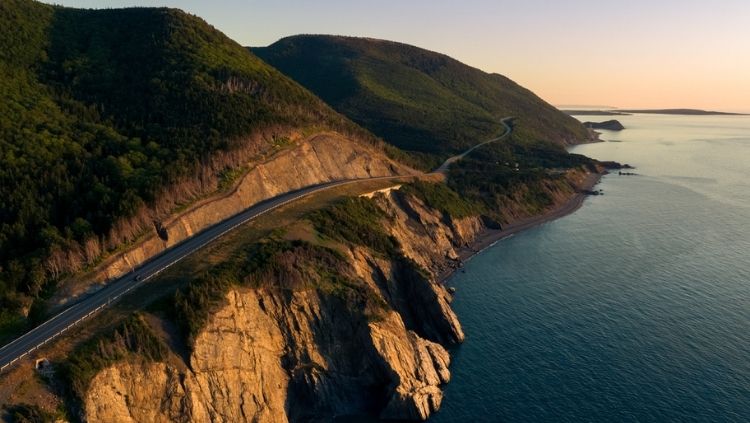 Cycling, Hiking, and Climbing on Cape Breton Island
Cape Breton Island is on the east side of the province. Top attractions include the Cabot Trail, Louisbourg, the best golf course in Canada, and ceilidhs (Gaelic music events). Read this 5-day road trip itinerary for Cape Breton.
And now to some of the soft adventures you'll find in this part of Nova Scotia.
Ingonish Tree Walk This is brand new for 2021. Located at Cape Smokey near Ingonish, the tree walk is an observation tower that soars 320 vertical meters above the top of the mountain. Opening in July 2021, the Tree Walk will be accessible to all by an 8-person gondola. Alternatively, you can take the 561 meter walkway that takes you past 14 large educational signs highlighting history and local flora and fauna.
Cycling the Cabot Trail This is, most definitely, a challenging ride but it's doable if you have the attitude I described in the introduction. The big debate about the trail, whether you're in a car, on a motorcycle, or cycling, is which direction to take. Being a loop, the trail can be taken clockwise or counterclockwise. If you're driving, you have different things to consider than if you're on a bike. If you're motoring, read this. Having done this by bike, I would recommend cyclists go counterclockwise. There is one major difference that cyclists will care about concerning the direction of the trail. Clockwise you'll encounter long ups and short steep downs as you go over the many mountains along the trail. Counterclockwise you have the pain of steep ups but, oh, the rides down are sheer joy.
Spectacular Hikes on the Cabot Trail There are hikes for all abilities on Cape Breton Island.

Easy – Skyline Trail. The Skyline Trail is a 7 km loop and rated easy. The hike is to a headland cliff with views of the ocean and rugged Cape Breton coastline. Watch for whales in the Gulf of St. Lawrence from the viewing decks. The trailhead is at the top of French Mountain.
Intermediate – The Acadian Trail. This 8.4 km/5.2 mi loop trail takes you 365 meters above the Chéticamp River for panoramic views of the Acadian coastline. Located at the Chéticamp campground and not far from the town of Chéticamp, it's easily accessible. There are some steep inclines and stream crossings.

Rock Climbing in Cape Breton Now this is far beyond my abilities but if it's within yours, Nova Scotia is great for rock climbing. In fact, it's called "the land of the sharp granite." On Cape Breton Island, Bear Cave Gulley is the place to go. Read more here.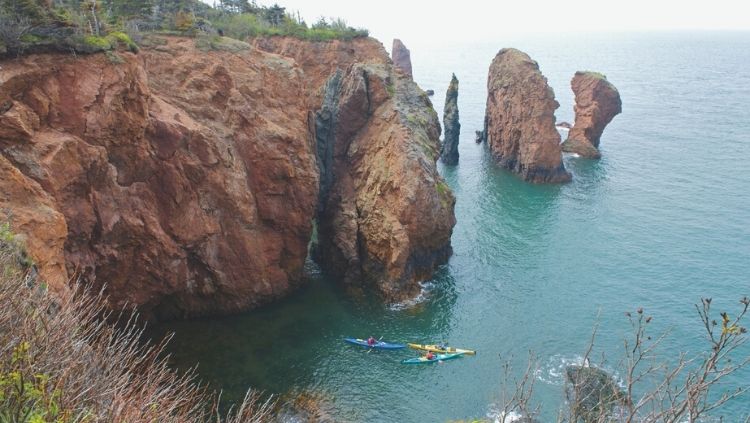 Soft Adventure in Nova Scotia's Annapolis Valley
The Cabot Trail and Bay of Fundy are known for really dramatic natural landscapes, but the Annapolis Valley has much to offer as well. In addition to the soft adventures below there are award-winning wineries you can visit via a hop-on, hop-off winery shuttle. You can discover Mi'kmaq legends, an abundance of farm-fresh produce, farmer's markets, seafood, and whale watching tours departing from Digby Neck and Long and Brier Islands.
There is, of course, so much more to see and do in Nova Scotia. Our thanks to the province for supporting this blog post though, as I'm sure you can tell from the writing, the opinions are my own. Please learn more on their site.