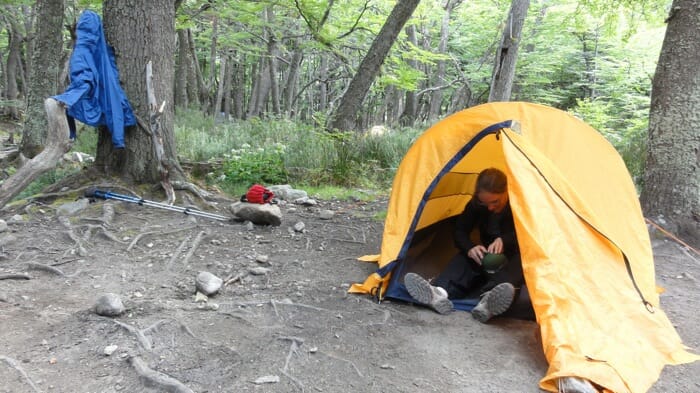 I love camping! With family and friends. But sometimes, I particularly prefer camping solo.
I love being outside all day long. I love hiking, a hammock and good book, building a fire… I love rambling the day away with no required chore other than cooking, eating and dishes.
Most of my camping is with a tent but I have taken an RV on occasion as well. Both offer a sense of independence though they are quite different experiences.
Which do I like better?
Well, each has its advantages and each can be preferable depending upon the experience you seek. I'll share their pros and cons here. As you read, I'm sure you'll infer which I like better. If not, I'll make it clear at the end.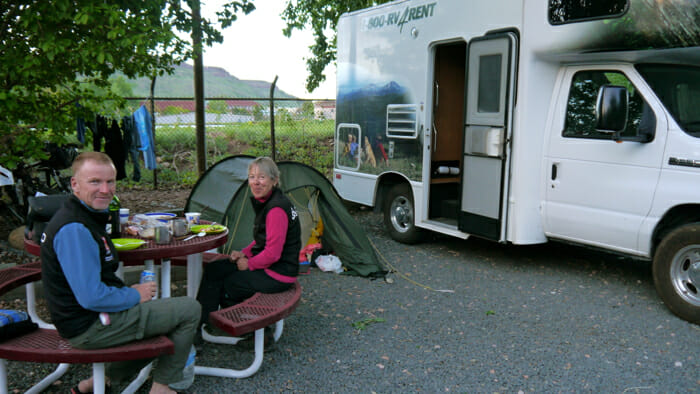 Tent or RV: Pros and Cons When Camping Alone
The Benefits of an RV for Solo Camping
On a trip through Arizona and Colorado, I took the smallest RV available, a 16-foot camper that sleeps three. It had a bathroom, fridge, stovetop, sink, table seating for four and a lounge chair at the side. With full hookup, it had electrical, water, and toilet facilities. Here is my pros-and-cons list.
Pros for RV Camping
An RV is self-contained. With a fully-equipped RV, at the right campground you have all the basics of home.
In bad weather you are completely protected.
You're really mobile. Take down the nighttime curtains, toss the bed back together, and you can be on the road in 10 minutes.
It's easy to experience several different landscapes or even towns and cities in the course of a week or two.
Storing things, getting dressed… it's all easy.
You can lock the doors of the vehicle for safety.
Cons for RV Camping
Most RV parks are more like parking lots than parks.
Where you stay is determined by your vehicle, its size and the hookups you want.
RV parks are expensive ranging from $30 to $60 per night.
Because everything you need is inside the RV, and because the park is not appealing, I found myself not spending a lot of time outside of it.
The maintenance of life includes cleaning counter tops, sweeping the floor, making beds and then unmaking them in the morning and storing the sheets…
People are friendly but they retire inside their RV early at night. (But not always. Read Paying Forward a Kindness on the Road.)
Traveling by RV is expensive. Even my small RV consumed a lot of gas.
When a Tent is Preferable
I typically camp with a tent but I don't camp deep inside forest, for example, so, I car camp. It's not wilderness camping but when I went to Bon Echo, Ontario, it felt like it was. In the Hardwood Hills section of that site, I couldn't see my neighbors. When I camp my car is nearby with a cooler, food box, and other supplies. In addition, I have a three-man tent and a fly over the table for protection from rain and things falling from the trees. It's pretty simple. Here are the pros and cons.
Pros for Tent Camping
The campgrounds are located in natural terrain whether they be forests or semi-arid vegetation.
You're outside all the time. The tent is really just for sleeping. I LOVE this.
There are no beds to set up at night. You just crawl into the tent.
Regular campsites for tents are inexpensive running about $23 per night in a provincial park in Canada.
The maintenance of life involves cooking food, cleaning dishes and lighting a fire – that's it.
Traveling is cheap when you use your own car. (Mine is small and very fuel-efficient.)
Most campgrounds offer comfort stations with shower and laundry facilities.
Any campsite will do in a pinch.
Cons for Tent Camping
Rain can make tent camping less pleasant. (Make sure you have a good fly.)
Getting dressed can be a challenge in a small tent.
With all the dirt around, you get dirtier.
It takes more time and effort to get back on the road as you have to pack up the tent, etc.
You may not feel as safe since there is only nylon between you and the rest of the world.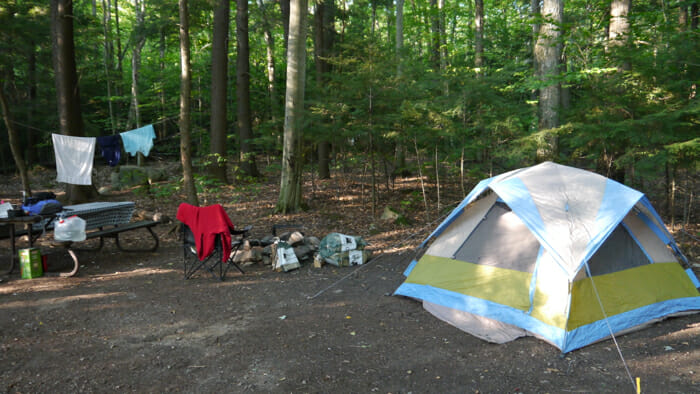 My Choice?
For me, if there's not too much traveling from one place to another, I prefer tent camping. It's cheaper and I love being outside all day with no work other than making dinner and cleaning dishes. And, as a solo traveler, that's definitely not a lot of work.
However, if it's a trip with multiple destinations, then an RV is great. It's comfortable and you don't have to set up camp every time you move to a new spot. Read The Meaning of Landscape: RV Road Trip Through the American Southwest
Bottom line, it's really just a matter of personal preference.
Solo Camping Safety
One may wonder how safe it is to live in a nylon house.
In a tent, there is no physical protection from man or beast. Protection from the latter is a matter of good camping practices such as keeping your campsite clean and either putting food in a car or sealed barrel. Protection from the former, other people, is managed by a code of ethics that keeps all campgrounds safe. People respect one another and their gear. Simple as that.
Yet there are still some tactics and products you'll want to consider when you're camping alone.
Safety Advice for Camping Alone
Camping solo. Let people know where you are. Whether you're on the road in an RV, car-camping with a tent or canoeing into an interior site, always make sure that someone knows where you are.
Carry a GPS tracker. Leaving word with someone trusted is great but for real peace of mind consider a GPS tracker. It requires connectivity which stars at $25 a month and requires no contract. You can be tracked through Google maps. Toss it in your backpack and forget about it. It also has an SOS button.
Pack a first aid kit. Solo campers need to be self-reliant. Have what you need with a first aid kit that is both light and complete.
Protect yourself against insects. Mosquitos are a nuisance. Ticks can make you very sick. Protect yourself from both by using a bug spray with DEET and check for and remove ticks as soon as you see one. Wear long sleeves, pants, and other light-colored clothing to help prevent and spot ticks more easily.
Ensure that the water is potable. Before you drink, make sure that the water is clean and drinkable. If you're camping in another country, you may want to drink bottled water to be on the safe side.
Secure all food. The smell of food and garbage attracts bears. Secure it all in a car or sealed barrel.
Never bring fuel-burning lanterns or heaters into a tent. They give off carbon monoxide which is poisoning and, without enough ventilation, deadly.
No matter how cute the wildlife, avoid going too close. Watch them from a safe distance.
Pack suitable clothes. Hat during the day to protect you from sun stroke and cancer and warmer clothes at night which is inevitably cooler.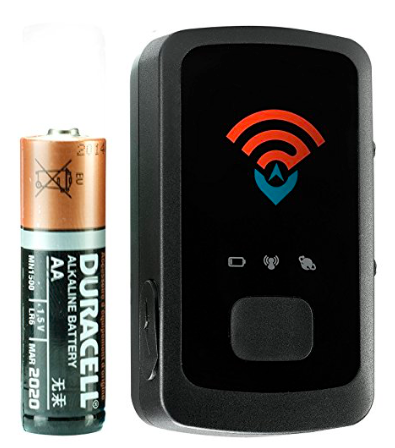 Camp Alone. Relax. Enjoy Doing Nothing.
Doing nothing is a difficult thing to do. I, like most people, have a very busy brain and I spend little time actually doing nothing. When camping, I'm better at this. I'm especially good at this when camping solo. I spend the majority of my day doing nothing. Not working. No agenda. No goals.
Here's the sum total of all the nothing I did on one solo camping trip.
I swam with a loon. Loons can swim great distances under water and as I was swimming the breast stroke along the width of the beach, just beyond the buoys, a loon popped out of the water about 30 feet from me. There is only ever one loon family on a lake which makes this occurrence quite special. Loons are beloved in Canada for their haunting call with repetitive notes that can last many seconds.
I discovered that food is a purely social activity for me. I always knew that food was not a priority on my travels — thank goodness we have Tracey to write on that topic – but I hadn't realized how little I cared about it until I stopped eating meals. I grazed my way through the week.
I forecast the weather. Yes, I awoke about 6:30 am and could hear thunder far off in the distance. I got up, rejigged the guy wires on my tent for rain, moved everything to the center of the tent inside and then put up a tarp over the picnic table – something I hadn't done as the weather person had called for perfect weather the entire week. It was so satisfying to be in tune with nature.
I experienced the power of muscle memory. There are never four trees standing exactly where you need them when there's a tarp to be put up. I had three, but a fourth was far out of the way. However, I had extra rope and was pretty sure I'd remember how to join to ropes securely together once I had the two in my hand. Sure enough, I did. The know-how came back to me from the practice for my knot badge in Girl Guides. It's called a sheet bend.
I watched a fire for hours. I built a fire every night – often, I'm proud to say, with just one match. And I could sit at that fire, watching the flames, listening to trees creaking in the wind, watching a toad hop across the campsite, and dozens of other small things for hours on end.
I discovered that it takes at least four days to relax. Yes, the first few days of my vacation were not that relaxing. My brain was buzzing as I did my usual thing of observing what my travels are like so that I can share them properly with you. But, by about day three, I noticed that I was doing little of that. My mind was more quiet. Calm.
I read for seven hours straight. I moved from chair to tent to picnic table and back to the chair but all that time I was reading. I nibbled on cheese and crackers, had a glass of wine and read. I finished Sweet Tooth, a novel by Ian McEwan. It's the fourth novel I've read of his and I've enjoyed every one – he is one of my favorite authors. And then I started on David Rakoff's novel Love, Dishonor, Marry, Die, Cherish, Perish: A Novel.
Calm. That's what doing nothing should be about.
You might also enjoy these posts: