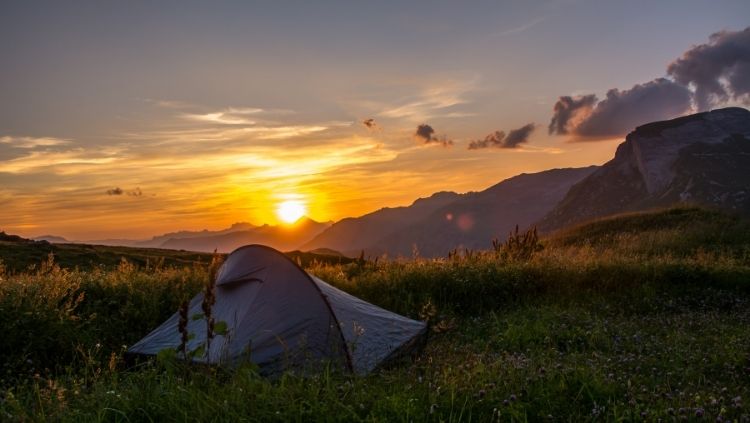 I love camping! Camping solo has additional joys and challenges to consider which I will get into below, including:
tent camping safety
solo RVing vs. solo tenting
solo camping as a woman
I love being outside all day long. I love hiking, a hammock, and a good book, eating outside all the time, and building a fire. I love rambling the day away with no required chores other than cooking, eating, and washing dishes. That rambling is easier when I'm solo.
While I have taken the occasional RV trip, most of my camping has been in a tent. The two are quite different experiences and my preference is usually tent camping.
Now, if you're on the move and only spending a night or two in any one place, an RV is definitely more convenient. However, if you do have time to sink in and enjoy your destination, tent camping is a better choice as far as I'm concerned. It's far less expensive and, more importantly, it's rejuvenating.
Spending the whole day outside, in the fresh air, disconnected from the online world, is an incredibly healthy experience.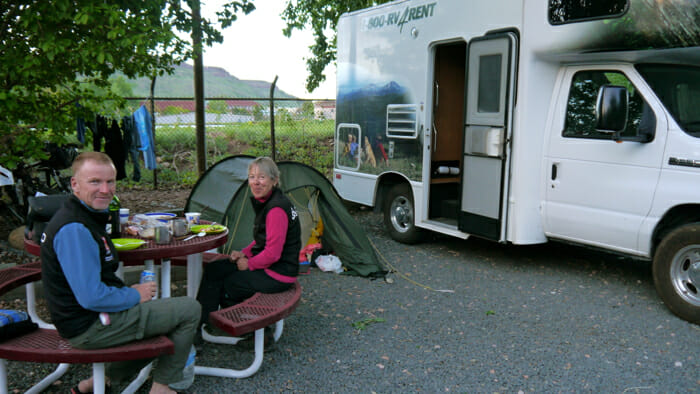 Camping Alone: Tent or RV?
There are almost always trade-offs in life. There are ups and downs and pros and cons to almost anything you do. It is the same with camping. Here are the pros and cons of tent camping and RV camping.
Pros of Tent Camping
The campgrounds are located in natural terrain where there is nature to enjoy.
You're outside all the time. The tent is really just for sleeping. I LOVE this.
There are no beds to set up at night like there are in an RV. You just crawl into the tent.
Regular campsites for tents (with no services) are inexpensive, running about $35-$45/night.
Daily chores involve cooking food, cleaning dishes, and lighting a fire. That's it.
Most campgrounds offer comfort stations with shower and laundry facilities.
Cons of Tent Camping
Rain can make tent camping less pleasant. (Make sure you have a good fly.)
Getting dressed can be a challenge in a small tent.
With all the dirt around, you get dirtier.
It takes more time and effort to get back on the road as you have to pack up the tent, etc.
You may not feel as safe since there is only nylon between you and the rest of the world.
Pros of RV Camping Solo
An RV is self-contained. With a fully-equipped RV, at the right campground, you have all the basics of home.
In bad weather, you are completely protected.
You're really mobile. Take down the nighttime curtains, toss the bed back together, and you're on the road in 10 minutes.
It's easy to experience several different landscapes or even towns and cities in the course of a week or two.
Storing things, getting dressed: it's all easy.
You can lock the doors of the vehicle for safety.
A parking lot will do in a pinch.
Cons of RV Camping Solo
Where you stay is determined by your vehicle, its size, and the hookups you want.
Dedicated RV parks are expensive, ranging from $30 to $100 per night depending on the location and amenities.
Daily chores include cleaning countertops, sweeping the floor, making beds, and then unmaking them in the morning and storing the sheets. It's more like being at home than tent camping.
People are friendly but they retire inside their RV early at night.
Traveling by RV is expensive, and can become more expensive as fuel prices fluctuate. Even my small RV consumed a lot of gas.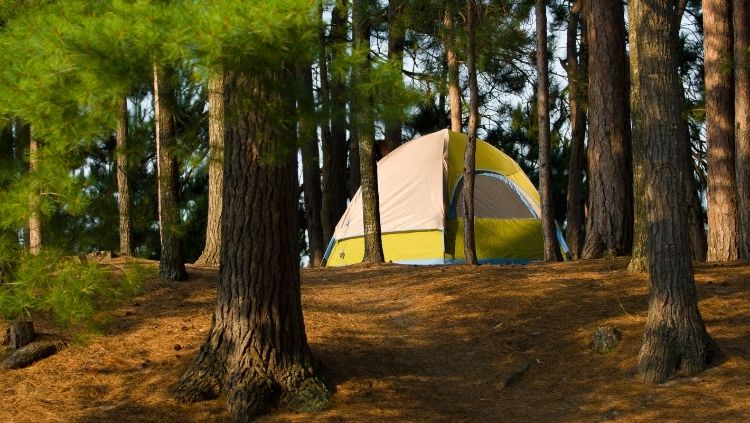 Solo Tent Camping: 3 Ways to Camp and Connect to Nature
If this is your first time camping please also read First Time Camping Solo: Basic Gear and Packing List.
I typically camp with a tent but I don't interior camp. I car camp. It's not wilderness camping, but, depending on the campground, it can feel like it. When I went to Bon Echo Provincial Park in Ontario, I was in the Hardwood Hills section and I couldn't see my neighbors. Yes, even when car camping you can enjoy a bit of isolation, luxuriate in some forest bathing, and connect with nature.
To help you understand your camping options, here are the three most common.
Car Camping
Car camping means your car is near your campsite so you have a safe place to store a cooler, food box, and other supplies at night. I have a three-man tent. Add a fly over the table for protection from rain and things falling from the trees and it's a pretty simple setup. To get the nature experience I want I am pretty careful about where I book my campsite. State and provincial parks are my preference but, even then, not all meet my standards.
Backcountry or Interior Camping
Backcountry or interior camping means that you hike or paddle to your campsite, taking you into the woods away from roads with cars, stores, and a lot of people. You must take everything you need with you. Some people will settle into one spot for a while and others use the experience to hike or paddle distances from campsite to campsite. This has gained popularity in recent years and you will typically meet people on the trail. For me it's the most romantic form of camping, offering the best opportunity to disconnect and really enjoy nature. Unfortunately, it is beyond my personal comfort level for solo camping.
Camping on Private Land
Camping on people's land has become a thing. Sites like HipCamp operate like Airbnb except that they offer you a place to camp with the sky over your head rather than a roof. Check the amenities and reviews for each camping opportunity carefully so that you will know what you'll get for your money and the experience you'll have. Sites vary from wooded to farmers' fields.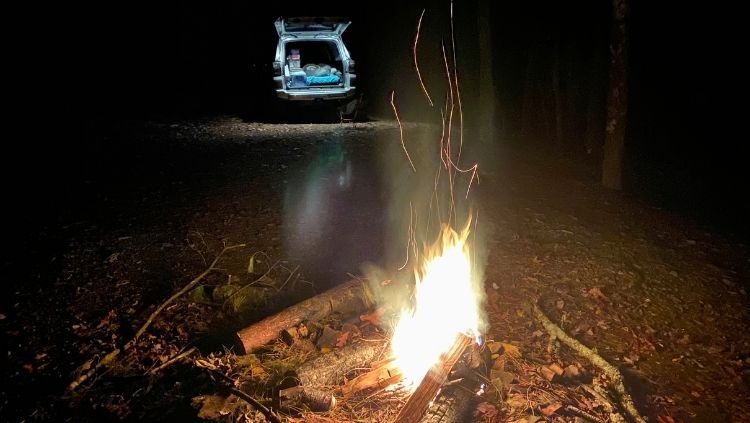 Solo Camping: Tent Safety
One may wonder how safe it is to live in a nylon house. Is tent camping safe?
In a tent, there is no physical protection from man or beast. Protection from the latter is a matter of good camping practices, such as keeping your campsite clean and either putting food in a car or sealed barrel. Protection from the former, other people, is managed by a code of ethics that keeps all campgrounds safe. People respect one another and their gear. Simple as that.
Yet, there are still some tactics and products you'll want to consider when you're camping alone.
Solo Tent Camping Safety Tips
Let people know where you are. Whether you're on the road in an RV, car camping with a tent, or canoeing into an interior site, always make sure that someone knows where you are.
Carry a GPS tracker. Leaving word with someone trusted is great, but for real peace of mind consider a GPS tracker. This is especially important for backcountry camping. It requires connectivity, which starts at $25 a month and requires no contract. You can be tracked through Google Maps. Toss it in your backpack and forget about it. It also has an SOS button.
Secure your valuables. While you can't be sure that everyone will follow it, there is a code of ethics for camping. Everyone treats your tent as if it was a locked, brick building. However, it's still wise to either secure your valuables in your car or carry them with you wherever you go.
Pack a first aid kit. Solo campers need to be self-reliant. Take what you need with a first aid kit that is both light and complete.
Protect yourself against insects. Mosquitos are a nuisance. Ticks can make you very sick. Protect yourself from both by using a bug spray with DEET and check for and remove ticks as soon as you see one. Wear long sleeves, pants, and other light-colored clothing to help prevent and spot ticks more easily.
Ensure that the water is potable. Before you drink, make sure that the water is clean and drinkable. If you're camping in another country, you may want to drink bottled water or use a water purification system to be on the safe side.
Secure all food. The smell of food and garbage attracts bears. Secure it all in a car or sealed barrel.
Never bring fuel-burning lanterns or heaters into a tent. They give off carbon monoxide, which is poisoning and, without enough ventilation, deadly.
Avoid getting too close to wildlife. No matter how cute the animals are, avoid getting up close and personal. Watch them from a safe distance.
Pack suitable clothes. Wear a hat during the day to protect you from sunstroke and cancer and warmer clothes at night, which is inevitably cooler.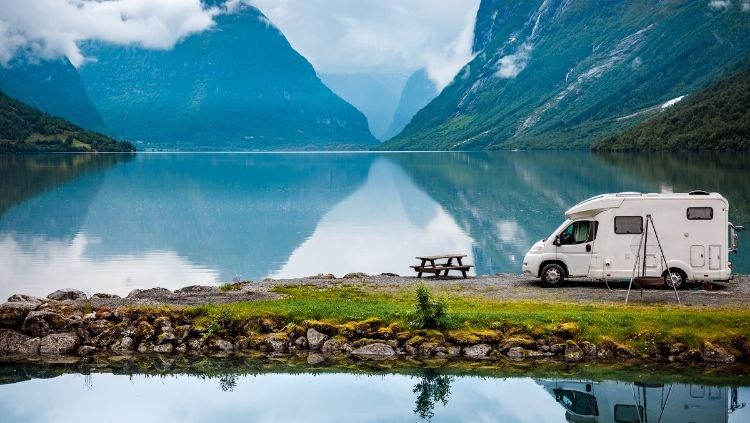 Solo RVing: 18 Tips for Traveling Solo in an RV
On a trip through Arizona and Colorado, I took the smallest RV available, a 16-foot camper that slept three. It had a bathroom, fridge, stovetop, sink, table seating for four, and a lounge chair at the side. With full hookup, it had electrical, water, and toilet facilities. It was luxurious and convenient given that I was really on a road trip. Here are some tips for your solo RV experience.
Choose a small RV. Whether you're buying or renting, choose a small RV. There's just you, so get the smallest possible and spend more time outdoors.
Have your vehicle checked before leaving. A check of the mechanics and various features of your RV should be completed before leaving, including the refrigerator, heater, and air conditioner.
Have an RV app on your side. I use the RVlife Trip Wizard app to plan my route, identify campgrounds along the way, and understand my time commitments and the cost of my trip.
Ensure that you have roadside assistance. Whatever kind of roadside assistance you have, make sure that they will come to your aid when driving an RV.
Pack basic tools. Keep a flashlight, jumper cables, extra fluid for the vehicle, work gloves, and a jacket all near the cab of your RV so that it's handy should a problem arise.
Have a checklist for setup and tear down. This will make sure that all connections are disconnected, curtains are pulled back for visibility, and other such details are taken care of before you pull out of your campsite.
Practice hooking up before you go. Make sure you really know how things work.
Don't rely solely on a GPS. Travel with a GPS, whether it's on your phone or a dedicated GPS, but have maps as well.
Stay well-fueled. Running out of gas on a barren highway is not ideal. Keep your vehicle fuel well above a quarter tank. Given the price of gas these days, you may want to note where the Costco gas stations are on your route as the savings can be significant.
Confirm your reservations. Call ahead to confirm that your reservation is in place before you arrive. Time to make alternate arrangements may be just what you need.
Take some non-perishable food. Fresh food is always preferable, but should something prevent you from shopping, having some non-perishable meals on hand is a good idea.
Park at a distance. Whether you're popping into a store or going to a restaurant, find a parking spot away from the crowd. It will be easier to park and you'll walk off a bit of all that sitting you've been doing while driving.
Arrive early. Plan to arrive at your destination well before dark. Mid-afternoon is a good idea.
Park facing the road. Take your time moving in and make it easy to move out.
Vary your routine. Do different things at different times just in case someone is watching your routine for an opportunity.
Always have your keys on you. Just like with your car, don't leave your keys hanging around an open vehicle. Keep them on you.
Have your owner's manual on hand. These can get lost, so make sure you still have it and have it easily accessible. You'll want to know what symbols on the dashboard mean, the tire pressure you should maintain, and more.
Stay connected for safety. As with all solo travel, keep at least two responsible people aware of your travel plans and where you are at any given time.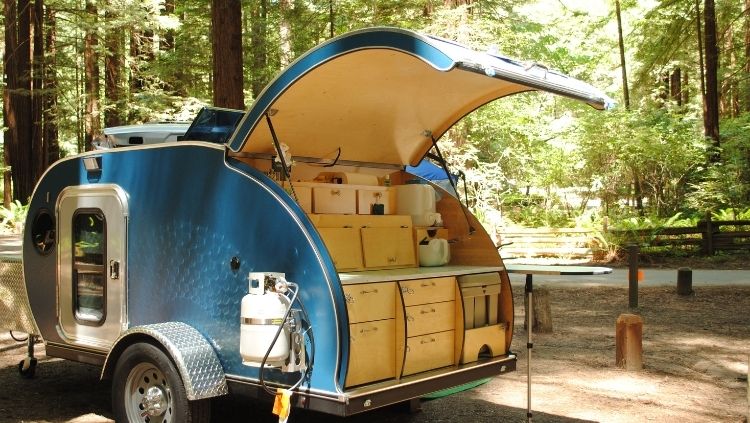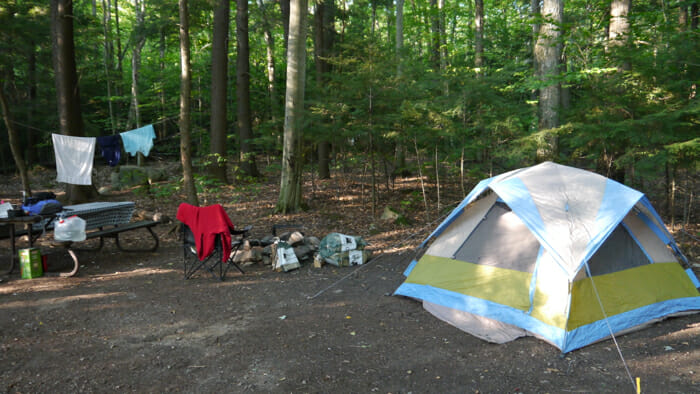 Camping Alone as a Woman: Safe and Relaxing
Some wonder whether camping alone as a woman is safe. In my experience, it is. That code of ethics I mentioned in the tent camping section protects everyone, including the solo camper. I have never questioned my personal safety.
For me, the more interesting aspect of camping alone as a woman is how I spend my time.
Doing nothing is a difficult thing to do. I, like most people, have a very busy brain and I spend little time actually doing nothing. When camping, I'm better at this. I'm especially good at this when camping solo. I spend the majority of my day doing nothing. Not working. No agenda. No goals.
Here's the sum total of all the nothing I did on one solo camping trip.
I swam with a loon. Loons can swim great distances under water and as I was swimming the breast stroke along the width of the beach, just beyond the buoys, a loon popped out of the water about 30 feet from me. There is only ever one loon family on a lake, which makes this occurrence quite special. Loons are beloved in Canada for their haunting call with repetitive notes that can last many seconds.
I discovered that food is a purely social activity for me. I always knew that food was not a priority on my travels–thank goodness we have Tracey to write on that topic–but I hadn't realized how little I cared about it until I stopped eating meals. I grazed my way through the week.
I forecasted the weather. Yes, I awoke at about 6:30 am and could hear thunder far off in the distance. I got up, rejigged the guy wires on my tent for rain, moved everything to the center of the tent inside, and then put up a tarp over the picnic table–something I hadn't done as the forecast had called for perfect weather the entire week. It was so satisfying to be in tune with nature.
I experienced the power of muscle memory. There are never four trees standing exactly where you need them when there's a tarp to be put up. I had three, but a fourth was far out of the way. However, I had extra rope and was pretty sure I'd remember how to join the ropes securely together once I had the two in my hand. Sure enough, I did. The know-how came back to me from the practice for my knot badge in Girl Guides. It's called a sheet bend.
I watched a fire for hours. I built a fire every night–often, I'm proud to say, with just one match. I could sit at that fire, watching the flames, listening to trees creaking in the wind, watching a toad hop across the campsite, and dozens of other small things, for hours on end.
I discovered that it takes at least four days to relax. Yes, the first few days of my vacation were not that relaxing. My brain was buzzing as I did my usual thing of observing what my travels are like so that I can share them properly with you. But, by about day three, I noticed that I was doing little of that. My mind was more quiet. Calm.
I read for seven hours straight. I moved from chair to tent to picnic table and back to the chair, but all that time I was reading. I nibbled on cheese and crackers, had a glass of wine, and read. I finished Sweet Tooth, a novel by Ian McEwan. It's the fourth novel I've read of his and I've enjoyed every one. He is one of my favorite authors. Then I started on David Rakoff's novel, Love, Dishonor, Marry, Die, Cherish, Perish: A Novel.
Calm. That's what doing nothing should be about.
You might also enjoy these posts: