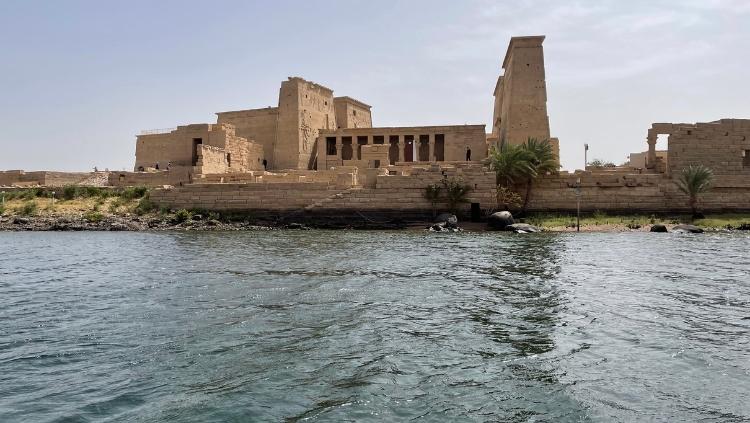 I really had no idea what to expect when I set out to travel solo in Egypt.
Prior to my recent my trip on their Nile Cruise Premium tour, sponsored by Exodus Travels, I had never been on a cruise. Now, I can see why it appeals to so many. It's a very comfortable and easy way to travel. What's not to like about having all your meals prepared for you and living in a floating hotel? It was also a nice way to see the different sides of Egypt's landscapes as one moment you might be sailing through more desert-like settings, the next, lush agricultural lands, or even both at the same time on opposite sides of the river.
I Didn't Know Towels Could Do That
I'm a big fan of towel art, and I was certainly given a masterclass on it during this cruise. Sure, there were the traditional cranes and swans that one might get in any hotel, but during the cruise I was also greeted by towel crocodiles, monkeys, hippos, and even a life-sized effigy of me (which was a strange flex). I've never seen that anywhere else, so let me know if these are common in the towel art world.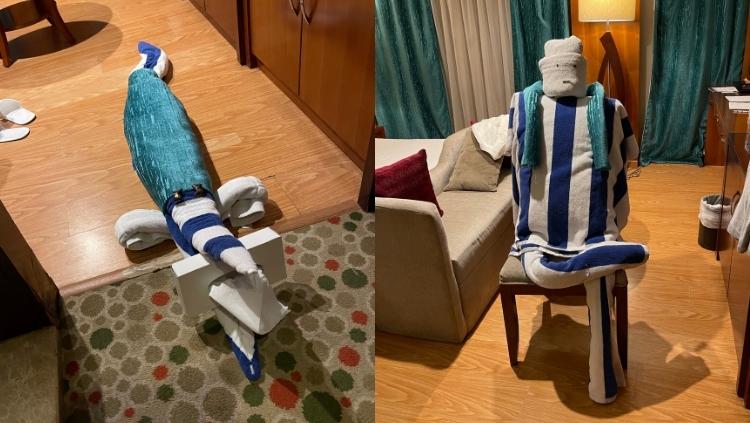 Are We Being Attacked by Pirates on the Nile?
One of the most exciting moments came when we approached and passed through the Esna Lock just south of Luxor. I'd never been through a lock before, so I was interested to experience this, but something unexpected happened as we neared the lock. As I mentioned in a previous article about this trip, vendors in Egypt are an aggressive and persistent bunch, but that didn't prepare me for when smaller boats pulled up alongside our riverboat and threw grappling hooks onto our vessel. At first, I thought they might be river pirates, but they turned out to be merchants who work really hard to make a sale.
If you're wondering how one shops with the river vendors, the negotiations are done verbally, but the merchandise is thrown at you like a football. You decide what you want and throw the rest back down at them along with payment for anything you want to keep. They drive a tough bargain, so if you encounter them when you travel solo in Egypt, make sure you negotiate well. It really is a fun and unique experience if you get the chance to engage with these river pirates—I mean, vendors—while sailing down the Nile.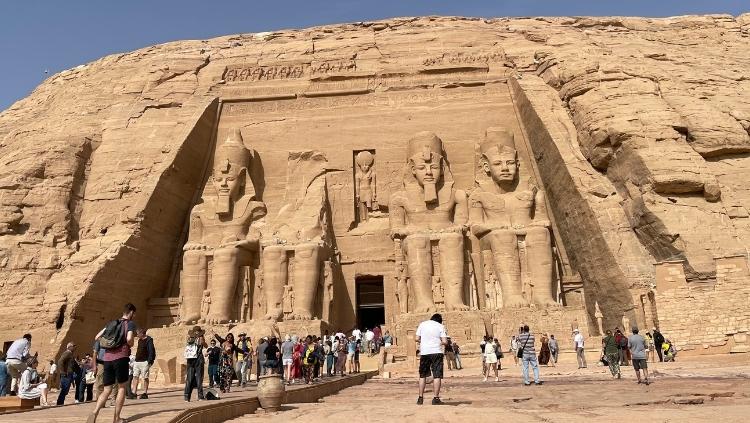 Traveling Solo in Egypt, Always Say Yes to a Trip to Abu Simbel
A visit to the temples at Abu Simbel were an optional activity on my tour, and I am very glad that I decided to add it on. My hesitation was the early morning start, as you leave before sunrise for a three- or four-hour drive into the Sahara. I'm not a morning person, so the thought of waking up to board a bus at 4:00 a.m. made me want to curl up in the fetal position. There was an option to fly to Abu Simbel as well, but because of all the time spent getting to the airport and getting through security, you wouldn't actually reduce the length of time for the total trip. So, on the advice of my tour guide, I decided to take the bus and save myself a bunch of money.
Abu Simbel has massive temples deliberately built by Rameses II at the southern border of Egypt. These temples were made huge, like everything here, to announce the wealth and might of ancient Egypt to all those who were sailing in on the Nile. There are two temples at Abu Simbel, one for Rameses II and one for his favorite wife, Queen Nefetari, not to be mistaken for Queen Nefertiti.
The temples at Abu Simbel are even more miraculous when you realize that they had to chop these temples into pieces and move them to their current spots. Originally located on the banks of the Nile, they were moved 200 meters back from the Nile River and 60 meters higher in the 1960s when the Aswan High Dam project threatened to submerge this historical landmark. And if that doesn't impress you, keep in mind that each piece that they had to move averaged 20 tonnes and there were hundreds, if not thousands, of these pieces.
For those who don't want to make the long trek to Abu Simbel, let me suggest visiting the temples at Philae. It's just a short boat ride from Aswan, and well worth the trip. The temples at Philae are located on an island, so you can enjoy the beautiful view as you sail towards it.
This complex was also saved from being submerged due to the Aswan High Dam project in the 1960s. Something cool to look out for here is that they haven't removed all the identification tags that they used to keep track of the chopped-up pieces of the monument. So, if you see a circular, black and white, metallic button with a number on it, you will have found one of the unremoved tags.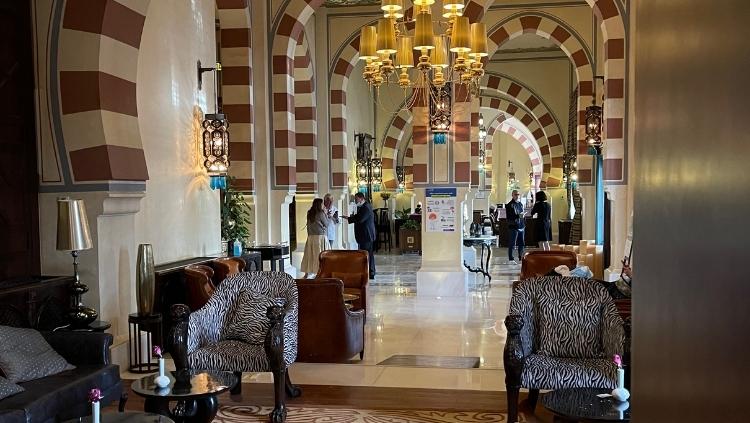 Death on the Nile
Prior to this trip, I had never heard of the city of Aswan, so I had no idea how interesting it was or how significant it was for fans of Agatha Christie. The Old Cataract Hotel in Aswan has hosted many historical figures, such as Winston Churchill, Tsar Nicholas II, Margaret Thatcher, Queen Noor, Jimmy Carter, Howard Carter (no relation to Jimmy, as far as I know), but its biggest fan was likely Agatha Christie. She lived there for a while and was so inspired by it that she wrote Death on the Nile while there and set part of the novel at the Old Cataract.
For those of you who like movies and murder mysteries, a movie adaptation of Christie's book came out recently, so go check out Death on the Nile to see more of Egypt and get a glimpse of luxury cruising on the Nile.
The Old Cataract is a beautiful property, so do check it out when you're in Aswan. There is an admission cost to get into the hotel, but the price you pay can be applied to any purchases you make there. It's probably not an accident that admission is the price of a cocktail.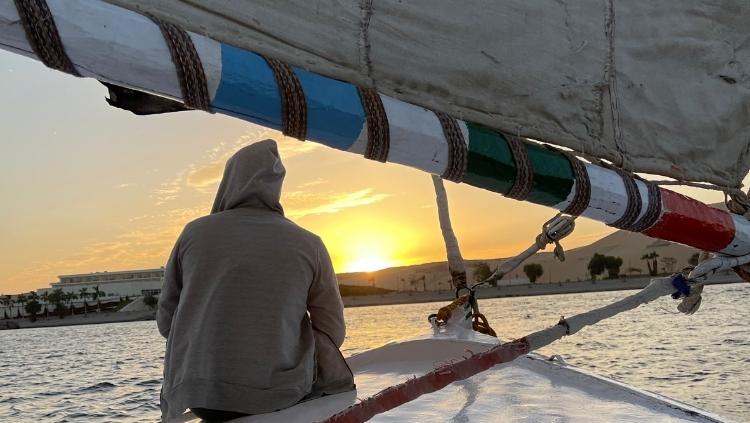 On our final evening we sailed on the Nile in Aswan in a traditional felucca. For those who aren't familiar with them, they are sailboats that have been used since antiquity, and a very relaxing way to pass the time. My enjoyment of it was further enhanced by our tour guide timing our felucca ride for sunset. When you travel solo in Egypt, definitely schedule a felucca ride to experience all the spectacular colors that will backdrop your relaxing and dream-like sunset ride.
It was sad for me to get to the end of my trip to Egypt, but I am so thankful for the opportunity to experience everything that beautiful country had to offer, and for the amazing care that my Exodus Travels tour guide provided during my trip. It would not have been as incredible without his guidance and thoughtfulness on how to create the best possible experience for his guests, so I want to take this moment to recognize my tour guide, Sayed Monsour and thank him for being totally awesome!
Thank you to Exodus Travels for sponsoring my trip on their Nile Cruise Premium tour. All experiences and impressions are my own, and Solo Traveler maintains complete editorial control over all content.