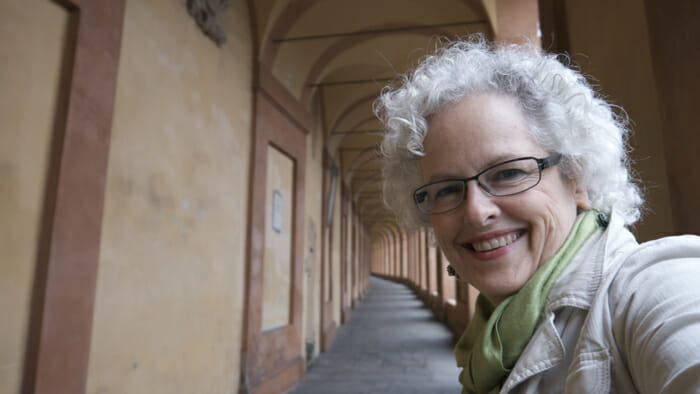 Solo travel in Italy is a wonderful thing.
The people are warm. Getting around is easy. And the food! Well, the food is simple and simply delicious.
Creating with just a few, high quality ingredients is what makes the food here so special. In this post, I will share a few high quality tips which I hope will make your solo travels here special as well.
Having been in Bologna and area for three weeks now I, sadly, leave tomorrow. I am now in a position to offer my 32 Tips – which is something I do when I stay for an extended period of time in any area.
So, let's get started.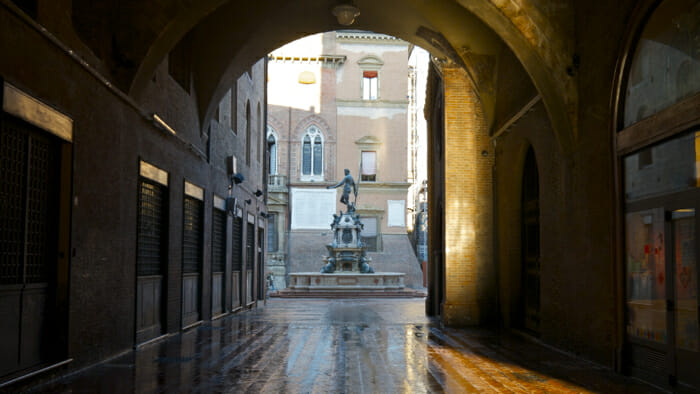 Bologna slow and solo.
Go first to the Piazza Maggiore. This is the heart of the city and it's where you'll find the tourist office.
Pick up the "Use-it" map. It's designed for young people but I found that I liked it's recommendations as well.
There are many city museums. Depending on your interests you may want to buy a

Bologna Welcome Card

which, for 20 Euros gives you 48 hours of access to the city's museums, a guided tour of the city and discounts at some places.
Walk. I don't just mean walk to get everywhere as I did (I only took public transit to get out of the city) but walk in the evenings. This is what Bolognesi do. They walk, stop for a coffee or maybe a glass of wine, chat with friends and walk some more. The streets are filled with people every night.
Feel safe because you are safe. You are always safer in public places. In Bologna, you can feel safe in the evening on the crowded streets I was still cautious, as always, not to get lost on quiet streets. (Because Bologna is a medieval town, it's easy to get lost).
The markets:

For new and used clothing and home wares go to the market at the Piazza 8 Agosto on Fridays and Saturdays
For fresh and often organic vegetables, cheese and meat, go to the Mercato delle Erbe in in Via Ugo Bassi.
Explore the older market area which is just off of the Piazza Maggiore and framed by Piazza Maggiore, via Rizzoli, via Castiglione and via Farini.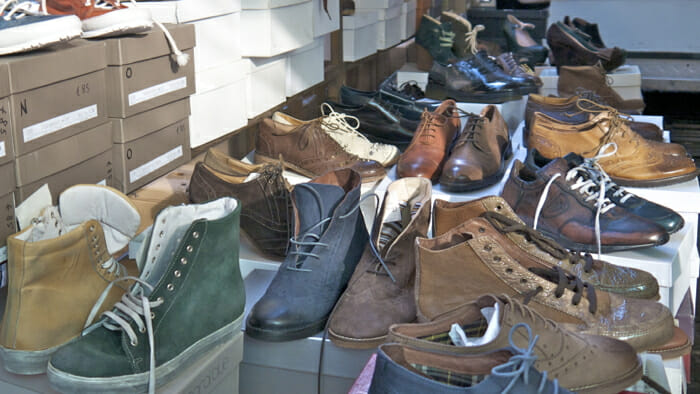 Buy your lunch in the old market and go to Osteria del sole in Vicolo Ranocchi. They only serve wine and beer (no water or soft drinks) so you can bring your lunch, order a glass of wine and enjoy the atmosphere at the communal tables. Make sure that you clean up after yourself.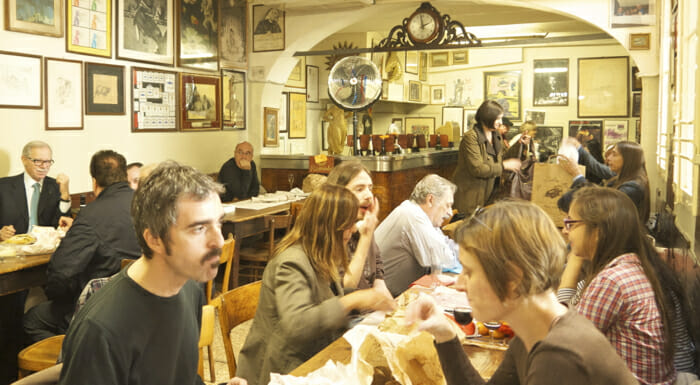 Enjoy an aperitivo in the evening. Many places offer food for free when you buy your drinks.
Watch for the Bottega Storica signs in shops and restaurants. They indicate establishments that have a long history which means you're getting the real thing.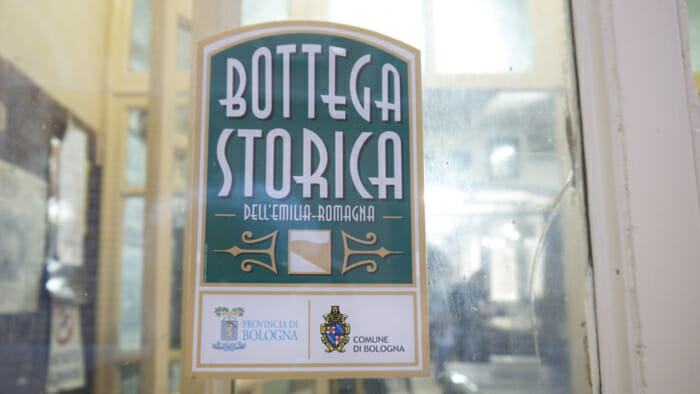 Enjoy the coffee. I was told that locals only have espresso after 11am. Having a cappuccino after that time reveals you as a tourist.
Try out these coffee shops: I went to Kamit Express on the Via delle Moline where the couple who own the place are always serving you with warmth and smiles whether in Italian, English or French. Terzi is closer to the Piazza Maggiore and a little more upscale and a little less friendly.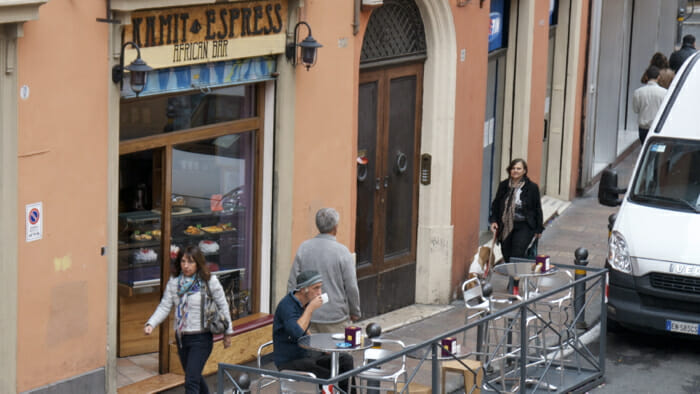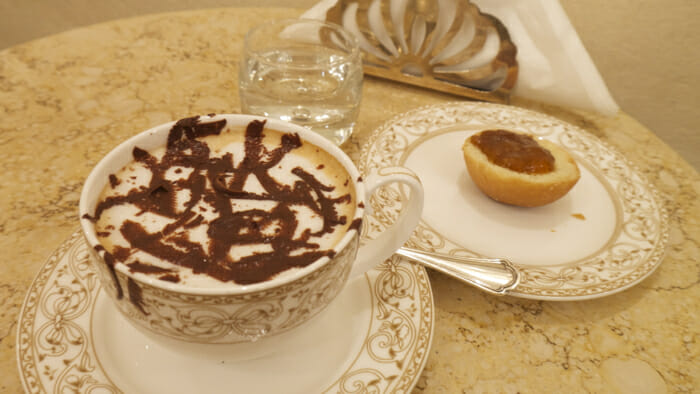 Make the climb to the Sanctuary of the Madonna of San Luca. It's a challenging climb if you're in a hurry but take your time, meander up in about an hour and a half through 3.5 km of porticos and you will be well rewarded by the fascinating church and the view from the top.
If you're here for a while, check out the Cineteca di Bologna as they run many English films with Italian subtitles. The cost is 9 Euros. When there I met a wonderful expat woman, her American friend and Italian husband. They invited me to dinner after – which was fantastic. That's a story to come.
Go shopping and experience Italian fashion. Via Luigi Carlo Farini is where many of the high-end shops are located.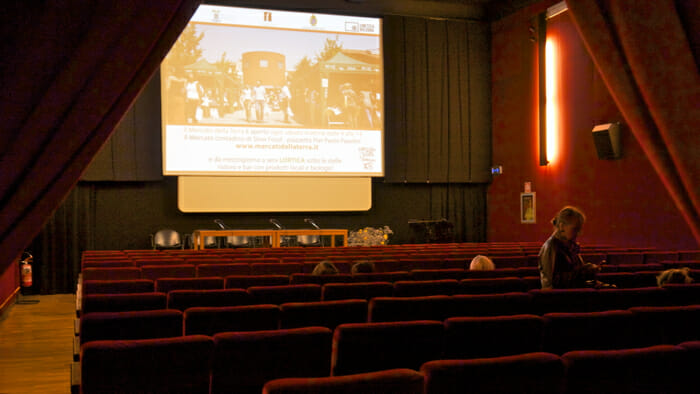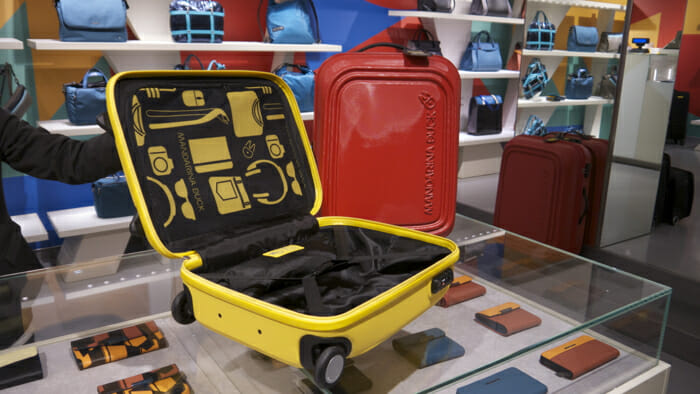 Emilia Romagna: a few of the smaller towns worth visiting.
Using Bologna as a base, there are many smaller cities to visit on day trips. Here are some of the places you may want to visit. Below I describe how to get to them by train.
Parma: Arrive early (when the cow's milk arrives at the Parmesan factories) and you can see how this wonderful cheese is made. Free.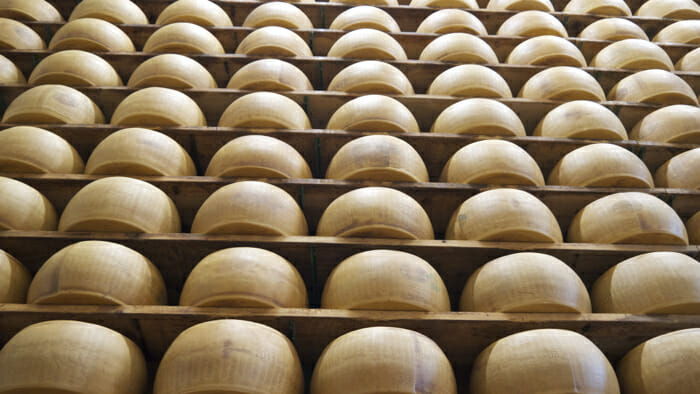 Modena: The Ferrari Museum and balsamic vinegar. These are what this town is known for.
Comacchio: This small town on a lagoon has an eel festival every year but is also great for walking about, cycling and bird watching.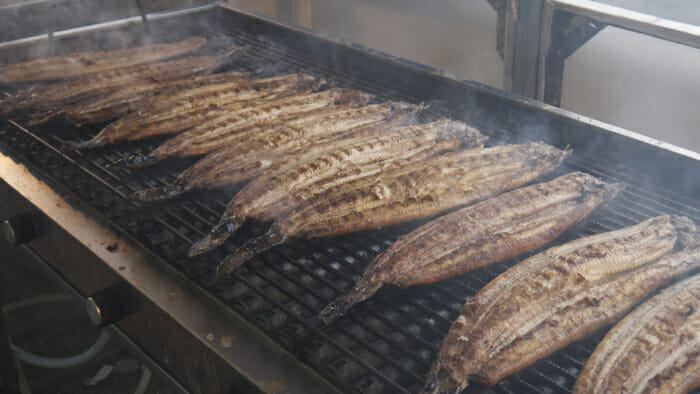 Ferrara: This medieval city has an amazing castle to visit and a vibrant city center.
Brisighella: The town of Brisighella only has three thousand inhabitants. Located in a valley, it is quiet and peaceful and surrounded by the most beautiful views. It's known for excellent olive oil and wonderful Sangiovese wine made by small producers.
Dozza: another small town that is known for its wall paintings and castle. Definitely worth the detour on a road trip.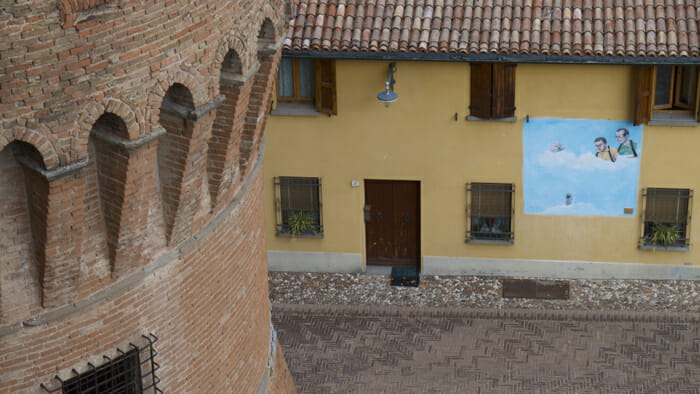 Getting around by train.
The train system is a fantastic way to get from Bologna to any of the towns mentioned above. It's really easy to use and, by my experience, generally runs on time. Here's how it works.
For any of the above towns you'll be traveling by regional train. And buying at the station is no more expensive than buying in advance online.
Go to the train station and buy your tickets at one of the automated kiosks. This will be much faster than standing in line. The kiosks are in English – just press the UK flag and follow the instructions.
Check the Departures board (which is typically over the doors that go to the train platforms) to determine what platform your train will leave from. If your destination falls short of the final destination of the train, look for the scrolling list of stops it will make to ensure that you're looking at the right train.
Validate your ticket using the machine in the bottom left corner of the image below. If you don't do this you could be in for a large fine. I missed doing this once, was caught and, thankfully, forbidden.
Go to the platform and take a look at the digital sign that indicates where the next train is going. This will confirm that you're in the right place.
Hop on board and enjoy.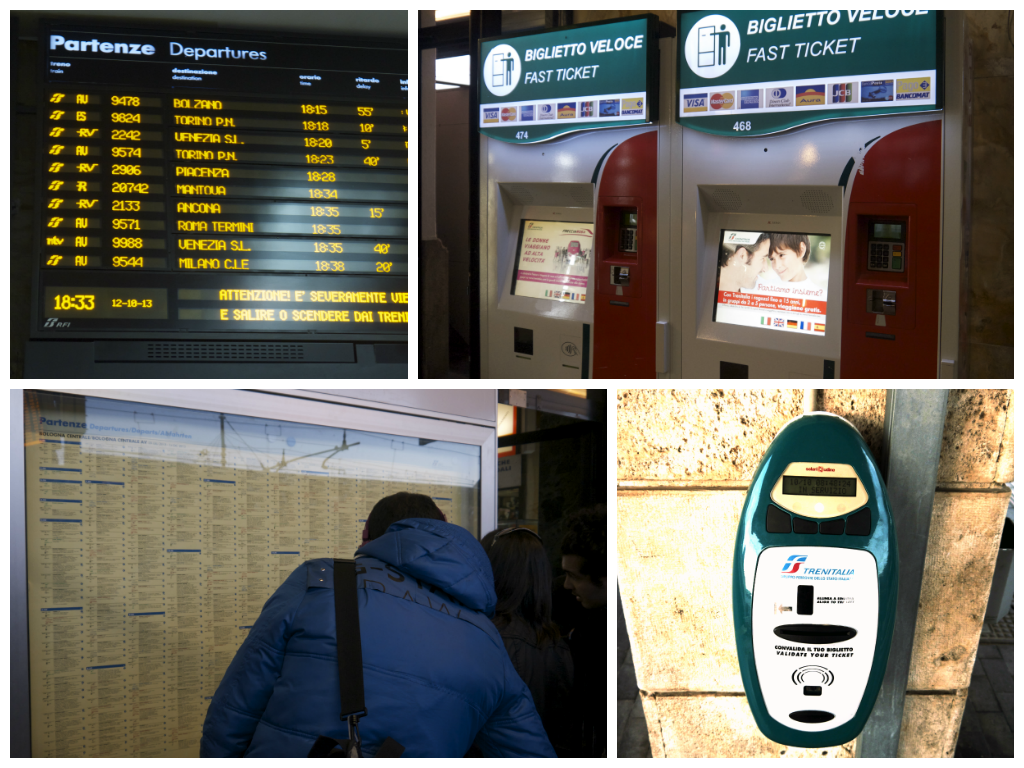 My thanks to the tourism board here for support with this trip.