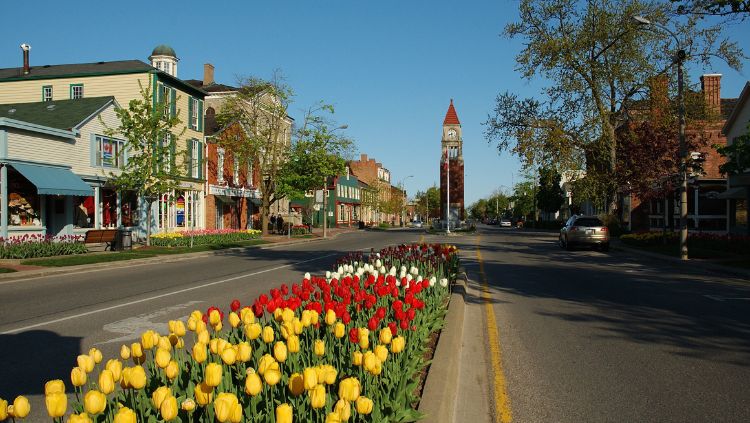 Niagara-on-the-Lake is an excellent getaway destination for a solo traveler. The food, wine, theater, and outdoor activities have lured me back many times and each time I find new things to do.
On my most recent visit I spent more time outdoors, cycling, and hiking than on previous trips which have typically been about food, wine, and theater.
For me, the real draw of Niagara-on-the-Lake is that it is relaxing. Whatever you choose to do, whether active or cultural, it feels like a holiday.
It's not challenging travel. It's easy. The town has been developed to greet visitors graciously and make them feel comfortable. It feels like being at a home but it's a home that feeds many interests and makes no demands of you. As a destination, it's not so big that you fear missing out on something special and it's not so small that you're done with it in a day.
A solo trip to Niagara-on-the-Lake is a perfect getaway for relaxation and rejuvenation.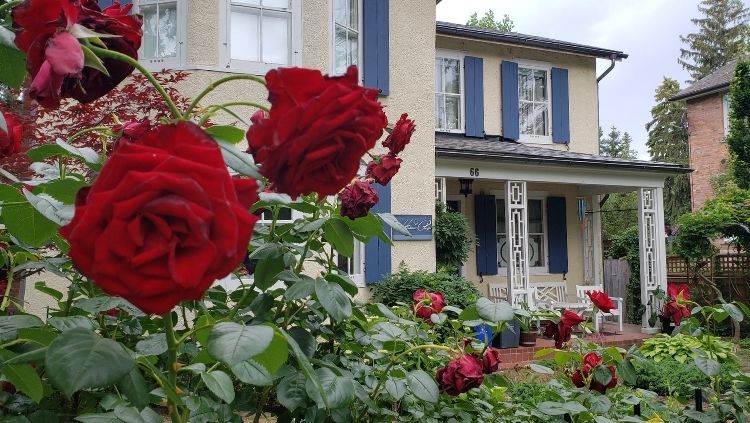 How to Get to Niagara-on-the-Lake
Niagara-on-the-Lake is tucked into the most southwest corner possible of the Canadian side of Lake Ontario. In fact, it's bordered by both the Lake and the Niagara River. Look across the river and you see the United States. It's easy to reach from many points of origin.
From Toronto, it's a 2-hour drive or a 1 1/2 hour train to St. Catharines, Ontario followed by a taxi to the town.
From Buffalo, it's a 45-minute drive. There are also shuttles that run from Niagara Falls USA Official Visitor Center on certain days.
From Detroit, it's a 4-hour drive. You can also take the train from Windsor to Burlington and a GO Bus to the center of town.
To visit from major cities in the US you're best to fly into Buffalo and cross the border or fly into Toronto and rent a car.
There are bus tours for the wineries and/or for the theater from most major cities on both the Canadian and American sides of the border.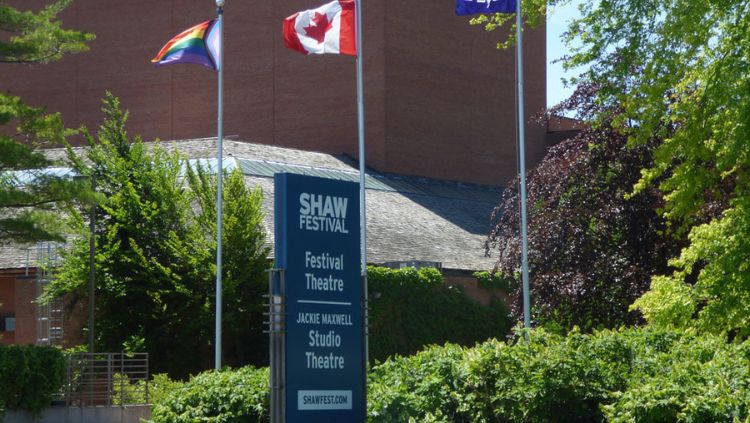 A Solo Trip to Niagara-on-the-Lake: Cultural Activities
From wineries to theater to art galleries and fine restaurants, this town offers many of the finer things in life.
To truly enjoy it, I suggest you plan on doing a lot of walking. The town is designed for it.
Queen Street is the main drag where there are many fun and fashionable shops. Don't miss Il Gelato Di Carlotta. Their chocolate gelato is to die for, especially when paired with either a scoop of lemon or tangerine. The BeauChapeau Hat Shop is always fun as is the Olde Tyme Candy Shoppe for a nostalgic display of treats and toys. And, of course, there are plenty of options for fashion and some great restaurants.
That's just the beginning of your walk. Don't miss the parks and the graveyard. Simcoe Park is right across from The Apothecary, a pharmacy museum, on Queen. The gardens are beautiful and it's a perfect place to relax. Walking away from Queen Street, through the park, you can cross the road into the very old St. Mark's Cemetery. It's fascinating to read the stones. The oldest gravestone in the cemetery is that of Elizabeth Kerr, who died on January 21, 1794. On the other side of the cemetery, you'll see Queen's Royal Park along Lake Ontario. It's a perfect spot for a picnic. And if you're into history, about another kilometer away is the Fort George National Historic Site.
For theater, one should book in advance to go to The Shaw Festival. The Festival has three theaters and typically runs shows from April to October. The Shaw Festival is one of the premier live theaters in Canada. Leave plenty of time before a performance to park as space can be difficult to find.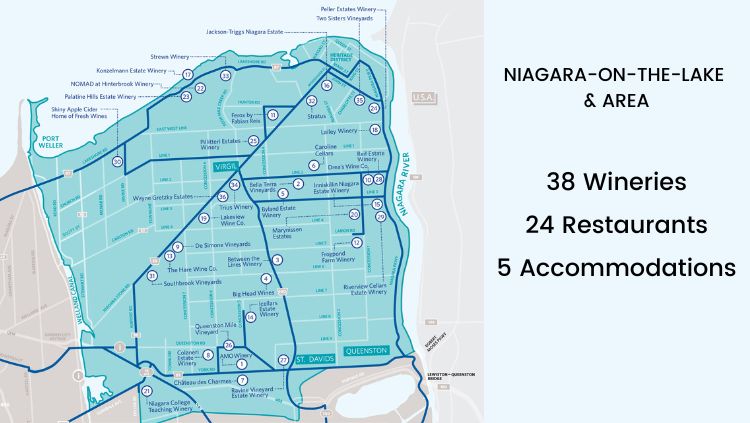 Niagara is Food and Wine Country
The history of wine in the Niagara region goes back to a less than stellar beginning in the 60s and 70s. I remember the wine of those days. It truly was not suitable for drinking.
But fifty years on, this is an incredible wine region. The area is home to many wineries plus craft breweries and distilleries and a solo trip to Niagara-on-the-Lake just wouldn't be right without visiting a few of them. Some of the wineries also have restaurants, accommodation, and entertainment. You can explore the wine route on bike, bus, or car. Just do so responsibly. Tourism Niagara has the information you need to plan your wine tours.
As for dining, you have plenty of options from pubs to high end cuisine. See if the menu at Treadwell Cuisine on Queen strikes your fancy. For pub fare try The Irish Harp at 245 King Street, just a block off Queen Street. I really enjoyed the Old Winery but it's just a bit out of town. As mentioned, it's worth considering the restaurants at the wineries. I did a chef's table at Peller Estates a few years ago which was wonderful.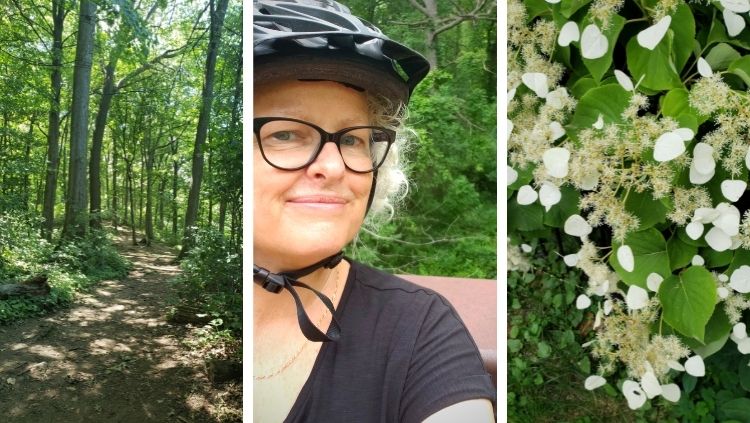 Soft Adventure on the Niagara Peninsula
There are many options for soft adventure in Niagara-on-the-Lake. I cycled and hiked but there are additional options.
Cycling in the Niagara area is so popular that they have a dedicated tourism site. The Niagara Cycling Tourism Centre points you to ten different cycling routes. I did a portion of the Niagara River Recreation Trail which runs from Niagara-on-the-Lake to Fort Erie. The complete trail is 56 km. If you don't bring your bike, you can rent from Zoom BikeShare racks at various points along the trail. If it's a longer ride you have in mind, there is a network of cycle-friendly B&Bs that also offer luggage transportation.
For hiking, why not get started on the Bruce Trail? The trail starts at Queenston Heights Park and follows the Niagara Escarpment all the way to Tobermory. I say "get started" because the Bruce Trail is "Canada's oldest and longest marked footpath – 900 km from Niagara to Tobermory". It's a challenge that many people take on and complete over time. At Queenston Heights the trail was not busy but busy enough for a solo traveler.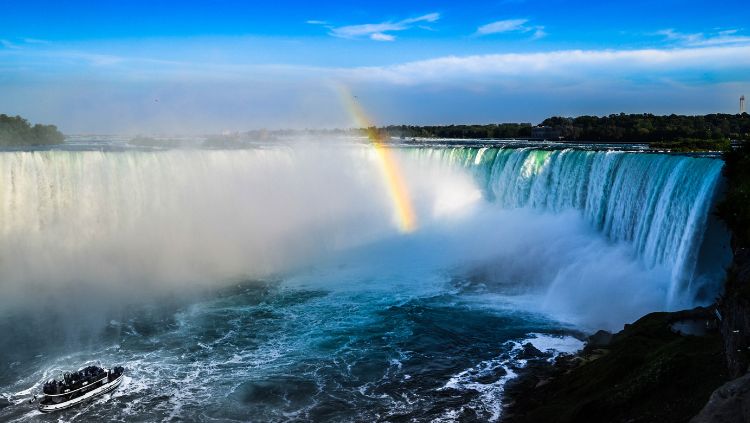 Other options in the area include the Zipline to the Falls and the tree-to-tree obstacle course called the Whirlpool Adventure Course that is offered at three levels of intensity. Both of these are from Wildplay. The Niagara Glen Nature Centre offers bouldering and hiking trails as well as guided hikes.
Finally, on a less adventurous point, you may also want to buy the Niagara Falls Adventure Pass that is offered by Niagara Parks. The pass includes the Journey Behind the Falls, the Butterfly Conservatory, Whitewater Walk, the Floral Showhouse, and the Whirlpool Aero Car.
For more ideas, see Solo Travel Canada: 60 Tips to Plan an Exciting Adventure.