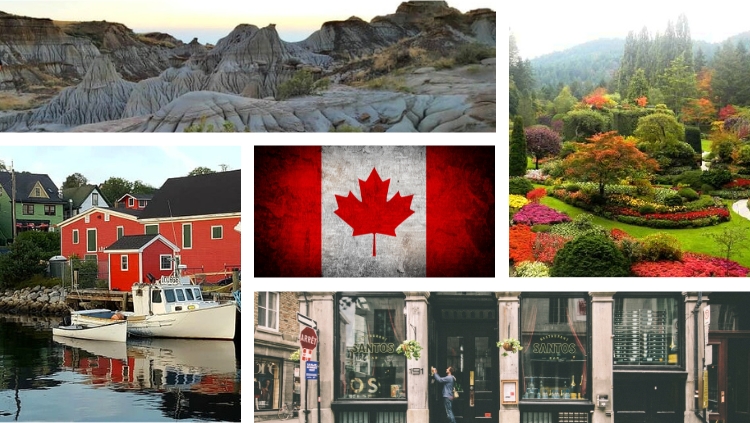 Winter, summer, spring, fall–it doesn't matter. Every season offers unique opportunities for solo travel in Canada.
In this post I'm jamming in everything I think you need to explore the country. Whether you want to discover the wilderness or our urban lifestyle, here is your guide to Canada.
It starts with an overview of the country, who Canadians are, what the landscape is like from one coast to the other, how to get around, and more.
Next up, a province-by-province summary of what I love most in each. I've traveled right across Canada and I've managed to get to one of the territories. Two more to go. So here's what you need to know and links to in-depth posts from specific trips.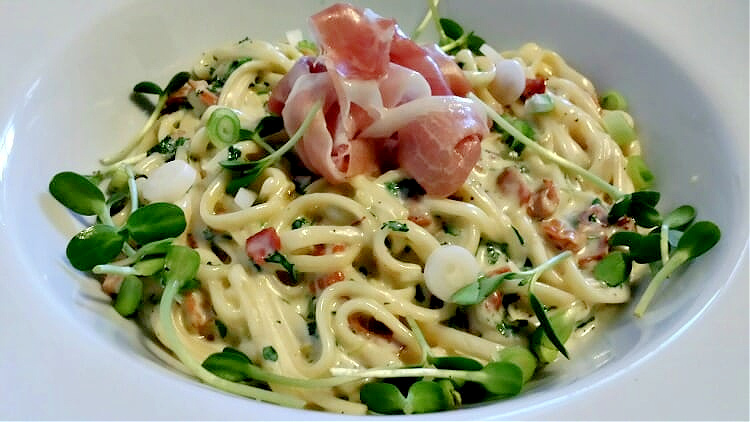 Solo Travel Canada: An Overview
There are two official languages. English is spoken just about everywhere in Canada, though outside of Montreal and Quebec City it may be less available in the province of Quebec.
The people of Canada. With the exception of the Indigenous peoples of Canada, we are a country of immigrants. In sweeping terms, first came the French, then the English. Similar to the United States, we had a wave of immigration in the mid 19th century from Ireland and another in the late 19th century from Eastern Europe. Immigration ended with World War I and the Great Depression then picked up again after World War II – this time from Western Europe. In the early 70s immigrants came from Africa, Asia, and South and Central America, as well as Europe. Canada made multiculturalism an official national policy in 1971. In cities like Toronto, slightly over half the population was not born in Canada. Most of the diversity in the population is in the larger cities making for a great culinary scene and cultural events. Interestingly, 80% of the population lives within 100 miles of the American border.
The Canadian stereotype. The joke about Canadians is that we are really polite. When you travel solo in Canada, you'll hear us say, "Sorry!" all day long. Well, as with many stereotypes, it's not far from the truth. We are a polite people on the whole. We're also quite friendly and helpful. Generally, Canadians are good hosts for solo travelers. If you really want to run the stereotype to the hilt, we like beer, hockey, our health care system, and considering ourselves tolerant, though that latter one is a work in progress.
The natural landscape. Canada is the second largest country in the world in terms of land mass. It's divided into 10 provinces and three territories. The provinces run vertically, east to west. The territories are in the north. In a country this size, the landscape ranges dramatically. There are national and provincial parks as well as conservation areas across Canada preserving the land for those who love the wilderness. From east to west, here's what you can expect from the landscape:

Newfoundland, known as "The Rock", offers the drama of its west coast (comparable to the Rockies in my opinion), the sea with the village of Trinity being one of the oldest communities in North America, and a rugged interior with dwarfed trees.
From Newfoundland you can take a ferry to the French islands of St. Pierre and Miquelon.
Throughout the east coast, known as Atlantic Canada (Newfoundland and Labrador, Nova Scotia, Prince Edward Island, and New Brunswick), there are lots of forests for fishing, hiking, and hunting.
The coastlines of the Maritime provinces (Nova Scotia, Prince Edward Island, and New Brunswick) are stunning, especially the Cabot Trail in Nova Scotia and the Bay of Fundy that borders on both Nova Scotia and New Brunswick.
Prince Edward Island has rolling hills, beautiful red earth, and farmland. Of course, it's also home to Anne of Green Gables.
Quebec offers more forests for fishing, hunting, etc. The drive around the Gaspé is beautiful. Near Montreal there's the best skiing in Canada east of the Rockies.
Ontario has Niagara Falls; three principal wine regions in the Niagara Peninsula, Prince Edward County, and Lake Erie North Shore; cottage country; and hundreds of lakes and rivers including the Great Lakes. The north shore of Lake Superior is a particularly stunning drive through wilderness. Algonquin Park is a wonderful provincial park covering almost 3,000 square miles of wilderness for camping, hiking, and canoeing.
The prairie provinces, Manitoba, Saskatchewan, and Alberta are flat. Some people would leave it at that but I see great beauty in this big sky country. The colors can be subtle in the grasslands or dramatic as when a canola field and flax field are side by side. The yellow on purple is stunning.
On the far side of Alberta are the Rocky Mountains that also stretch into British Columbia. The Rockies offer great skiing, mountain climbing, hiking, rafting, and kayaking.
Further west into British Columbia, just past the Rockies is a desert and then a fruit belt as well as the massive Thompson and Fraser Rivers.
Finally, we're on the west shore of Canada where there is Vancouver Island and the Queen Charlotte Islands with their fabulous rainforests.

Canadian cities. If you're a city person, the large cities of Canada are few and far between. In order of size, the top cities are Toronto, Montreal, Vancouver, Calgary, and Edmonton. But is size important? Some other wonderful cities are St. John's, Halifax, Quebec City, Kingston, Ottawa, Winnipeg, and Victoria. Ottawa is Canada's capital and really worth a visit, though it's a detour away between Toronto and Montreal. Unfortunately, Winnipeg is really a flight or long train ride from any of the other cities. There are many others, plus small towns. If you want visit cities when you travel solo in Canada, I suggest that you plan for a long stay or pick your region.

St. John's and Halifax are doable together by car and ferry.
Toronto, Kingston, Montreal, and Quebec City work together by train or car.
Calgary and Edmonton require a car or bus and are a great pair with fabulous access to the mountains.
Likewise, Vancouver and Victoria offer another pairing with access via ferry between them.

Listen to CBC radio. CBC is Canada's public broadcaster featuring both national and local shows. Listen to Cross Country Checkup live on Sundays or access recent episodes on the CBC Radio website. Take in the local programming across the country, as well. By following such programs you'll pick up on what Canadians care about.
Via Rail is your train. There is only one train service in Canada. Via Rail is it. Take Tracey's advice and get on their mailing list, then watch your inbox for deals every Tuesday. Booking 7 days or more in advance often results in the greatest savings. Toronto to Vancouver takes 4 days and 3 nights by train, non-stop. It's a beautiful trip as is Toronto to Nova Scotia or New Brunswick, which takes one overnight. Of course, you don't have to start in Toronto – I use it as a starting point as many people can't imagine more than 3 days on a train. A car trip across the country is amazing, but not everyone has the time for that. You need at least three weeks and still you would do little of it justice. Read British Columbia by Train: Budget or Luxury. It's Your Choice.
The major airlines. The size of Canada and the sparseness of the population keeps flight prices relatively high. While there are some regional airlines like Porter, the major airlines are Air Canada, Air Transat, and West Jet. Canada now has some budget airlines, such as Flair and Swoop, with limited options.
Taste what is uniquely Canadian. Canada isn't known for a unique cuisine but there are some foods that are definitely Canadian. Try butter tarts, Nanaimo bars, poutine, beaver tails, Canadian smoked salmon, Montreal smoked meat, Montreal bagels, maple syrup, chocolate bars (which contain enough chocolate so that they can be called such and not candy bars), tourtière, and a Caesar (like a Bloody Mary but with Clamato, a mixture of tomato juice and clam broth).
Take in a hockey game, NHL or AHL. The NHL is the major leagues and games can be very expensive. The AHL games are far more affordable and you'll still get a feel for the Canadian passion for hockey, though the only Canadian franchises are the Toronto Maple Leafs' farm team, the Toronto Marlies and the Montreal Canadiens' farm team, the St. John's IceCaps. Junior A hockey is where many of Canada's top players start and many cities, large and small, have teams.
Be prepared for long distances. Canada is a large country with the relatively small population of 38 million. There isn't a town every 30 miles or so. In fact, in some parts of the country you can travel hundreds of miles without passing a town. If you're driving, be aware of how much fuel you have and when you'll likely see the next gas station.
Recommended Resources for Solo Travel in Canada
Top Tips for Traveling Newfoundland and Labrador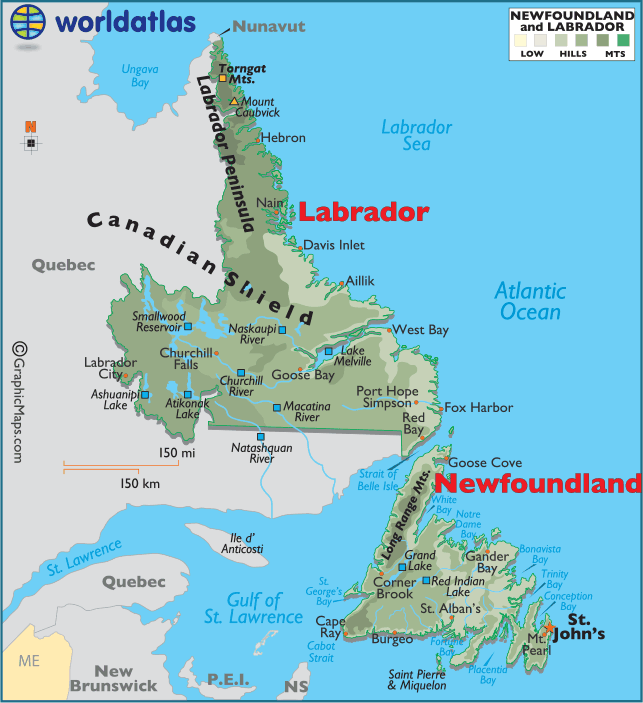 Newfoundland and Labrador is one province. While most people only get to Newfoundland, as you can see on the map, Labrador is a unique though more remote destination.
Take in Newfoundland's big nature. There's whale watching from May to September, iceberg viewing in the spring and early summer, and hiking all over the province.
Explore St. John's. Founded in 1497, St. John's is the oldest permanent settlement in North America and the province's capital. Signal Hill, a fortified lookout onto the harbor that has figured into Newfoundland's history, colorful row houses, great pubs, and arts and culture are all there.
Road trip. Newfoundland is fascinating, from the archaeological site of L'Anse aux Meadows in the north to the Irish Loop in the south. There are several routes to consider.
Don't miss the west coast. The west coast of Newfoundland has the majesty of the Rockies. Gros Morne National Park, with its mountains and fjords, offers breathtaking vistas and great hiking.
Consider a trip to France. A 55-minute ferry ride from Fortune is St. Pierre and Miquelon, a little bit of France near Canada.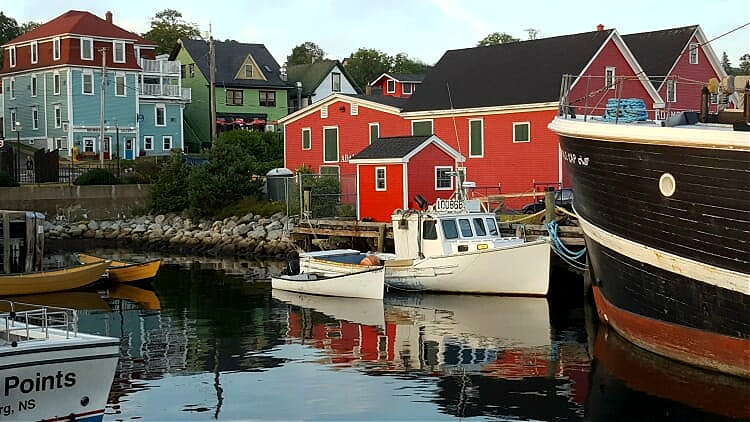 Exploring Nova Scotia
See it all at your pace. Tracey and I created for you a road trip itinerary circumnavigating Nova Scotia – a road trip with ocean views, friendly people, interesting history & delicious seafood. Circumnavigating Nova Scotia: A Solo Road Trip of Ocean Views.
Drive or cycle the Cabot Trail. I cycled the Trail when I was 19 and have driven it twice since then. It's one of the most spectacular drives in Canada. See my Top Tips for the Cabot Trail. Here are another 32 Tips for Cape Breton.
Explore Nova Scotia's Acadian Shores. Discover the unique Acadian culture and history. Plan a trip in 2024 and you could attend the Acadian World Congress. Learn more in Nova Scotia's Acadian Shores: The Stories I Love to Discover.
Taste the food and wine. While the lobster is fantastic, there are also plenty of other treats in store for you. Tracey shares some of her favorites in Flavors of Nova Scotia: My Top 5 Tastes.
Go to Lunenburg. Lunenburg is a beautiful seaside town and a UNESCO World Heritage Site. There you'll also find The Fisheries Museum of the Atlantic.
Take a solo road trip. There are so many lovely towns and beautiful landscapes to see. If you get turned around, friendly locals will set you back on course. Just ask Tracey – she set off on her first solo road trip in Nova Scotia.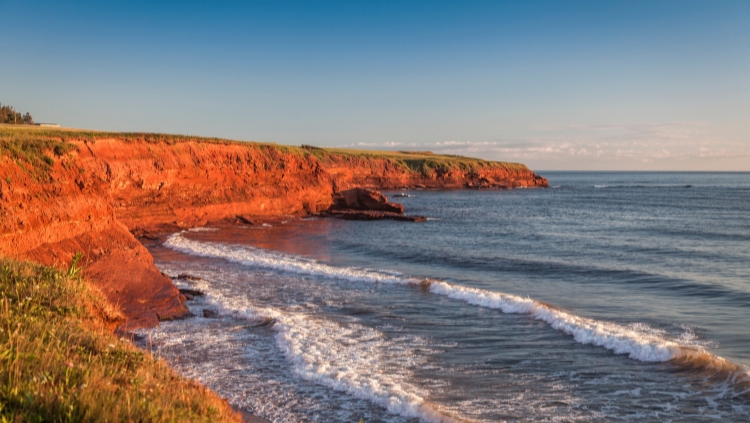 Prince Edward Island, Home of Anne
Visit Anne. The Anne of Green Gables books by Lucy Maud Montgomery attract many people to PEI. In Cavendish, you'll find Green Gables Heritage Place, Avonlea Village, and the site of L.M. Montgomery's Cavendish Home. For theater, you can see the longest running annual musical theater production (according to the Guinness Book of World Records), Anne of Green Gables-The Musical, at the Charlottetown Festival or Anne & Gilbert-The Musical at The Guild.
Take in a ceilidh (pronounced kay-lee). A ceilidh is a party and PEI has many of them. You can join the Chaisson's every Wednesday starting June 28, 2023 at the historic Stanley Bridge Hall. The group is comprised of Kevin Chaisson and Louise Chaisson-MacKinnon with a special guest fiddler every week.
Go to the beach. There are beaches all around this island province. You have your choice of official beaches with supervision and wild beaches for seclusion.
Go to Charlottetown. Charlottetown is a small, safe city with great food, festivals, shopping, historic sites, theater, and some of the friendliest people in the world. Solo travel to Canada should definitely include a visit here.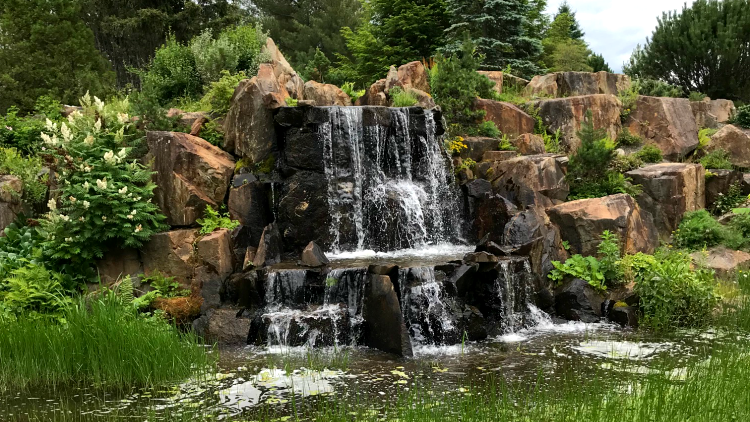 Fall in Love with New Brunswick
The Bay of Fundy. There's whale watching and sea kayaking in the Bay of Fundy. It has the highest tides in the world – this is the same bay that creates the tidal bore in Nova Scotia. There's a ferry between Saint John, New Brunswick and Digby, Nova Scotia.
Drive the Acadian Coastal Route. From Moncton to Miramichi to Caraquet to Shediac, here's a 5-day itinerary with lots of tips and photos from my Great Acadian Road Trip.
Eat lobster! From lighthouses to roadside diners to fine dining restaurants you'll find great lobster in New Brunswick. It's delicious!
Discover Acadian culture. Along the Acadian coast you'll find beaches with the warmest salt water north of Virginia, and you'll meet Acadians whose unique French culture was the wellspring that the Cajuns of New Orleans came from.
Attend local festivals – especially this one! The Tintamarre is part of the Festival Acadien de Caraquet which runs from August 1-15 every year. It includes events such as decorating the town, concerts, and the blessing of the fleet over the course of two weeks. Plan to be in Caraquet at 6:00 pm on August 15th to join the crowds as they make as much noise as possible for one complete hour.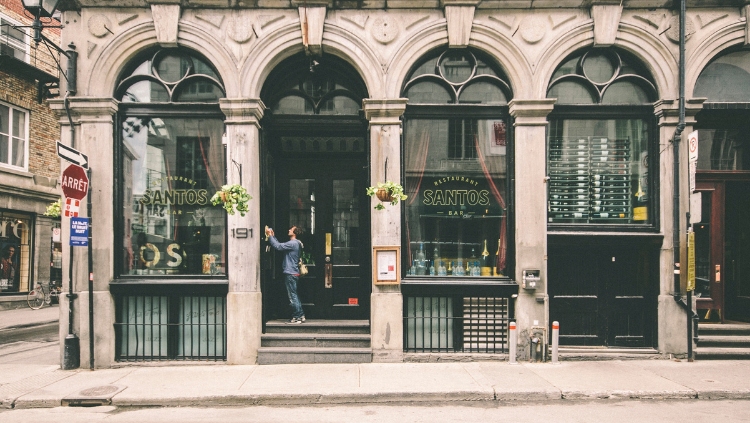 Solo Travel Canada: Tips for Quebec
Visit Old Montreal. Montreal and Quebec City are the closest you can get to Europe in North America. Old Montreal stretches along the St. Lawrence River for more than 2.5 km and offers a variety of festivals, concerts, family activities, cruises and excursions, restaurants with terraces, an urban beach (Clock Tower Beach), the Montréal Science Centre, and even an IMAX theatre.
Visit Old Quebec. With 400 years of history, the pedestrian streets and fortifications, this historic neighborhood in Quebec City is a Unesco World Heritage Site very worth visiting. There are two walking tours, one inside the Walls and the other of Parliament Hill and area. Each lasts two to three hours.
Engage in Montreal's bagel wars. In my opinion, Montreal bagels are the best bagels in the world. The question is, are they better from Fairmount Bakery or St-Viateur Bagel? You need to taste both to decide.
Jazz, Comedy, Art. Montreal is an incredibly cultural city that's safe and really walkable. Don't miss Mount Royal, the Montreal Museum of Fine Arts, and more, including annual events such as the Montreal International Jazz Festival and the Just for Laughs comedy festival.
Explore Abitibi-Temiscamingue. Get out of the big cities and experience some smaller communities, like Ville-Marie. Meet the artists and artisans of Abitibi-Temiscamingue and discover delicious food, creative arts, fascinating history, and interesting people.
Ski! Mont Tremblant in the Laurentian mountains north of Montreal is Quebec's most popular ski resort but there are dozens of others in the Laurentians, the Eastern Townships, east of Quebec city, and elsewhere in the province. Read Mont Tremblant: The Perfect Winter Getaway. Mont Tremblant is also a great summer destination, as Bettine discovered in Trembling in Tremblant: Exploring the Mountain My Way.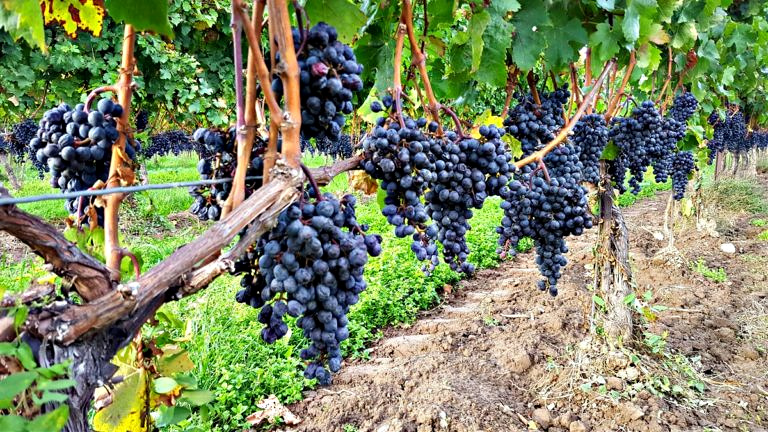 Ontario Has Much to Offer
Don't miss TO. Toronto is the largest and most diverse city in Canada, where more than 140 languages are spoken. This diversity makes for a rich cultural, political, and culinary scene. For specific tips on visiting Toronto, read Enjoy a Layover in Toronto: A Local's Guide to the Best Things to Do. There's some great cycling in and around the city: Bike Ontario: Rail Trails Make it Easy
Visit wine country. If you travel solo in Canada, you must try the wines. Ontario has three primary wine regions: Niagara Peninsula, Prince Edward County and Lake Erie North Shore. Take your pick.
Live history. You have plenty of options for exploring the history of Ontario through historical parks, forts, and castles. There's Kingston's Fort Henry, Thunder Bay's Fort William, and Morrisburg's Upper Canada Village to name just a few.
Camping and hiking. Algonquin Park is the largest and most famous of the provincial parks of Ontario but there are dozens more that offer spectacular hiking, canoeing, and camping in summer and cross-country skiing and snow shoeing in winter. And, if you can, go to Georgian Bay for the beauty of the Canadian Shield and windswept trees.
Adventure in Ontario. There are many opportunities for more adventurous activities in Ontario. Read about these and more in Sensational Ontario Getaways for Solo Travelers.
A solo road trip is in order. Although you could easily spend a week in Toronto, driving just a couple of hours outside the city is so worth it. Taste your way through the Oxford County Cheese Trail. Try your hand at Fly Fishing on the Grand River. Enjoy tasty food and farm country views in Huron County. Or go north and discover Interesting Sudbury Attractions: The Famous Son and More.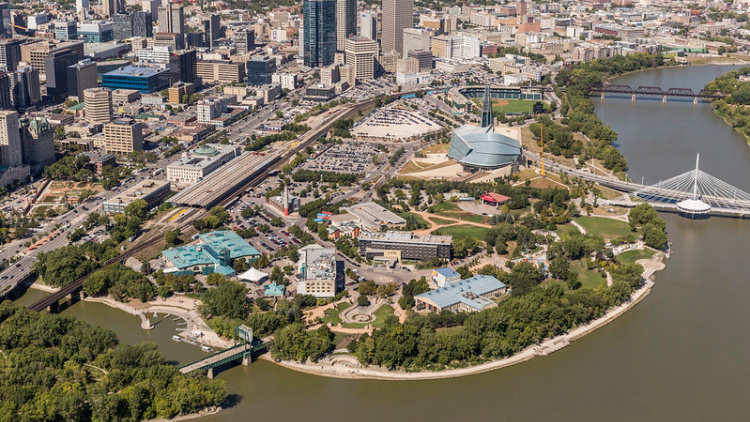 Don't Miss Manitoba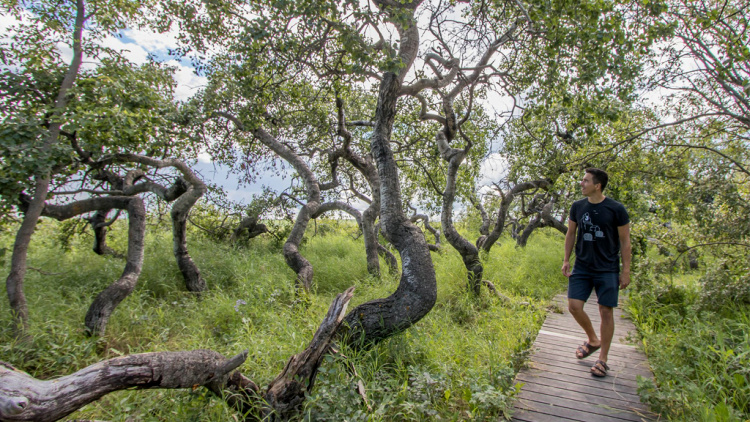 Top Tips for Traveling Saskatchewan
Enjoy big sky country. The prairies have a very particular kind of beauty with long, flat vistas and huge skies. Take time to appreciate it. It's an essential sight when you travel solo in Canada.
Go to the Muddy Badlands. Located near the border with the United States in a province that is known for being flat is Big Muddy and the Outlaw Caves where there are weathered buttes, cone-shaped hills, steep cliffs, eroded clay formations, and sandstone concretions that resemble petrified tree trunks.
Learn about the Indigenous peoples of Saskatchewan. The Wanuskewin Heritage Park is in the process of becoming a World Heritage Site. It's located at a bison jump and gathering place that is thousands of years old.
Regina and Saskatoon. The two largest cities in Saskatchewan are Regina and Saskatoon. In Regina you can learn the real history of the Mounties at the RCMP Heritage Centre.
Take a road trip. For those looking for something different, doing a solo road trip in the Canadian prairies can be a magical experience. Here's a recommended route: A Prairie Road Trip: Exploring Manitoba and Saskatchewan Solo.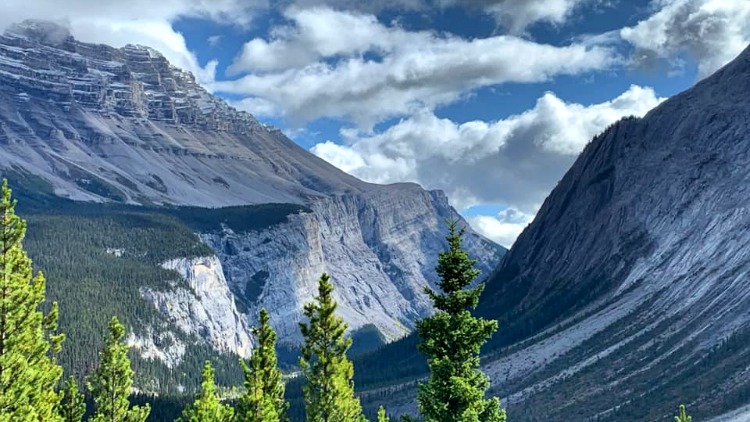 Discover Western Canada in Alberta
Start with our Travel Guide to Western Canada. There's a section on Alberta in it. Solo Travel Guide to Western Canada: British Columbia and Alberta
Hike or ski! Alberta is a year-round outdoor adventure province. The mountains offer fantastic hiking and skiing for all levels of ability in Banff and Jasper National Parks as well as many places in between. For summer travel in Banff, consider this post: Too Many Tourists in Banff? Here's What to Do.
Visit the Icefields – Drive the Icefields Parkway to reach the Columbia Icefields and the Athabasca Glacier. You can take a Brewster Ice Explorer Bus Tour to visit Alberta's newest attraction, The Glacier Skywalk. Read Glaciers, Mountains & Lakes: Driving the Icefields Parkway.
Stay in luxury at a railroad hotel. In the early days of the railway, hotels were built across the country to entice people to take the train. Alberta has three of these hotels at Banff (go to the hot springs while you're there), Lake Louise, and Jasper.
Visit Calgary or Edmonton. Edmonton is the province's capital and Calgary its financial center. They are both hockey towns and both have exciting arts and cultural scenes.
Take a road trip. There's no better way to discover Canada than by taking one of many great road trip options. Read Border to Border in Alberta: A Western Canada Road Trip.
Explore the Canadian Badlands. Covering the area from Drumheller to the Saskatchewan border and south to the United States, this region contains the world's largest deposits of dinosaur bones, unique and varied landscapes, and interesting arts and history. Learn more in Facing Fear and Finding Spirit in the Canadian Badlands.
Solo Travel in Canada: Visit Beautiful British Columbia
Start with our Travel Guide to Western Canada. There's a section on British Columbia in it. Solo Travel Guide to Western Canada: British Columbia and Alberta
Take a drive. I love driving and it doesn't get much better than when on a road trip across the Rockies from Calgary to Vancouver and beyond to Vancouver Island. You can read about it here: British Columbia Road Trip Across the Rockies to Vancouver Island.
Golf your way around the province. There are 16 BC golf courses ranked in the top 100 in Canada according to SCOREgolf.com. They are located all over the province.
Adventure in natural British Columbia. A grizzly bear feeding on salmon in the wild, a whale breaching just off a kayak's bow, eagles gathered in their thousands: there is big drama in BC's nature. You can find a wildlife tour here. Read Adventure Travel in Western Canada.
Aboriginal Culture. From the Haida and Tsimshian of the North Coast to the Nuu-chah-nulth of Vancouver Island and the Stó:lō, Secwepemc, Okanagan, and Ktunaxa people inland, British Columbia is home to Canada's most diverse composition of First Nations bands, languages, and societies. Indigenous Tourism BC can help you plan your experience.
Take a wine tour. The Okanagan is BC's premier grape growing region. There are close to 200 wineries in the Okanagan Valley with over 80 grape varieties. All wineries offer tastings and organized wine tours can be booked. Find out more about BC wines.
Take a break in Whistler. Solo Travel Society member Catherine highly recommends it in this post about her Weekend Getaway to Whistler, BC.
Gurdeep Pandher, "sending joy, hope, and positivity across Canada and beyond" from his cabin near Whitehorse, Yukon. It's hard to think of anyone who has done more to promote Yukon and Canada or to keep up our spirits in 2020-2021.
The Northern Territories of Canada
There is much more to Canada than just the 10 provinces. Geographically I've missed much of the country, namely the north. However, at this point in time I don't feel qualified to offer my tips on the northern territories. For now, read Solo Travel to Whitehorse: Highlights & No Lights in Canada's North. You can also have a look at tourism sites for Yukon, Nunavut, and the Northwest Territories.
If you have traveled solo to Canada's north, we'd love for you to contribute your experience. You can use our easy online form to upload your story and photos.