I would like to introduce you to Ryan Stuart. Ryan is a freelance writer and adventure travel enthusiast based in British Columbia. When it comes to outdoor adventure travel in Western Canada, you name it, he's done it! Here he shares some great options for solo travelers who want to experience the wilder side of British Columbia and Alberta.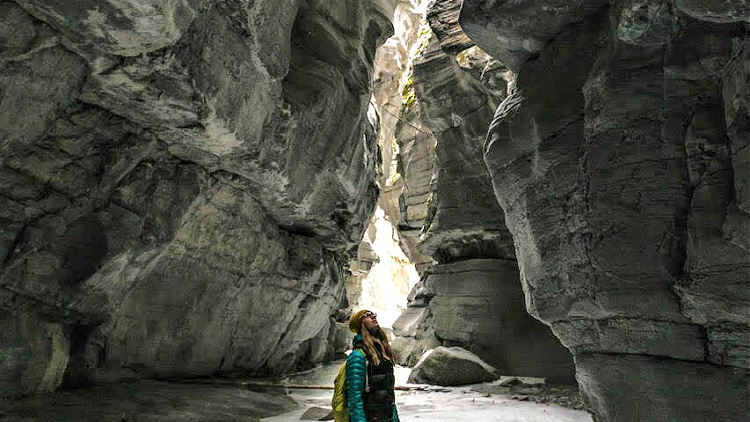 Western Canada is synonymous with adventure.
The snow is falling thick and fast at 10,000 feet in the Canadian Rockies. The visibility isn't great, but I can still see the turquoise ice lining the run ahead. Yup, I'm about to ski into a crevasse – on purpose.
I've joined a group of strangers at Icefall Lodge, a backcountry ski operation north of Golden, British Columbia for a week of self-propelled backcountry skiing. For five days we climb mountains and hillsides and then descend in knee to waist-deep snow. Today, that includes skiing into and, I hope, back out of a crevasse in a millennia-old glacier.
Larry Dolecki, the guide and owner, goes first, hop turning down a ramp and then banking through boot top powder snow around a corner and out of sight. A long 20 seconds later his yodel echoes back up to us. When it's my turn, I take a deep breath and push off. Soon I'm gliding silently beneath 100-foot walls of ice, barely 10 feet apart. For a few moments the world goes silent and it's just me and the ice in a peaceful dance. Mind blown, I slide out of the crevasse and whoop a mix of joy, adrenaline, and relief.
Skiing into a crevasse is more excitement than most people want on a holiday in Western Canada. But no matter how wild you like your adventure, there's something here for everyone in the wild west. When it comes to adventure, British Columbia and Alberta are full of opportunities to get off the groomed trails, boost the adrenaline, try something new, see the unexpected, and explore. Adventure is so ubiquitous here, no matter where you go, it's easy to find.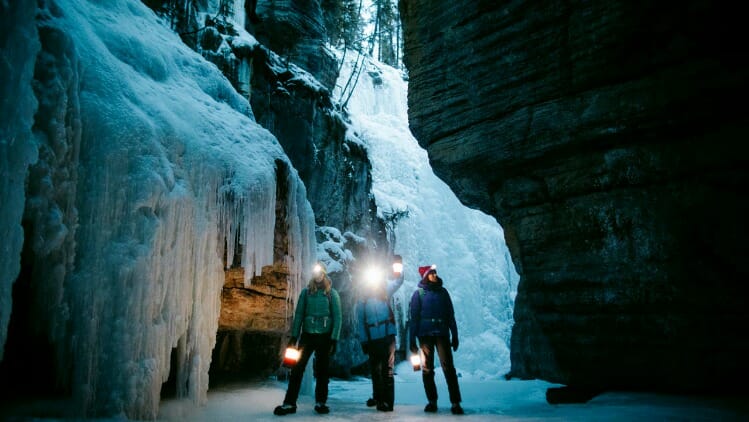 Experience the Mountain National Parks
The oldest adventure travel destination in Western Canada is still one of the best. Banff National Park has all sorts of opportunities to get intimate with the Canadian wilderness. Regular shuttles from the Calgary airport make it easy to get to Banff and from here most of the best day trips are another shuttle or short rental car trip away. A hike up Tunnel Mountain, right behind town, provides a great viewpoint to get oriented and is one of western Canada's classic hikes. It's popular with locals, so it's usually packed for easy walking. Another best winter hike in Banff is a walk into the ice magic of Johnson Canyon. This is an easy DIY destination, but several tour companies run half day trips past the frozen waterfalls and rime covered rock walls.
In my opinion, Jasper National Park's equivalent, Maligne Canyon, is even better. Jasper is about three hours north of Banff via one of the world's great highways, the Icefields Parkway. Cutting high through the mountains with no services and little traffic in winter this route can be treacherous, but it is also spectacular, passing huge glaciers and endless craggy mountains draped in snow. It's an intimidating drive alone, so leave it to a pro from Sun Dog Tour Company. They shuttle daily back and forth between the towns, stopping a few times along the way at the best viewpoints. It's a relaxing and easy way to make the trip.
Once in Jasper sign up for a guided Maligne Canyon tour. When I went, the guide entertained us with information and stories of the area's history, wildlife, and geology. The Maligne translates to "evil" in French and it got the name from the water's habit of appearing and disappearing. With crampons on our feet for grip on the ice, the guide led us right onto the frozen river and then up the canyon. We squeezed into an ice cave, walked behind a frozen waterfall, and watched ice climbers dance skyward.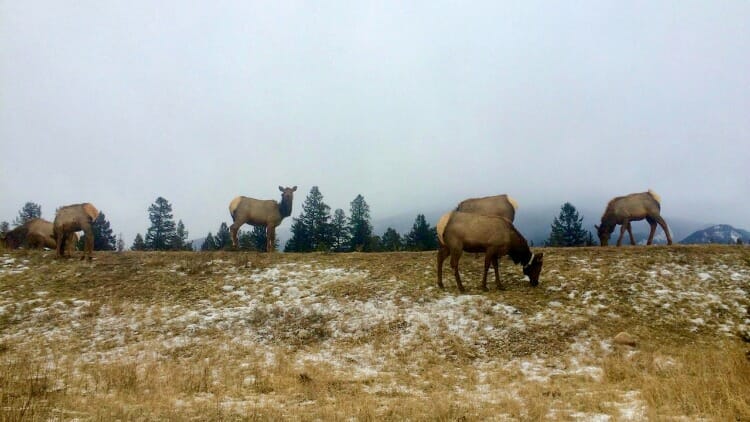 See Wildlife
Compared to most of the world, Western Canada is unpopulated. All that wilderness isn't actually empty, though. Wildlife abounds and I find spotting deer, coyotes, whales, and birds as exciting as schussing down runs or hiking into the backcountry.
While bears hibernate the winter away, for many other species winter is one of the best times to spot them. The most dependable place to see big animals is actually in the towns of Banff or Jasper. The towns were built right in the middle of some of the best winter habitat for elk and deer and they've learned predators avoid people, creating safe sanctuaries. I like hiking around the meadows just outside of Banff or around the golf course of the Fairmont Jasper Park Lodge. Big horn sheep are another easy-to-see animal. They often hang out along the highway near the towns of Radium and Golden.
Rarer is spotting predators like coyotes or wolves. Both are common throughout Western Canada, but shy and elusive. The exception is at the Northern Lights Wolf Centre, near Golden, B.C. The centre is home to a pack of semi-tame wolves and they offer guided walks in the wolf enclosure. There's nowhere else you can get this close to the apex predator.
March is when whales return to the west coast of Vancouver Island, celebrated by the annual three week long Pacific Rim Whale Festival. Humpback and grey whales migrate past on their way to Alaska. You can sea kayak to see the whales but a more dependable and warmer option is to board a whale watching boat. Tours leave from Tofino and Ucluelet harbours several times a day and can almost guarantee sightings. An alternative is to spot whales from land, particularly along the Wild Pacific Trail. Worthy of hiking any time, the multiple section coastal path traces the shoreline around Ucluelet, hitting several epic viewpoints along the rugged coast.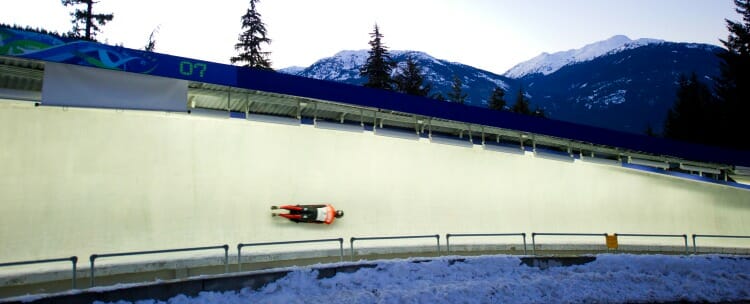 Become an Olympian
Western Canada hosted two winter Olympics, Calgary in 1988 and Vancouver-Whistler in 2010. Nothing made me appreciate the Olympic sports as much as actually giving them a try. Canada Olympic Park, right inside Calgary, was the venue for many events and still hosts international competitions in ski jumping, sliding, and freestyle skiing and boarding.
At COP the public can try bobsled and luge on the Olympic course made famous by the Jamaican Bobsled team. The banked, iced up, sliding track looks intimidating and the experience is not for everyone–the G-forces are intense. In the biggest corners it feels like someone is squashing you into your seat and just as you muscle up to get the feeling under control the professional driver steers the sled into the next corner, releasing the pressure, jerking the sled, and then it begins all over again. The speed is incredible and the adrenaline release when the sled finally stops is almost worth the ride in itself. I walked away with a far better understanding of just how skilled and strong the bobsled athletes are.
It's possible to try the luge, bobsled, and skelton in Whistler, too. Olympic aficionados should also check out the Callaghan Valley, the venue for the cross country and ski jumping events. (All the Whistler infrastructure is managed by Whistler Sport Legacies.) The one to try out though is biathlon. On the day I visited I warmed up cross country skiing on the 90 kilometres of trails winding through the forest, beneath craggy dome-shaped mountains. Then I met an instructor in front of the biathlon shooting range. He taught a small group how to work the 22-calibre rifles. With almost no shooting experience I'm comfortable admitting I did not do well, even before we added in some skiing between firing rounds. We'd ski a short loop around the stadium and then slide into shooting position and lie down in the snow. With my pulse snapping, my aim was even worse. When I took my last shot and missed again, I felt a heightened appreciation for the fitness and training of anyone who can compete at this event.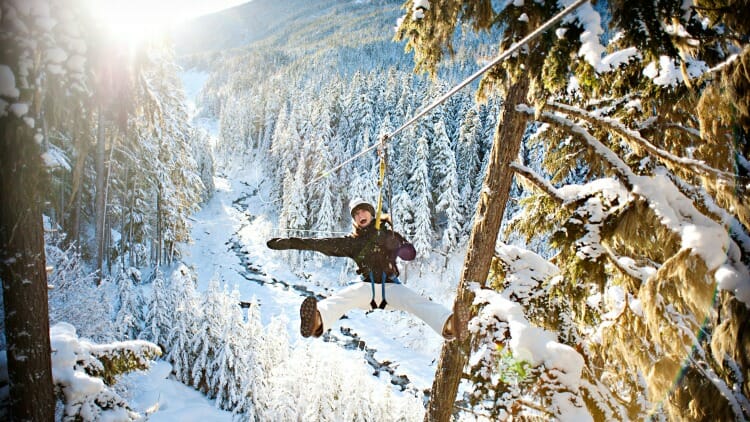 Adventure Travel in Western Canada: Fuel the Adrenaline
Whistler is the epicentre of winter adrenaline, both on the giant ski hill and off. One of the most approachable is the zip line experience offered by Ziptrek Ecotours. They have four different tours, varying by number of metal cables you slide down. The longer tours head along a river valley splitting the twin ski hills. From platforms in trees and on cliff edges the guide hooked me into a harness and then onto the zipline with a small trolley. Once safety-checked I jumped off the edge and, well, zipped out of the trees, the ground falling away until I was high above the creek, the wind whistling through my helmet. As I approached the other side the line slowly headed uphill, slowing my speed until I was flying a little less fast straight at a tree. At the last second a brake grabbed the trolley, swinging me to a stop. Wooooh! I experienced four different lines, one as long as a mile, and the rush never wore off.
I'm normally a self propelled kind of guy, but probably the most exciting activity I've tried is driving a snowmobile. The strength of all that horsepower ploughing through snow and racing along narrow forest trails is amazing and I can feel the adrenaline just thinking about it. There are many places with snowmobile tours and rentals where it's easy to try the sport, including at Kicking Horse Mountain Resort, in Whistler, and at Mount Washington on Vancouver Island. I'd recommend going with a guided tour for safety, peace of mind, and a gentle intro. But if that sounds too tame you can always do it at night.
Ski Powder
The most quintessential Western Canada adventure experience is skiing powder. Nowhere on earth gets the quality, quantity, and consistency of snow falling on as big and diverse a series of mountain ranges. It's easy to get a feel for this at any of the 20-odd international calibre resorts spread across the west, but to really understand what all the fuss is about I like to ditch the crowds and head into the backcountry.
Backcountry travel in winter should not be done alone, but most guided tours and backcountry lodges don't charge a premium for solo guests. In fact, these days powder skiing is so popular it's often hard to find a slot to visit a helicopter, snowcat, or backcountry ski lodge with a big group. But traveling alone there are almost always slots available.
On the trip where I skied into the crevasse, that's exactly what I did, joining a group of university buddies from Vermont. Even though I was the odd man out, I never felt it. We quickly bonded over the shared experiences of long steady climbs and perfect snow descents, tagging snowy summits, and yard sale wipe outs. We ski toured around towering summits, down long glaciers, and through old growth forests. We marvelled at snow crystals hanging in the air, sparkling like diamonds, and the beauty of snow-covered peaks with not another soul in sight.
With at least 100 different backcountry ski operations, guiding services, and tour companies spread across British Columbia and Alberta, there's no shortage of choices to suit just about anyone. And they all guarantee one thing: adventure travel in Western Canada is an experience you will not forget.
Other posts in this series include:
Before he was 16 Ryan Stuart lived in eight different places across Canada and as far away as Australia. Travel has always been a part of his life. These days he leans towards the adventure side, skiing, mountain biking, running, surfing and climbing all over the world. His latest trip was volcano bagging and mountain biking in Guatemala.