I am pleased to present a new Solo Travel Destination Post from Kristine, a member of the Solo Travel Society on Facebook. Kristine is from Canada and submitted the following report about solo travel to Lapland, Finland. Do you have a solo travel destination that you would like to recommend? Submit your description here, along with a few photos, and share it with fellow travelers!
Solo Travel Rating: 1 (1 is easiest, 3 is most difficult. Please see chart below)
Languages Spoken: Finnish, English
Costs at Destination:  Expensive (local transportation, dining, tours, events, and attractions)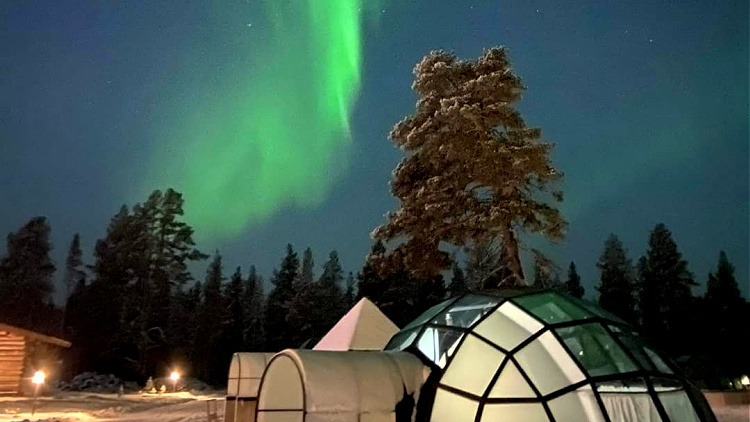 Reindeer, Northern Lights, and an Igloo
I traveled solo to Lapland, Finland and stayed at the Kakslauttanen Arctic Resort in Saariselkä. My accommodation was a panoramic thermal glass-domed igloo. Half board was included in the accommodation rate, which was a breakfast buffet and 3-course dinners with vegetarian options.
I went on a husky sledding safari, rode a sleigh pulled by reindeer to view the Aurora Borealis, visited Santa's Home and the Planetarium on the resort property (equivalent to a North American IMAX theater).
The resort is approximately a half hour shuttle bus ride from Ivalo Airport, Europe's northernmost airport. All amenities and activities are located on the resort property which include communal showers (a short walk from your igloo to the building), Finnish saunas, a couple of restaurants, a souvenir gift shop, etc. Complimentary shuttle buses are available to transport you across the property for activities.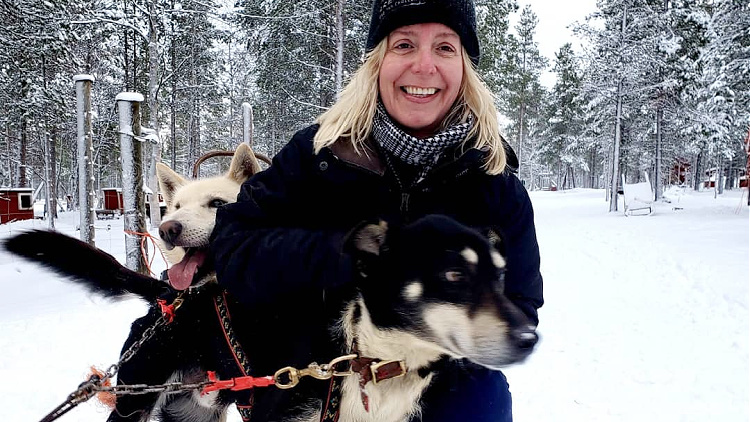 The food was of high quality and the variety was plentiful. Options included breakfast cereals, breads, pastries, eggs, and bacon; smoked salmon, herring, white fish, and vegetables; reindeer filet, and delicious desserts. The menu was world class as was the customer service.
This resort boasts 200+ nights of Northern Lights viewing opportunities every year. Viewing the Aurora Borealis was on my bucket list. I saw them dancing in the beautiful starry sky five out of the seven nights I stayed nestled in my glass igloo. There are Aurora alarms in each igloo as well. Wi-Fi is available in the reception area and restaurants only so ensure you have an international mobile data plan. There is a toilet and sink inside each igloo and the beds are adjustable.
This was my first international solo trip and it was the best vacation I ever enjoyed (a close tie with my trip to Bolivia in 2019 where I visited the salt flats and mountain biked down Death Road in the Andes Mountains). It was an absolutely amazing experience as a solo female traveler. I would recommend solo travel in Lapland and I would definitely go back and visit Finland again!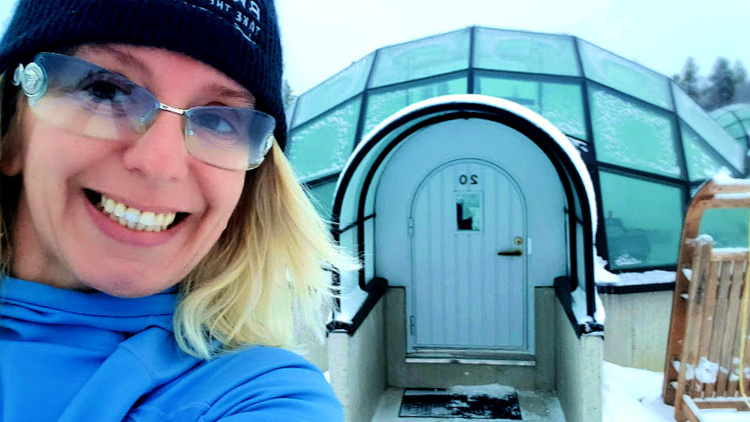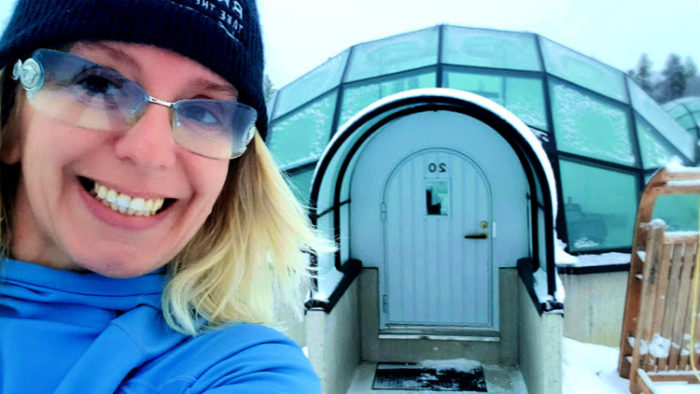 Solo Travel Rating for Lapland
Safety – 1 (1 very safe, 2 safe in most areas, 3 be cautious at all times.)
Language – 2 (1 English is first language, 2 English speakers easy to find, 3 English speakers rare)
Navigation – 1 (1 easy to navigate by transit or car, 2 poor transit, car necessary, 3 not easy to get around)
Culture – 1 (1 Similar to North America or Western Europe, 2 Different from above but relaxed and easy, 3 Challenging)
Average Rating – 1 (1 is easiest, 3 is most difficult)