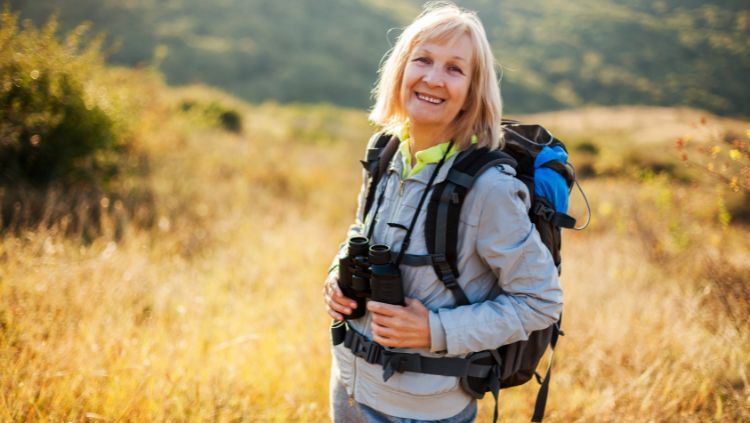 Seniors continue to travel solo. You only need to look at the results of our annual Solo Traveler Reader Survey to know this fact to be true. Some go independently and some take tours for seniors traveling alone.
However, at some point, intrepid travelers getting older may question the decision to travel solo.
"I want to continue to backpack travel on my own, but I'm now somewhat scared as an older person."
So said 63-year-old Victoria, a reader who recently wrote to me for advice. She had always traveled on her own and loved meeting people along the way, but a recent bad fall on a trip to India had shaken her confidence. She was looking for suggestions that would help her to keep traveling solo.
Naturally, I turned to the members of the Solo Travel Society on Facebook, who always offer support, encouragement, and tips to fellow travelers. Members aged 29 to 82 responded, every one of them encouraging Victoria to keep traveling.
Here are the voices of our readers, real solo travelers, giving their best encouragement and advice.
It's important to note that we have more posts on solo travel for seniors. Start with Solo Travel Over 50: Reasons, Benefits, Destinations & Safety It contains advice for people traveling into their 80s.
Senior Women Traveling Alone: Easy Does It, Says Our Community
One suggestion that readers offered was to exercise a reasonable amount of caution and take things a bit slower as a senior solo traveler. It makes sense to be a bit more careful but it also makes sense to slow down for the joy of it. What's the rush? As seniors and likely retired, time for travel takes on a new meaning. Easy does it is a good mantra for many reasons.
Ellen I'm also 63. I've just been to Beijing where I boarded the Trans Mongolian Railway and traveled through China, Mongolia, Siberia, on to Moscow and St Petersburg. I then flew to Iceland and England.
It was the best trip I've ever done and the young ones on the train included me in everything. I'm slower than I used to be but I still see everything I want. Just have more little rests along the way.
Lin I am 65 and still traveling solo. The only difference is that I tire more easily and have to space things out a bit. Otherwise, I'm okay. I also find that people are extremely kind and helpful to older women.
Barbara My best advice is to pay attention to where you put your feet. Don't get so caught up in the sights that you step on (or off) something and twist an ankle. Even a simple sprain can put the kibosh on your trip, especially if you're in a foreign country. I know this from experience. As we age, we heal less quickly. This isn't a reason to stop traveling, just a caution to be careful.
Evelyn Pack light. You don't want to struggle with bags now. And like Barbara says, watch your feet. When I walked the Camino de Santiago at 67, falls and ankle twists were the two things that seemed to send older walkers home.
Carole Staying healthy is always a challenge when traveling. I have rheumatoid arthritis, so I can have some bad days so making sure other things don't get me down like colds, stomach ills, etc. is always on my radar. I take lot of Vitamin C, drink lots of water, always pack Ciproflaxin for bad stomach issues and use lots of antiseptic hand wipes. Build in time for rest.
Kayleigh I think you can travel at any age and there is really no need to be afraid. You will still meet other travellers and have the time of your life. I guess the only reason to be afraid would be if you had a health condition, but this could happen at any age and as long as you do a bit of planning, it wouldn't be an issue.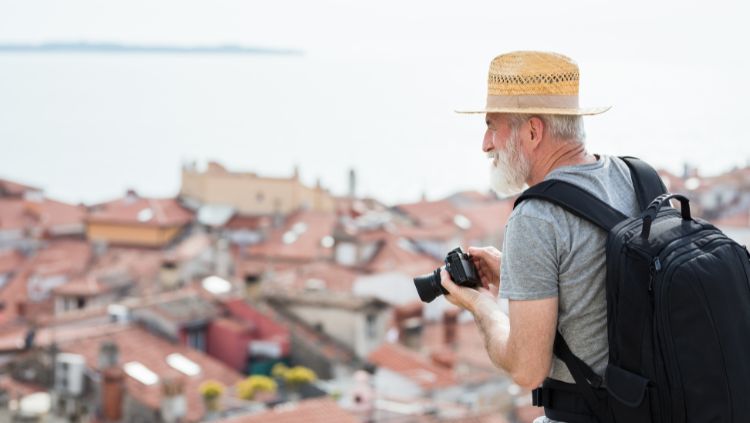 A Big Benefit of Senior Solo Travel: Better Treatment
A number of readers pointed out one of the advantages of being a more mature traveler: you may find that the people you encounter are extra friendly and helpful to you! In some ways, senior solo travel can actually be easier.
Nic Don't be scared! I am 69 and still travel solo all over the world. The better part about being older is that people are more friendly and helpful! I traveled solo to Iran last year and it was the best solo trip ever.
Beverly I have noted since I have silver hair and a cane, as I travel people are most helpful, especially the younger ones in their 20's! At 69 I enjoy my solo travels but plan them well and stay alert.
Claire I think the oldest solo traveller I have met was 92. We chatted for hours. She was one of the most interesting women I've met.
Jude Good grief, you're not old! I'm 63 and just back from Italy, Sardinia, and Corsica. I actually think traveling alone gets easier when you get older. No one hassles "little old people," especially ladies.
Tim Fear not Victoria. I'm 69 and just overlanded from Prague to Goa for 6 months. It's still the same, people watch your back even more, I've found.
Travel Alone Over 60 with Advice from Mature Solo Travelers
By far, the greatest number of responses were of the "If I can do it, you can do it" variety. Solo travelers in their 50s, 60s, and 70s offered encouragement to Victoria and shared examples of their own travels and upcoming plans. We have senior solo travelers in our community who are traveling well into their 80s.
Gail I have always traveled solo. I'm coming up to 70 and am about to retire, give up my flat, and put everything in storage, as I plan on traveling full time.
Karen You're still you! And if you continue to want to travel solo, just do it. Providing you're competent and well, age is irrelevant. And consider this: if you stop now, you'll likely be missing out on up to thirty years of adventures.
Kieron I'm your age. Just go for it! If you feel in danger, which I doubt will happen, there will always be people who will be there for you. Thailand, Cambodia, and Vietnam are the best places to go first to give you confidence, then the world is your oyster. Remember, 60 is the new 40!
Marcia You are no different traveling solo at 63! I'm solo in Amsterdam right now at 67. You are only restricted by your physical limitations, if you have any. Personally, I travel much lighter now, so I can still manage my luggage alone.
Clare I'm 82. On my next trip I'm going to cruise between ports in SE Asia, and I'll go ashore and for the most part move around on my own. I'm choosing this after having traveled extensively in Thailand and Cambodia alone when in my 60s and 70s. I don't want to haul luggage in that heat now. I love being older there and in Europe. Not a sexual object anymore, able to move around comfortably, and able to make friendships with many other solo travelers. You'd be amazed at how many women in Europe and from Europe travel solo worldwide and at any age.
Sharon I must admit to worrying before my first solo trip in years (Montenegro, Croatia, and Bosnia) 3 years ago. I was worried about feeling lonely or embarrassed to be the oldest person in the hostel. I had a ball and never looked back! I met some great people, some I have since visited, some I have traveled with. As for feeling lonely? Never. I've chatted with people from everywhere, all ages and beliefs. It's a wonderful way to learn more and share your knowledge with others. I have 2 solo trips planned for next year. While I can carry my pack, I'll keep hitting the road.
Kathy I'm 58 and currently 6 months into a trip. I mix up straight sightseeing with house or pet sitting and Workaday & HelpX placements. This is a great way to meet locals and have a rich experience at the same time. At the moment, I'm in Cypress cooking for other volunteers on a micro-greens farm. Next week I'll be in Zurich for a pet sit.
Cindy I just got back from a scuba diving trip off the coast of Tanzania. I absolutely love meeting people from all over the world in places like a dedicated and small dive resort – we have instant common ground! Research every step extensively to avoid surprises and disappointments. I'm 68, and my next solo dive trip to Bali and Komodo is already mapped and booked.
Myrna I have been traveling, hiking, and exploring foreign countries for the past 15 years without a companion. I admit when I do need people I travel on a cruise or meet people at a location. I always make certain I have safety covered, and a phone and data connection wherever I am. Anyone would do the same. Age is relative. It is how you feel about your destination, literally and in life.
Adelaide Embrace it. I'm 74, and I will carry on as long as I can. I'm sad I can't go back to Sri Lanka, Kerala, North East States, and Nepal but it's because of the jet lag. In those places they are so kind to older people. I couldn't begin to tell you the sweet and the bizarre kindnesses. In spite of the excellent article about jet lag on this site, I just can't. Period. End of. Sad. So, it's south for me. I'm already planning Cartagena in Colombia, and I can't wait! Just go for it. I was about your age when I started, with Salvador, Brazil.
Jfur I'll be 63 in about 2 weeks. I have been continuously traveling solo since I retired (for about a year and 3 months now) and know people our age who have done it far longer. My advice would vary depending on what kind of travel you want to do, where you want to go, and what kind of shape you're in. But I will say, traveling as an older person does have its differences. Traveling long-term I have found that I personally need to go slow, partly because I prefer to savor and immerse myself now rather than check items off a list, partly because I have seen and done enough already that I don't have to see and do everything, and partly because my stamina is not what it once was. I do think there are legitimate reasons to be cautious (wherever you go), but as someone else said, do your research. Perpetrators look for vulnerable people and older people can appear more vulnerable. Using street smarts, travel smarts, and projecting confidence is always important. Having said that, I have mostly been in the British Isles, Western Europe, and Eastern Europe this past year and I have felt tent times safer here than I did in the US.
Have fun. One foot in front of the other. Feel the fear and do it anyway. You won't regret it.