No money for travel? Here are some great tips that will take you places for free.
Sometimes my need to travel exceeds my financial resources. I suspect I'm not the only one.
The need can be visceral. It may be called itchy feet by some but I experience it in my chest. It may sound weird but that's where, in my body, I feel an agitation to travel. The feeling is palpable.
Fortunately, I can honestly say that I have enjoyed every place I've traveled. It may be the history or the music scene. It could be many things that are enjoyable but, amongst them, is always the people. People are fascinating no matter how much you have in common or how little.
For me, it's not where to go that is the issue; it's how.
How can you travel with little or no money? Read this How to Make Solo Travel Affordable, Cheap and Even Free and read on.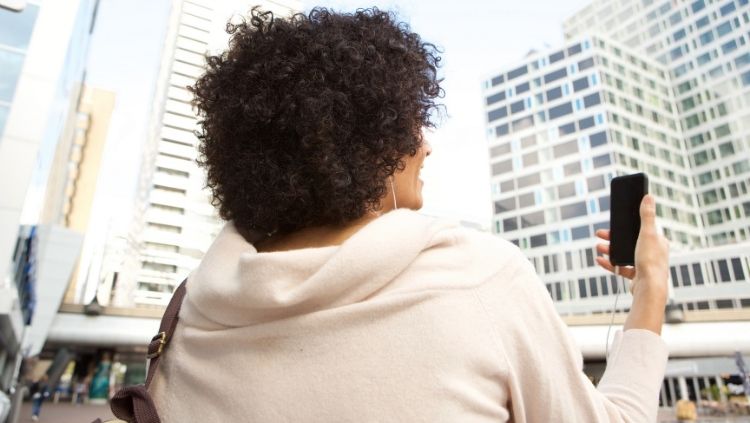 Trip Planning Is the Key to Free
When you want to travel and you have no money you need to get a bit creative. You need to reach out and make connections with people who just might be able to help you. It's also important to do so safely. But, with the right people on your side, you can really go places.
Grow your network. If you have zero dollars to spend it can be worthwhile to reach out to people you know. Perhaps they can't help you but maybe they know someone who can. Perhaps they know someone going across the country who wants company. Perhaps they know someone who needs their house cared for while they are gone. And, if they don't, perhaps their someone's know someone. Seven degrees of separation is a real thing. There's a debate as to whether it's just six degrees. The point is, we're all connected and you can likely make those connections work for you. Start early.
Earn some goodwill on the resource sites you plan to use. If you plan to use Couchsurfing or Women Welcome Women WorldWide, both of which are organizations that can help you with free accommodation (they have small annual fees), it's best to be a participating member well before you leave. Be a host. Participate in local meetups. Develop a good reputation and earn some goodwill before you go. Both are great for making connections and meeting locals, whether or not accommodation is involved.
Be realistic about money. You will have expenses as you travel just as you would at home. The thing is, you likely won't have an income. So plan to save a bit before you go. Read How to Save Money for Travel: Top Tips to Help You Save.
Set a budget, even if it's ridiculous. You need to plan how to spend what little money you have so that you don't come home in debt. Read How to Plan Your Solo Travel Budget – on Any Budget.
Making money as you travel is an option. If you have enough time on the road, and in some cases, even if you don't, there are ways to make money while you're away from home. Read 14 Ways to Make Money As You Travel: Long and Short-term.
Exchange your labor for your travels. Research volunteer opportunities before you leave and plan your travels based on those opportunities. Read more below in the accommodation section.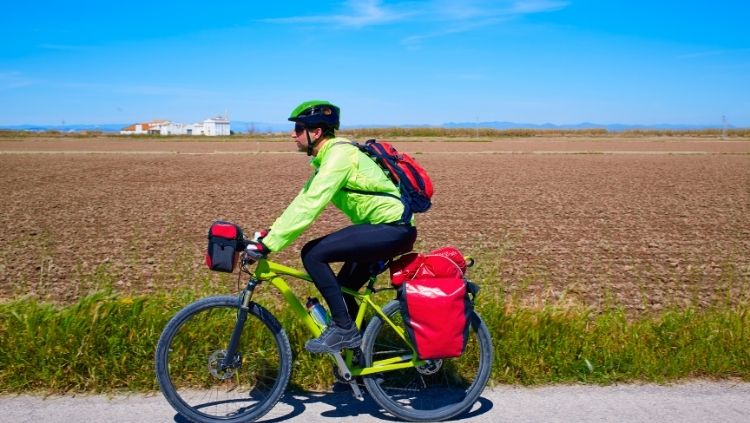 World Travel with No Money: Transportation
This is the toughest travel budget category to get for free. But there are some options to get you where you want to go.
Free road trip with car delivery. There are sites where you can sign up as a driver and get a gig delivering a car to its destination. Check out Canada DriveAway and Cars to Florida. These are often seasonal opportunities as people move their cars south in the winter and north in the summer but the jobs come up for other reasons as well.
Share the driving. This is where that network you set up before your trip comes in handy. Reach out to your connections to look for a drive sharing opportunity.
Don't forget walking and cycling. Your feet are a mode of transportation as well, whether they are walking or peddling. Both modes of transportation are absolutely free and a joy unto themselves. You don't have to go to the extreme that Andrew Siess did when he walked around the world. Watch the doc about his trip here.
Get the dream job as an air courier. I know no one who has this job but, apparently it is possible. Here's one site to explore. If you have any experience with this, please leave your advice in the comments.
Try the "Everywhere" button. Skyscanner's "Everywhere" button doesn't come up with free flights but it will give you a list of flights from your airport listing the cheapest first. Match the cheap flight with your free accommodation and you'll do well.
Traveling Without Money: Free Accommodation
Accommodation is typically one of the most expensive budget items for travel. Fortunately, it is also something that you can often get for free. There are so many ways to save on accommodation and they often come with some serious perks.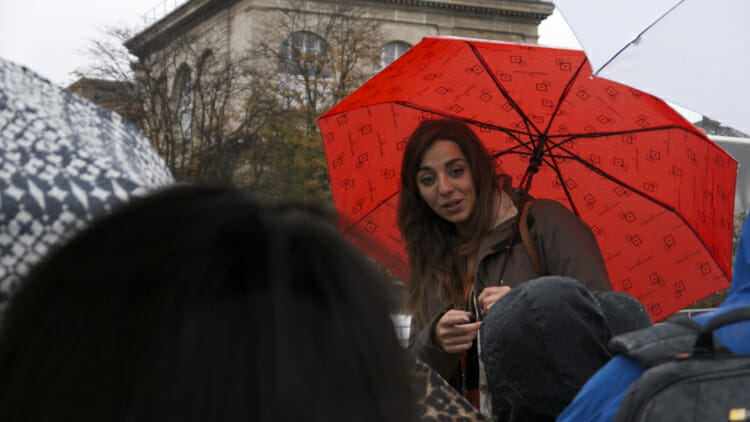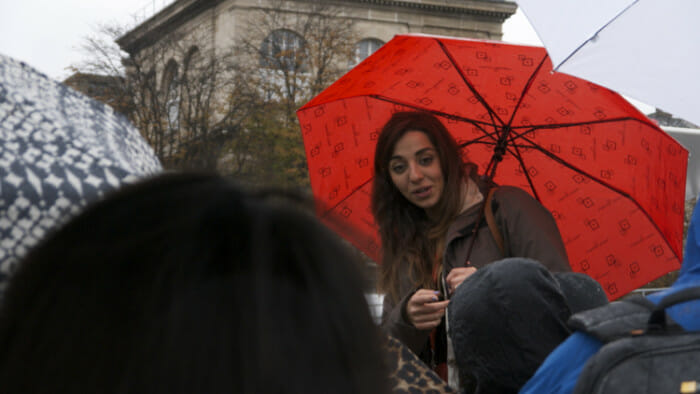 No Travel Money? Free Things to Do
Once you're at your destination you'll want to explore. Fortunately, there are many ways to do so with no money.
Free walking tours. Most major cities have free walking tours but that's just the beginning of free.
Free apps for self-guided tours. GPSmyCity is one of the best for this with tours of over 1,000 cities. For some cities there are many tours for special interests.
Take membership benefits with you. Look at memberships you have at home as they may offer opportunities as you travel. Are you a member of an international organization? If so, you will likely have contacts around the world. But that's an obvious opportunity. There are many more subtle ways that your associations can help get you free stuff as you travel.
Freebies in expensive cities. And, finally, don't miss our 32 Tips posts which give you budget options for the world's most expensive destinations.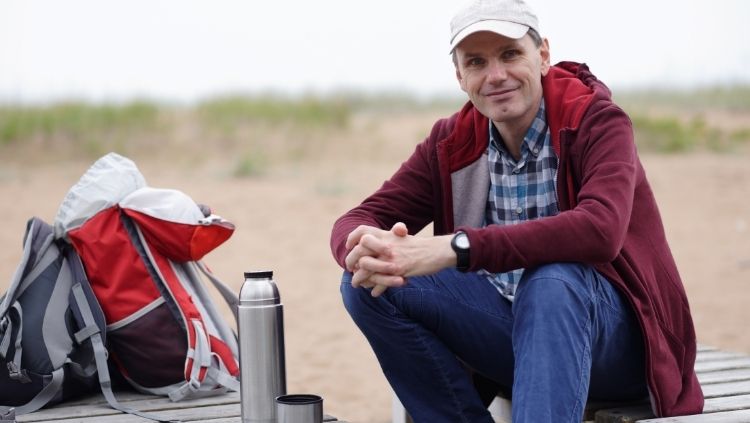 Eating Cheaply As You Travel
The final major expense category for travel is food. This is an expense that you will have whether you're at home or on the road. It will take some money. But there are ways to keep your costs down.
Volunteer where meals are provided. As with WWOOFing, there are volunteer opportunities that include meals. Accessing these opportunities requires research before you go.
Picnics and parks. Eating al fresco is a wonderful, enjoyable dining experience. Picking up food at a grocery store that will not perish in your pack and eating in a park is a low-cost food option.
Make one restaurant meal count for two. Take reusable food bags and containers on your travels. Restaurant servings are often more than one needs. Pack the extra away in your reusable containers. Yes, the restaurant could probably provide a take out container but why create the waste?
Food trucks and street food.
Safe water, no cost, no plastic waste. Bring your water bottle along on your travels and fill it every day to avoid the high cost of bottled water and the environmental damage it causes. If you're not sure of the water, use a purification system like GRAYL Ultralight Water Purifier. It deals with viruses, bacteria, protozoa, chemicals, and heavy metals. All the reviews I read were great.
More ideas. For many more ideas read Travel, Eat Well and Save on Food.