The United States of America is huge!
According to Google Maps it takes 44 hours to drive from San Francisco to New York City. And that does not allow for stopping and actually seeing things along the way. Plus, you would only see a slice of this diverse country that is culturally different in the north, south, east, west and central zones.
So it's not surprising that I receive many emails asking me whether it's a good idea to travel solo to the USA. I'm asked what it's like, whether it's safe, what they should know and where they should go.
Am I an expert on the United States? Well, no, but over the last decade I've visited more than a dozen times. And because I'm coming from the outside I may see a few things that, perhaps, Americans don't see. Yet, I'm sure that our American readers will have many tips to add. I'm sure that travelers from elsewhere will have much to add as well. Please do.
I'll start things off. Here are my best tips for travel to the United States.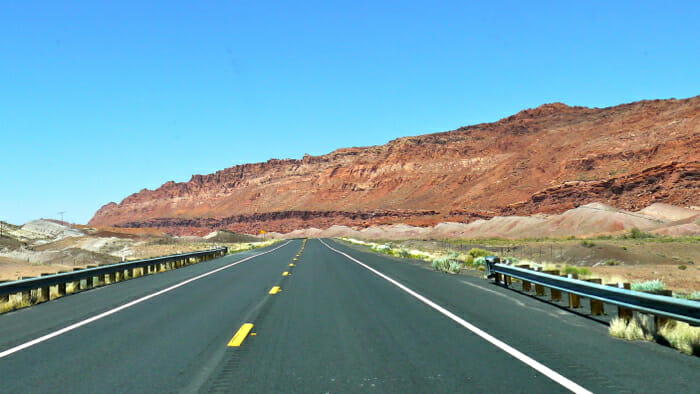 Traveling the USA Alone: General Advice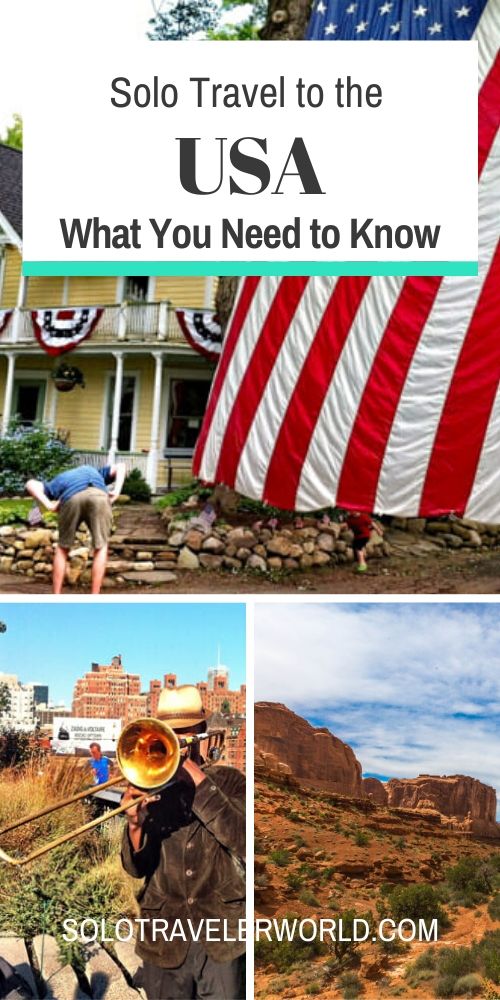 Manage your expectations. You won't be able to see the entire country. Get your head around that, set your priorities and decide where you want to go. So that I'm not racing through my trip, my rule of thumb is an average of three nights per destination. You can have a shorter stay some places but balance it out by staying longer in other places. See below for destination suggestions.
Americans are very friendly. Unless you're in a major city, expect to be greeted on the street with a "Good morning!" or at least a nod. And in major cities you can ask anyone for a little help. From New York City to small town Tennessee, I have found Americans to be very friendly and helpful – it's a point of national pride.
Buy health insurance before you leave. The American healthcare system does not cover travelers to US and it can be very expensive so make sure you're covered before you leave home.
Listen to National Public Radio. I love listening to NPR when traveling in the US. It leans a bit to the left on the political spectrum so keep that in mind but it does offer national shows and local programming to help you get a feel for the politics and culture of country. You can also download their podcasts.
Savor the local food. While the US is known for large chain restaurants, there are distinct regional cuisines as well. From the bagels of New York City to the beignets of New Orleans, the US has fabulous food.
Portions are large. Unless you're in a fine dining restaurant, you can expect the portions to be large. Don't hesitate to ask for a doggy bag. I once ordered take-out of two portions of a seafood pasta for three people. Those two portions actually served the three of us for two meals.
The weather varies. At some point of the year almost every place in the US is really hot, much hotter than Brits or Europeans are used to. There are also parts of the country that get much colder than what most of the world experiences. Check the seasonal weather patterns before you go.
Avoid the busiest travel time. From American Thanksgiving to New Years is the busiest travel time in the US. People are going home to big family gatherings and the prices of flights within the country go up. If you can, avoid this time of year.
Do you need a visa? Check with the U.S. Department of State: Consular Affairs to determine whether you need a visa to visit.
Embrace the new. The United States is a young country compared to most of the world but in the last century and a half it has rotated through multiple architectural styles that have not been affected by war. Great architecture is everywhere. Chicago is especially wonderful.
Tipping is expected. Tipping is expected in the US. The minimum wage for employees who receive tips is very low so be generous. In restaurants tips typically range from 18% to 20% depending upon the level of service. The same goes for taxis, tour guides, and hairdressers. If a person helps you with your bags it should be $1 per bag or a $3 minimum. Leave a minimum of $3 on your bed for the maid service – $5 is much better.
Accessibility is a right. While not perfect in every way, the Americans with Disabilities Act makes the US quite accessible to those with mobility issues. Having traveled with my mom who is in a wheelchair I have noticed how good it is.
Where to stay? Accommodation ranges widely. Both couchsurfing and Airbnb started in the US and are options for solo travelers. VRBO.com is like Airbnb with a greater emphasis on resort condos and vacation properties. I used it when in Hawaii and saved a lot. There are hostels but they are not as ubiquitous as they are in other places in the world. I recommend those in the HI (Hosteling International) network. B&Bs and guest houses are an option. Cheap hotels are just that – cheap – and I would prefer to stay in a hostel or guesthouse. Check with welcome centers and visitor information centers for leads on last-minute hotel deals.
Before you go for a walk. Some city centers are alive and vibrant while others are somewhat vacant, especially at night. Walking in the suburbs may be a challenge as sometimes there are no sidewalks. Check with a local first before you go for a walk.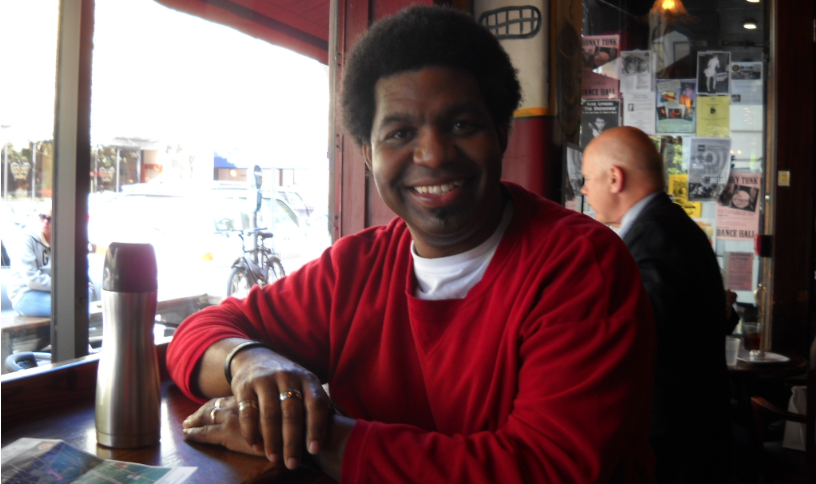 Getting Around in America Solo: Planes, Trains, Buses and Cars
Know your highways. Two-digit highways often go directly through cities while three-digit roads go around them. Odd-numbered highways run north to south and even-numbered ones run east-west. "I" roads such as I95 are interstates and are the fastest way to get from A to B but not necessarily the most scenic. Read
Use state and city welcome centers. Many states have welcome centers at the state line of major highways. Almost every city and town has a visitor center. They offer great information for visitors including help with booking accommodation. They often have amazing deals on last-minute bookings if you're on a road trip.
Recreational vehicles are common. It's easy to rent an RV and the infrastructure for RVs is extensive. There are RV parks everywhere. Malls have double-sized parking spaces for them and Walmart encourages overnight parking for RVs. Read: Arizona Road Trip: first feelings, findings and photos.
Flights within the US. There are many possible airlines for flights within the United States. For budget flights, consider JetBlue, Southwest, and Spirit Airlines.
Take an iconic train trip. Train is a fabulous mode of transit for solo travelers and Amtrak is the rail service provider, though the network is not as extensive as some places in the world. Check out one of their special routes. I've done the Coast Starlight and the City of New Orleans. Read Vancouver, SF and LA by Train – what I spent in eleven days.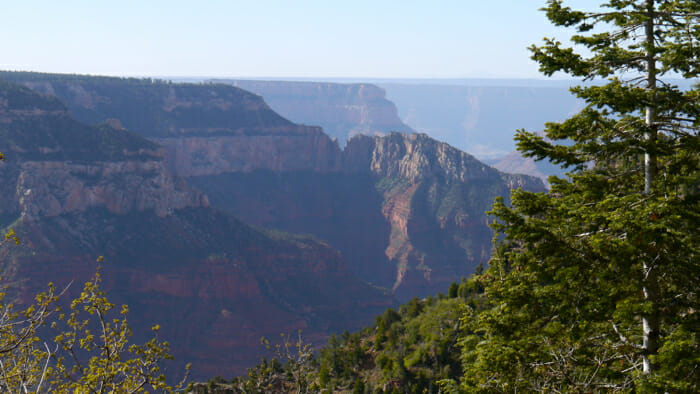 Solo-Friendly Adventure Destinations in the USA
National Parks. The National Parks of America are stunning. Each one is unique and well-cared-for. If you're an outdoors person you'll absolutely want to visit at least one.
Monument Valley. Monument Valley was the setting of dozens of Hollywood westerns. It was a favorite for John Wayne films. The landscape is distinct with towering, red butes and messas. Read Monument Valley and the Question of Historical Truth
Kauai, Hawai. Hawaii's north island, Kauai, is known as the Garden Isle due to its tropical forests. It's also known for the Waimea Canyon, its version of the Grand Canyon, and the cliffs of the Na Pali Coast. Read Affordable Kauai – 32 Free and Low-Cost Tips and Solo in Kauai: What I Spent.
Sedona, Arizona. Sedona offers lots of hiking options but at the end of the day you can return to an artsy, new age town. Solo in Sedona: New Age Wonder and Red Rock Grandeur
Moab, Utah. This small town attracts many adventure travelers as it's located near two National Parks, Arches and Canyonlands, and an amazing State Park, Dead Horse. Read Solo Travel Destination: Moab, Utah, United States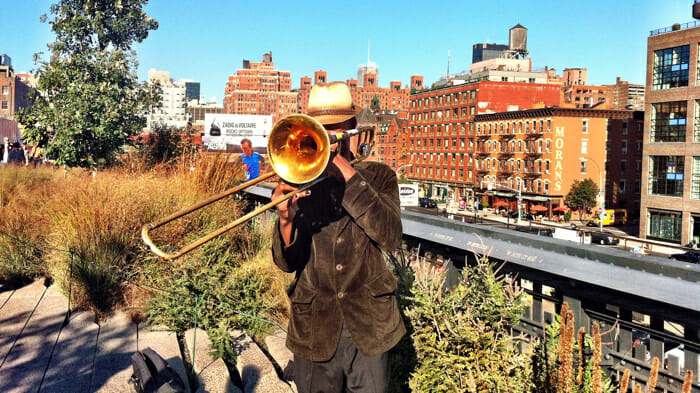 Top US Cities for Solo Travelers
This list is not exhaustive but, in each case, the city is recommended by a solo traveler.
Top Things To Do Solo in the US
For a wide variety of tours across the US check out Urban Adventures.
Get a City Pass and Save. Whether you're looking for a tour, visit an attraction or two, take in a museum… a City Pass can save you money. See if there is one in the your destination city.
Take in the music. America is the birthplace of the blues and jazz which spawned much big band music and rock and roll. From the blues of Chicago to the jazz of New Orleans to the country of Nashville, going to festivals, concert halls, and bars for music is a fabulous way to enjoy America.
The shopping is fabulous but… Unlike many countries, the price tag on an item is not the final price. Sales tax is added at the cash register. The prices in the US are really good but you have to add in the state sales tax to know what the real cost of an item is. Black Friday, the day after American Thanksgiving, is the hottest shopping day of the year.
Go to a Chautauqua. A Chautauqua is a learning institute. The mother of all Chautauquas is located in Northwestern New York state. Read: How to Chautauqua
Go to the theater. The United States has great theater and it's not all on Broadway in New York. There are summer stock theaters all over the country. You know those actors who you haven't seen on film for a long time? They're likely on the stage somewhere in the US. If you're in New York go to the TKTS Discount Booths in Times Square for your tickets to save money and support the non-profit Theatre Development Fund.
Take in a sporting event. Americans love football, basketball, and baseball. In the northeast they're passionate about hockey as well, though the sport is growing in popularity elsewhere in the country too. Get involved with locals and take in a pro or college game.
Take in a parade or a state fair. These are events that really attract locals. The state fairs are in the fall. Parades can happen at any time of year. Check the visitor information site in advance of going.
Go to an industrial museum. Americans have been the inventors of many new products and sometimes in small towns you'll find a fabulous museum celebrating an invention. Read: Eastman House in Pictures – appropriate. and Solo Travel Destination: Corning, New York
Try whitewater rafting. There are many great rivers for whitewater rafting – a fabulous day trip – especially in the west. Colorado is especially known for the sport. Check the reviews of the companies you're looking to book with to ensure that they have a good reputation for safety.
So now it's over to you: what do you recommend to a solo traveler who wants to explore the United States? Please add your tips in the comments.